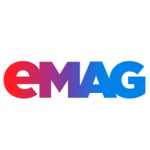 Permis conducere
Nespecificat
Candidatul Ideal
Grow Faster.

We're always looking for the ones truly passionate about their work. If you are amongst them, you can rest assured there is a place for you in eMAG. We grew very fast and we are determined to keep doing so. What brought us here is our desire for continuous evolution and practical results.

At eMAG, a set of strong principles guide our daily work: we understand the client, we think like a successful entrepreneur, we make decisions supported by data, we assess the impact of our projects, we act responsibly, we support each other and we grow with the business. They define us and help us become the favorite shopping destination for our clients.

Almost 6000 people are working now in eMAG. We strongly believe in people development and therefore every year we invest more and more energy and resources to remain an organization that is constantly learning. We want to make sure that you'll have the most talented colleagues, as well as the proper environment to grow and achieve great results, to become what you desire on a personal and professional level.

Commercial Teams
eMAG Commercial teams are responsible for designing and developing product catalogs and launching new products with a competitive pricing strategy. They also build promotional campaigns with Marketing teams, maintaining and including new suppliers in the eMAG product portfolio.
Our Sales teams have several roles, and each of them contributes to the development of our product range.

Product Manager (PM): handles supplier and product selection, testing new products, negotiating trade terms, and managing supply orders and supplier deliveries.

Let's meet if you have these skills:

· University degree, preferably in Marketing, Economics, or similar;
· Knowledge and experience in product management (acquisitions), sales & marketing (?);
· Knowledge Category: distribution channels, products, margins;
· Net understanding of business (i.e. buying and stock);
· Communication, presentation, and negotiation skills – proven track record of closed deals and/or partnerships;
· Advanced MS Office user (Word, Excel, PowerPoint).
· Able to plan and prioritize workloads in order to meet deadlines is fundamental;
· Confident, ambitious, a self-starter, with the ability to operate in a dynamic environment;
· Highly organized, analytical, task-focused;
· Uses creative thought process - on product, promotions, displays, deals, etc
· Able to work across multicultural environments;
· Very good command of English.
Descrierea jobului
· Buying responsibility for Wearables and Accessories (Commercial Team);
· Select and negotiate contracts with suppliers;
· Negotiate the purchase of products required by the company, ensuring that these meet specifications and can be delivered at the appropriate time at the most favorable prices;
· Monitor purchase orders to ensure that these are modified to meet changes in requirements;
· Maintain up-to-date lists of suppliers, purchasing and pricing arrangements to ensure that the company achieves the most favorable commercial terms;
· Maintain an awareness of quantities of stock to ensure that shortages are avoided;
· Report any significant supply issues to ensure that departments and functions are kept aware of any potential difficulties;
· Develop the merchandise acquisition plan based on the sales forecast;
· Set up and execute automated replenishment;
· Keeping track of market trends and competitors' activity in order to identify new opportunities as well as changes to our existing offer.


Other information:

We know that benefits are important, that's why, at eMAG, we offer you a few options to choose from:

· Medical subsciption for Medicover or Medlife.
· A flexible budget that you can invest in yourself as you wish: meal tickets, holiday tickets, cultural vouchers, private pension, foreign language classes, eMAG and Fashion Days gift cards, access to World Class gym or even professional development classes.
· You will receive different discounts from our partners - banking, mobile, dental medicine, wellness or coffee shops.
· You have access to the Bookster library.
· You'll work in a friendly office. We redesigned our headquarters office to suit our new hybrid work model: we doubled the number of rooms destined for meetings and we equipped them with state-of-the-art technology to facilitate mixed meetings - online & offline.
Descrierea companiei
A pioneer of the Romanian market, eMAG was founded in 2001 in Bucharest and has well-established businesses in Bulgaria and Hungary. For almost 20 years, the company has been constantly investing in technology-based services developed in Romania that help customers save time and money. With a range of products continuously expanding through its own offer as well as through its partners in the Marketplace, eMAG is the place where anybody can search and order anything, from anywhere.
Publicat 18 apr. 2022
Reactualizat 18 mai 2022
Expiră 18 mai 2022
Nu îți face griji, poate joburile de mai jos îți pot fi de folos
București, Ilfov, Domnesti

2500 - 10000 RON / lună

București, Cluj-Napoca, Pitesti

și alte 2 orașe