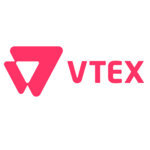 VTEX Ecommerce Platform Limited
Echipa eJobs a verificat această companie. Activitatea declarată și detaliile de contact corespund informațiilor afișate aici.
Descrierea companiei

ABOUT US
VTEX is a global technology company focused on e-commerce products that have a daily impact on the work of thousands of people around the world. Through our products and services, we offer retailers a cohesive platform to run their entire business and provide their customers with the best shopping experience ever.
 
VTEX was founded in 1999, and we provide e-commerce software in the Software as a Service (SaaS) model and omnichannel solutions. With a vanguard technological structure, VTEX is recognized by the Gartner and Forrester institutes as one of the global leaders in e-commerce solutions.
 
More than 2800 renowned companies of varying sizes and segments, with operations in 28 countries and in global expansion, have at VTEX the solution for the online sale of their products, among them Whirlpool, Electrolux, C&A, Cencosud, Boticário, Avon, Disney, Sony, Staples, Nokia, TIM, Havan, Muffato, Telha Norte, Polishop, Fravega, Totto, Personal and Lego.
OUR CULTURE
We believe an idea with the ability to change the company's trajectory can come from anywhere. We work hard to maintain a flat organizational structure that eliminates the need for a formal hierarchy.
At VTEX, it is your responsibility to proactively embrace the problems and solve them the best you can. Our main values are: Trust to be Trusted, Build for Community and Be Bold. 

We cultivate an open and inclusive environment where everyone can contribute. This translates into some perks such as not having a dress code but also into a flat organization, open meetings and a candid feedback culture.
We believe that inclusion inspires innovation and strong teams thrive inside diverse environments. We are committed to a hiring process that ensures equal opportunities for all, regardless of ethnicity, gender, disability, sexual orientation, gender identity or religion.