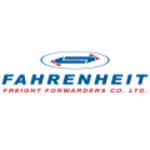 Fahrenheit Freight Forwarders Co. Ltd.
Echipa eJobs a verificat această companie. Activitatea declarată și detaliile de contact corespund informațiilor afișate aici.
Descrierea companiei
Established in 1995, Fahrenheit Freight Forwarders Co. Ltd. as part of the Famalco Group of Companies is Malta's leading provider of international air, sea and road transport services – with a constantly growing privately-owned fleet of over 200 trailers, 60 road tractors – 25 of which are stationed in Europe, and a solid backbone of an experienced logistics team.
With direct links to mainland Europe through sea and air, Fahrenheit Freight Forwarders Co Ltd operates in Central and Eastern Europe in countries like Italy, Germany, Austria, France, Belgium, Luxembourg, Netherlands, United Kingdom and the Baltic States amongst others.
Fahrenheit Freight Forwarders Co. Ltd. is a full member of the International Federation of Freight Forwarders Associations (FIATA). Our specialised services include haulage in dry and reefer trucks, bonded warehousing and dry to controlled temperature warehousing from -25 ̊C to +25 ̊C. Fahrenheit is also licensed to transport and handle hazardous cargo (except Class 1 – Explosives, and Class 7 – Radioactive substances) in the safest conditions. All road tractors are equipped with communication and satellite monitoring systems.
Locuri de munca
Fahrenheit Freight Forwarders Co. Ltd.