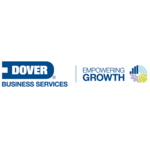 Dover Business Services Europe S.R.L.
Companie verificată
Echipa ejobs a verificat această companie. Activitatea declarată și detaliile de contact corespund informațiilor afișate aici.
Descrierea companiei
Dover Business Services (DBS) is an independent business to business service provider within Dover Corporation, a diversified global manufacturer with annual revenues of $7.5 billion. DBS is accountable for delivering selected transactional services in Finance to the entire organization. With locations in Downers Grove - Illinois, Suzhou - China, Cebu - Philippines and Bucharest - Romania, DBS centers operate across the globe to maximize service to our operating companies (OpCos).
Dover Corporation deliver's innovative equipment and components, specialty systems and support services through four major operating segments: Engineered Products, Fueling Solutions, Image & Identification, Refrigeration & Food Equipment and Pumps & Solutions. Dover combines global scale with operational agility to lead the markets we serve. Recognized for our entrepreneurial approach for nearly 60 years, our team of over 27,000 employees takes an ownership mindset, collaborating with customers to redefine what's possible. Headquartered in Downers Grove, Illinois, Dover trades on the New York Stock Exchange under "DOV."