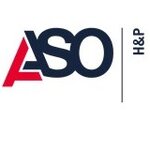 ASO CROMSTEEL SA
Companie verificată
Echipa ejobs a verificat această companie. Activitatea declarată și detaliile de contact corespund informațiilor afișate aici.
Descrierea companiei
Our Motto:
H - Humble -The humility of those who do great things and the greatness of those who stay humble
A - Agile-The attitude of those who see change as an inherent part of improvement.
R - Respect -The main impetus behind our actions towards others and the environment
D - Decision Making - The ability to turn a mere intuition into a solution.
S - Stay Foolish - That "healthy streak of insanity" that separates the star from the background actor.   
K - Know How - The experience of those who strive to do even better what they already do well
I - Innovation - The untamable spirit of those who seek out new ideas and find opportunities.
N - Never Give Up - The perseverance of those who refuse to be hindered by their own limits, surpassing them and outdoing themselves.
The new division of ASO GROUP formed from ASO Cromsteel SA and ASO SPS is called ASO HYDRAULICS & PNEUMATICS. ASO HYDRAULICS & PNEUMATICS is considered the World's leader in terms of capacity and range of products. This wide range of products is composed from chrome plated steel bars, chrome plated steel tubes, skived and roller burnished/honed tubes plus precision linear shafts. ASO HYDRAULICS & PNEUMATICS division is employing more than 650 people that are working in premises of 60.000 sqm. This numbers are the results of the prime quality standards. Having a consolidated sales experience with an excellent customer service, we are a highly reliable partner for our Customers. The customers that are located in 70 different countries are mostly composed from: – Distributors of Hydraulic and Pneumatic components. – Hydraulic and Pneumatic Cylinder Producers. – The Global OEM's – Original Equipment Manufacturers.