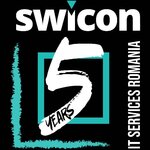 SWICON IT SERVICES SRL
Companie verificată
Echipa ejobs a verificat această companie. Activitatea declarată și detaliile de contact corespund informațiilor afișate aici.
Descrierea companiei
SwiconGroup has been one of the leading members of the Hungarian IT arena for almost a decade, since 2017 present also in Romania . At our Budapest-based, creative company we are using industry standard methodologies and leading-edge technologies to deliver top-notch business solutions for our clients. Our main activities include outsourcing, headhunting and other HR services, along with creative application development and software operation. Our motto is innovation, novelty and responsibility. Our wide range of services and highly trained professionals give us the opportunity to shape our solutions to fully meet the ideas and wishes of our clients. We are proud to have leading banks, insurance and telecommunication companies, as well as large FMCG corporations and SSCs amongst our highly prestigious partners. SwiconGroup completed several product development projects in the past 5 years, worth 2 million euros, proving our proactive and innovative approach. We were granted 650.000 euros EU support for our product development projects. Thanks to the successful operation of our three branches, we are able to optimize our resources to the maximum extent. Our clients do take advantage of the corporate synergies based on experiences and business deals.
Media
Joburi