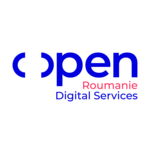 OPEN DIGITAL SERVICES ROUMANIE
Echipa ejobs a verificat această companie. Activitatea declarată și detaliile de contact corespund informațiilor afișate aici.
Descrierea companiei
Open Digital Services Roumanie, is an IT services company with a friendly and committed environment. Here you can find consultants and programmers with a large experience on different technical skills. Over the time, we have developed a portfolio of complex .NET, Java, PHP projects, which enables us to satisfy even the most exigent clients. We are specialized in complex applications, which allow the optimization of the activity and maximization of the profitability for our customers. We offer evolving solutions in various fields, such as finance, medicine, publicity, information security or public administration.
As a team, we have passion for technology and we love to take care of each other any time is needed. We may have different personalities, but we can find the middle way to go through the every-day tasks with empathy, calm and respect. We encourage our team members to keep on studying, gain new skills and improve their existing ones, but also share with others what they have learned.
Finding a team can be easy, but meeting a great team with the desire to learn and solve challenges every day, can be exciting.
Just ask to talk to us and we will invite you to a virtual coffee!
Media