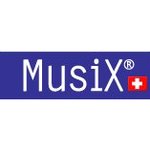 MusiX AG
Companie verificată
Echipa ejobs a verificat această companie. Activitatea declarată și detaliile de contact corespund informațiilor afișate aici.
Descrierea companiei
MusiX AG embodies the world of creativity and music by inspiring our teammates to find their own individual sound. We strive to develop lifelong musicians and make a difference in the world by enabling musicians and non-musicians alike to experience the almost indescribable happiness that comes from playing an instrument. We believe in putting our customers first, engaging with respect and integrity and fulfilling our mission with passion.
We are... 
....One of the leading suppliers for music devices and instruments in Switzerland and Central Europe. At the beginning of the year 2004 we were totally unknown in the market and now we grow globally and are pretty ambitious about it! We are innovative: up to now there is not yet any global supplier for musical instruments. There are big players in the market (e.g. GuitarCenter in the US, Thomann in Europe) but there's no supplier who can cover the complete work of the global distribution and offer this service to a manufacturer.
Our topics are... 
• Java8 (soon Java10) Eclipse, git, Junit
• SQL / databases
• Web technologies (Apache, Tapestry)
• Mobile Apps (Ionic, Angular, Cordova)
• Linux, OpenSource
• GUI applications (Java, Swing)
• business process analysis
• process optimization
• performance tuning
• internationalization
... and many other topics.
As a Software Developer you will have the chance to really make a difference while creating new software solutions every day. We are looking for professionals who enjoy creating something new, who like working independently and who feel engaged to a common goal on a long term commitment.
For other positions there are vast opportunities for career growth and self-development!
We work remotely, which is more than just a practical advantage: embracing freedom, responsibility and mutual trust, some of our core values, allow us to work together as a team of experts, to be on a par with each other, to avoid wielding power, to avoid "managing others". (We refer to a freedom based environment as described in book "Freedom, Inc.")
Are you looking for a professional challenge and want to be more than average?
Then we should definitely get in touch! We're looking forward to reading from you soon!