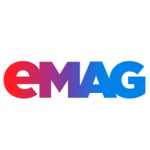 Permis conducere
Nespecificat
Candidatul Ideal
Team Manager Second Line
We want the eMAG Customer Care teams to be among the best teams of this profile in Romania. The primary responsibility of Customer Care teams is to ensure that all eMAG clients enjoy a pleasant shopping experience from start to finish. They are divided into 5 departments: Call center; Claims; Online Sales; Forecasting & Reporting; Marketplace Support.
Our Customer Care colleagues are constantly in touch with our clients and make sure we answer all questions so that their experience is as enjoyable as possible.
Role Purpose
Do you want to be part of something bigger?
We have the mission to provide the best possible support for all our clients and you will be leading the teams responsible for the Second Line Support within our Call Center. In this role you will have a direct impact in the quality of support provided by our Genius Support Team, as well as our Outbound Support Team.
We are looking for intellectually curious people, interested in the bigger picture of how excellent customer support can drive and evolve the business. If you are a forward thinker and problem solver, if you thrive solving difficult scenarios, this is the place to be.
Who You Are:
You have a university degree.
You have at least 2 years' experience in leading large teams (30+).
You live and breathe customer first, and finding the best solutions for clients is a great concern of yours.
You have excellent interpersonal skills with the ability to develop strong and trusted working relationships with stakeholders.
You have a proven can-do entrepreneurial attitude, with the ability to think out of the box.
You are analytical and can find new and engaging perspectives while exploring sets of complex data.
You have a high degree of flexibility and ability to work within a fluid, constantly changing environment.
You are a curious forward thinker, who strives to find root causes and solve problems.
You are a self-starter who thrives on the freedom and accountability that comes with this responsibility. You can connect the dots and bring ideas and stakeholders together.
You can prioritize multiple competing tasks seamlessly, while manifesting excellent attention to detail and quality of deliverables.
You can easily exercise independent judgment to determine appropriate action.
You demonstrate a strong work ethic, passion, and a positive, can-do attitude.
You demonstrate problem solving abilities, with a positive thinking mindset and great creativity.
Your values include communication, cooperation and teamwork, and your own growth and development is a priority for you.
You have the ability to influence, align and lead operational teams towards a unified objective.
You can deliver results while managing multiple priorities.
You have at least medium Excel skills.
You have strong communication skills in English (written and verbal).
Nice to haves:
Project/program management experience.
Experience leading change.
Descrierea jobului
Key Responsibilities Include:
You are directly responsible for coordinating the performance of the Genius & Outbound Team Leaders and their teams.
You offer guidance and support to your teams, cultivating a positive and constructive work environment.
You are responsible for cascading the business strategy towards your teams and seeing it is thoroughly implemented.
You identify improvement areas, and you build and implement action and improvement plans based on your findings.
You come up with solutions which bring added value from a business perspective (results, KPIs, costs etc.).
You prepare, analyze and present reports regarding your teams' activity and their results.
You plan and organize impactful recruitment sessions within your coordinated teams.
You contribute to the Team Leaders' growth and development.
You understand your teams' needs and anticipate their future needs, planning accurately to ensure they have the needed skill set to drive the business forward.
You identify development needs and implement the required trainings, by constructively collaborating with the Trainers.
You monitor the attrition rate and act to impactfully improve it, according to the department's objectives.
You communicate and cooperate with all eMAG teams and departments with the goal of improving processes and procedures, but also to ensure operational objectives are reached.
Other information:
We know that benefits are important, that's why, at eMAG, we offer you a few options to choose from:
Medical subsciption for Medicover, Regina Maria or Medlife.
A flexible budget that you can invest in yourself as you wish: meal tickets, holiday tickets, cultural vouchers, private pension, foreign language classes, eMAG and Fashion Days gift cards, access to World Class gym or even professional development classes.
You will receive different discounts from our partners - banking, mobile, dental medicine, wellness or coffee shops.
You have access to the Bookster library.
You'll work in a friendly office. We redesigned our headquarters office to suit our new hybrid work model: we doubled the number of rooms destined for meetings and we equipped them with state-of-the-art technology to facilitate mixed meetings - online & offline.
Apply, and if your experience will be considered suitable for the role you wish, we will contact you by phone for more details.
eMAG Recruitment Team
Descrierea companiei
Grow Faster.
We're always looking for the ones truly passionate about their work. If you are amongst them, you can rest assured there is a place for you in eMAG. We grew very fast and we are determined to keep doing so. What brought us here is our desire for continuous evolution and practical results.
At eMAG, a set of strong principles guide our daily work: we understand the client, we think like a successful entrepreneur, we make decisions supported by data, we assess the impact of our projects, we act responsibly, we support each other and we grow with the business. They define us and help us become the favorite shopping destination for our clients.
Almost 6000 people are working now in eMAG. We strongly believe in people development and therefore every year we invest more and more energy and resources to remain an organization that is constantly learning. We want to make sure that you'll have the most talented colleagues, as well as the proper environment to grow and achieve great results, to become what you desire on a personal and professional level.
Publicat 6 mai 2022
Reactualizat 5 iun. 2022
Expiră 5 iun. 2022
Nu îți face griji, poate joburile de mai jos îți pot fi de folos
1500 EUR / lună

Strainatate, Anglia - Marea Britanie, Franta

și alte 2 orașe