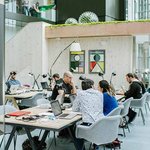 Project Management Officer
Permis conducere
Nespecificat
Candidatul Ideal
We are seeking a highly motivated and talented individual to fill the role of Project Management Officer for our client who is an independent, pan-European sustainability consultancy specialising in the commercial real estate sector.

Their approach is to provide an exceptional level of service, delivered by experienced professionals, whilst ensuring solutions are practical, simple to understand and tailored to each client's specific requirements.
Descrierea jobului
Responsibilities:
♦ Help embed and improve project controls and communication across the Consulting Client Teams
♦ Administer client delivery and change programmes and monitor projects to cost, quality, plan, time, embedding project controls and governance practice
♦ Ensure projects are controlled and achieved through ensuring that all projects adhere to best practice methods
♦ Developing and deploying standard approaches for project management.
♦ Expected to challenge and advise the Consulting team in practical methods to improve project controls
♦ Supporting business case development for key change initiatives
♦ Prepare and present cost-benefit analyses to support business case development and baseline implementation of projects
♦ Manage and compile Programme related financial and KPI information using key supporting systems such as Excel and Zoho Projects
♦ Oversee project costs and ensure finances are well managed
♦ Prepare programme/project Key Performance Indicator reports to illustrate relative health of a portfolio of activity
♦ Track financial / time-based reporting whilst ensuring that the programme and projects adhere to the businesses financial processes and reporting calendar
♦ Provide and maintain a capacity planning and resource tracking service across the business
♦ Ensure cross-programme dependencies are managed and the dependency log is accurately maintained
♦ Update and maintain the Risk register, Action Log, Issues register, Decisions Log, (RAID) (at a corporate and individual programme/project level
♦ Coordinate project closures to assure good practice and ensure lessons learned are promoted and used to foster a culture of continuous improvement
♦ Supporting development of user guides and training materials to support role out of programme / project management controls and best practice methods
♦ Provide key aggregation point to help synthesise key improvement suggestions to evolve project management practice across the business
♦ Supporting smooth adoption of each SIERA release into the Consulting teams through sight of early releases, Quality ♦ Assurance and release guides and notes review and updates
♦ Assist with developing the SIERA Software as a Service (SaaS) Value proposition.
♦ Support evaluation and deployment of new supporting technology and tooling platforms that enable operational business model productivity
Knowledge, Skills, Abilities:
♦ Proven track record in supporting the planning, execution, control and closing of projects and the ability to administer multiple projects simultaneously with minimal supervision with a commercial value of at least £10M
♦ Demonstrable experience in effective use of project management tools and technology specifically Zoho Projects, Microsoft Office
♦ Advanced Microsoft Excel / Spreadsheet skills
♦ Strong analytical skills in relation to programme / project controls
♦ Excellent verbal and written communication skills; including communicating with technical and non-technical stakeholders at all organisational levels.
♦ Experience of project management using PRINCE2 or PMI/PMBOK methodology (or equivalent) for medium to large sized projects
♦ An understanding of Agile software development projects / software development lifecycles an advantage
♦ Exemplary skills in creating and maintaining project and programme plans and controls, including risks, actions, issues, dependencies
♦ Strong experience in resource forecasting, capacity planning and reporting
♦ Commercially aware with desire and drive to help develop return on investment cases.
♦ Key experiences in successfully managing key internal and external stakeholders
♦ Strong track record in exceptional delivery, on time and of exemplary quality
♦ Line management or team leader experience desirable but not essential
♦ Key experiences of Programme and project level financial management and reporting
♦ Key experience of project accounting and project profitability analysis
♦ Experience of business case development techniques
♦ Experience in training and coaching of project officers and project managers in use of baseline programme/project controls and project accounting an advantage
♦ Experience of complex business change programmes an advantage
♦ Multi-lingual capabilities (German, French especially) an advantage
Education and Experience:
♦ High calibre individual with direct experience of at least 4-5 years in a Project Management Office role
3-4 years of financial reporting / project accounting experience
♦ Experience of the Sustainability Services Market an advantage
♦ Direct experience of working within a commercial environment for at least 3 years.
♦ Proven pedigree in implementing project office methods and disciplines
♦ Educated to degree level with Masters qualification an advantage
♦ Exposure to data analysis and data management systems and technologies an advantage
♦ Experience using Zoho Projects or very similar project lifecycle software applications
Benefits:
Competitive Salary
Flexible hours
Hybrid work
Holiday's ( year after year will go up with an extra day)
Medical subscription
Social events organized and funded by the company throughout the year
Gifts on your birthday
Descrierea companiei
Potentiam Services SRL delivers the considerable benefits of 'Smart Resourcing' to businesses of all types. Big business has been investing heavily in 'outsourcing' for over 15 years and it's now time to make a similar but improved model easily accessible to medium-smaller sized businesses.

The huge benefits of reducing costs, improving cash flow and reinvesting the considerable savings in a growth strategy allowing us to truly outgun the competition. Without 'Smart Resourcing' we would have struggled to achieve any of this. We believe we can play a key role in powering your business.

Be a part of Potentiam Services SRL, be a part of smart resourcing!

We are committed to protecting the privacy of all of our candidates and clients. Following some recent changes to data protection laws we have updated our Privacy Policy.
Publicat 19 nov. 2021
Reactualizat 19 nov. 2021
Expiră 19 dec. 2021
Nu îți face griji, poate joburile de mai jos îți pot fi de folos