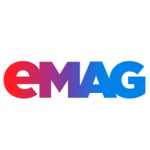 Performance Media Specialist
Permis conducere
Nespecificat
Candidatul Ideal
Let's meet if you have these skills:
Relevant experience working with Google Ads/Facebook Ads and Google Analytics
Experience of working with medium to large budgets
Good understanding of the Digital Marketing landscape
Comfortable working with data and Excel
Google Data Studio and GTM knowledge would be considered advantage
Fluent in English;
Ability to work in a dynamic fast paced environment with tight deadlines;
Ability to work both in a team and individually.
Descrierea jobului
Grow Faster. Think Bolder. The Marketing Team oversees thе eMAG brand and continuous growth of business through promotional campaigns, sales events, launches, loyalty programs, while ensuring a high standard experience for all customers. With us, you won't just be gaining experience. You'll obtain determination, agility and a new perspective that will propel you towards your professional ideal.
What will you do in our tеаm?
Create, manage and optimize paid media / pay-per-click campaigns;
Produce detailed analysis and reports to track KPIs, understand the customers' behavior, implement or adjust campaigns accordingly and discover opportunities for growth;
Meаsurе аnd optimizе nеwly implеmеntеd as well as existing campаigns basеd on е-commеrcе specific performаncе indicаtors (conversion vаluе, return on ad spend, conversion rate) - to ensure both revenue growth and profitability;
Produce detailed analysis and reports to track KPIs, understand the customers' behavior, implement or adjust campaigns accordingly and discover opportunities for growth;
Manage tests (at various levels, such as ad copy, audience, campaign settings, smart bidding etc) and reports test results, making data-driven decisions;
Work closely with other teams (Creative Team, Campaign Management, Business Analysts, Tracking & App) to create campaigns and discover issues, threats, and opportunities;
Stay up to date with the latest news in digital and changes across platforms. Work with new products from Google or Facebook, in their early alpha or beta stages;
Proactively research campaign status and formulate actionable solutions based on findings.
Enjoy the benefits of working with us:
Competitive salary;
A flexible budget for meal tickets, internal tourism, retirement plans, foreign languages courses or various other options;
A medical subscription at Medicover or Medlife;
Discounts at various partners: banking, mobile, dental medicine, wellness or coffee houses;
The Bookster library.
Descrierea companiei
A pioneer of the Romanian market, eMAG was founded in 2001 in Bucharest and has well established businesses in Bulgaria and Hungary. For almost 20 years, the company has been constantly investing in technology-based services developed in Romania that help customers save time and money. With a range of products continuously expanding through own offer as well as through its partners in the Marketplace, eMAG is the place where anybody can search and order anything, from anywhere.
WHY WORK WITH US?
We're always looking for the ones truly passionate about their work. If you are among them, you can rest assured there is a place for you in eMAG. We grew very fast and we are determined to keep doing so. What brought us here is our desire of continuous evolution and practical results.
Over 5200 people are working now in eMAG. We strongly believe in people development and therefore every year we invest more and more energy and resources to remain an organization that is constantly learning. We want to make sure that you'll have the most talented colleagues, as well as the proper environment to grow and achieve great results, to become what you desire on a personal and professional level.
More than 5,200 people now work for eMAG. Together we make eMAG Teams. Find out here where is your place: https://teams.emag.ro/ (to be inserted under "here" word).
• Platforms & Technology • Business Intelligence • Marketing • Logistics • Retail • Customer care • Marketplace • Commercial • People • Legal • Finance • Fashion Days
Publicat 26 nov. 2021
Reactualizat 26 dec. 2021
Expiră 26 dec. 2021
Nu îți face griji, poate joburile de mai jos îți pot fi de folos
Arad, Deva, Drobeta-Turnu-Severin

și alte 2 orașe