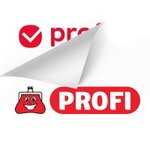 Permis conducere
Nespecificat
Descrierea jobului
Job brief

We are looking for an Azure Data Engineer to join our company, to handle complex data analytics projects end-to-end in Microsoft Azure.
As a member of Advanced Analytics team, you'll be in charge to set up, design and develop data architecture & platform. Your contribution is necessary to build a new solution from the scratch or develop/migrate existing ones in/to the cloud.

Meet PROFI!

Good people, offering good products. Making together unforgettable moments.
Day by day, we work as a team, trying to achieve our goals and making things happen.
Closer both to our customers, but especially to all the other people around us, whom we want to inspire, engage them and grow together with.
We look to be better, because we do not want only to sell products, but we want to create memorable experiences together.
Everything we do, every day, every moment, inside and outside of our company, supports and nourish our brand.

Joining PROFI and being one of our brand ambassadors, here's what we offer you:

- working in the modern retail network with the largest geographic coverage in Romania,
- highly competitive compensation package, including performance bonus components,
- working with best-in-class technologies in an international team,
- structured and clear career path within the team,
- flexible worktime,
- possibility of work from home.

Responsibilities:

- design and build data pipelines, data streams and data service APIs,
- expose data to end users using Power BI, Azure API Apps or other modern visualization platform or experience,
- analyze current business practices, processes and procedures and identify future opportunities for leveraging Microsoft Azure data,
- support the planning and implementation of data platform services including sizing, configuration, and needs assessment,
- implement effective metrics and monitoring processes,
- work as a trusted advisor to us and a controller to our suppliers.

Requirements:

- minimum 2 years of experience with ETL tools, Data bricks, SQL, SSAS & T-SQL,
- experience with data visualization using Power BI, SSAS and Power Pivot,
- knowledge of data modelling in SSAS Tabular,
- good understanding of Azure,
- strong in data governance, including Master Data Management (MDM),
- proactive, flexible and solution-oriented attitude.
Descrierea companiei
For over 20 years, the PROFI network of stores has been expanding continuously at an accelerated pace. It left behind the 1,400-store mark in over 650 communities in 2020 and will continue to expand further, with hundreds of new stores planned for opening in each of the next few years. PROFI is currently the largest private employer in Romania, with a dynamic, flexible, and ambitious team of over 21,000 colleagues. We support the harmonious growth and development of the PROFI company by identifying new team members, who are open, engaged, and willing to further grow professionally in a competitive environment. We are looking forward to learning more about you and to meeting you!
Publicat 4 mai 2021
Reactualizat 27 iul. 2021
Expiră 31 iul. 2021
Nu îți face griji, poate joburile de mai jos îți pot fi de folos
4000 - 6000 RON

București, Bolintin Deal

1800 - 3000 RON

Cluj-Napoca