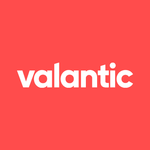 valantic Romania
Echipa ejobs a verificat această companie. Activitatea declarată și detaliile de contact corespund informațiilor afișate aici.
Descrierea companiei
valantic - the creator of software and digital process solutions, that enables customers to achieve strategic advantages over their competitors. Mastering the central challenges of digitalization with a uniquely flexible, elementary organizational structure and operational excellence.
Constantly growing, an interdisciplinary team of highly specialized and certified professionals, aiming to break through established patterns of thought. Combining technological competences with industry know-how to be the leader in the business markets.

Direct communication and fairness characterize our actions. Does fairness slow us down? We believe quite the contrary: being committed to a culture of fairness towards our colleagues, our customers, our investors, and our environment.
As a team, we develop solutions for our customers from various industries. Our colleagues work in the areas of strategy, consulting, development, and design.
At valantic, IT Specialists, managers, and excellent entrepreneurs work side-by-side; our partnership is defined by trust, responsibility, and mutual respect.
Excellence is when the customers say "wow". This requires a sharp mind, openness to listen and to take a close look, and the curiosity and passion to understand things from the ground up.