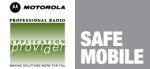 SafeMobile
Companie verificată
Echipa ejobs a verificat această companie. Activitatea declarată și detaliile de contact corespund informațiilor afișate aici.
Descrierea companiei
SafeMobile team was formed in 2002 as a research and development division of American International Radio, Inc. (AIR). The core activity consists in designing and developing hardware and software solutions for radio communications equipments, in accordance with the customers' needs.
The company is ISO 9001:2000 certified for developing hardware and software solutions methodology and IPC-2221, IPC-2222 for hardware design.
About American International Radio, Inc. (AIR)
American International Radio, Inc. (AIR) is a premier technology company, Motorola's largest Distributor in the EMEA Region (2007-2011) and System Integrator providing Professional Communication Solutions and Mobility & IT Applications for Public Safety, Government, Commercial, Industrial and Transport sectors.
AIR began in 1990 and has since grown to direct offices in nine countries and partners in over 60 countries all over the world, including U.S.A, Africa, Europe and the Middle East.
AIR is also the founder of a company SafeMobile LLC which designs, manufactures and distributes Wireless Data Systems and Technologies for the global marketplace.
About SafeMobile
SafeMobile is a premier global solution provider and systems integrator, honored with the industry's most prestigious awards, partnerships and affiliations. 
We provide a world of wireless applications, both client-hosted and web-based, and integration solutions for DMR®, TETRA®, and P25® radio systems. Professional solutions include GPS/AVL Tracking and Monitoring, Alarms and Historical Playback, Optimized Voice Dispatch, Text Messaging, E-mail, Telemetry, Enhanced Reporting and more.
Leading the industry with revolutionary innovation, SafeMobile's new mobile Android/ Apple/ Windows-based marketplace of applications opens a realm of enhanced mobility, connectivity and opportunity for users within the two-way radio ecosystem to increase functionality and optimize performance to save both time and money.