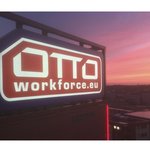 OTTO Work Force BV
Companie verificată
Echipa ejobs a verificat această companie. Activitatea declarată și detaliile de contact corespund informațiilor afișate aici.
Descrierea companiei
We offer our employees the highest quality standards in terms of service. Receiving your salary in time, and correct payment for irregular shifts. And personal attention. At OTTO Work Force we treat people, as we like to be treated ourselves. With respect! Our employees are our capital and we take very good care of that. Our endeavours to achieve the highest quality standards are further underlined by our membership of ABU and the NEN 4400-1 and VCU-certifications.
Working in the Netherlands
Each day some 5,000 flex workers work for OTTO Work Force in the Netherlands. The majority of our employees are originally from other countries and are (temporary) employed in the Netherlands. The boundless opportunities OTTO Work Force offers you as an employee in Europe, may entail that you will work in another country. If this is the case, you have to rely on proper arrangements having been made. OTTO Work Force is honest and transparent in this respect. This means that, wherever you want to work in Europe, we take care of your career.
Media