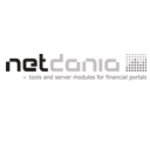 NetDania
Companie verificată
Echipa ejobs a verificat această companie. Activitatea declarată și detaliile de contact corespund informațiilor afișate aici.
Descrierea companiei
Founded in 1999, NetDania soon pioneered streaming price technology and charting for web applications, making the company a leading provider of advanced charting packages.
Since then, the company's activities have expanded. NetDania now offer workstations (with and without trading), low latency data feeds, and mobile applications. Since 2012, the NetDania mobile app has topped global App Stores within the finance category, as the highest end-user rated mobile app.
All NetDania applications are 100% customizable and can be fully branded according to customer requirements.
The backbones of our services are cloud solutions that are built in-house. On a day to day basis, they serve thousands of simultaneous users nd ensure timely delivery of millions of weekly alerts. At NetDania we take pride in an outstanding customer satisfaction, a result of our ultra-low data latency, high reliability, 24x7 online support and almost 15 years of experience of providing customers with fully hosted solutions.
NetDania has obtained a strong position within the corporate FX segment and our clients include major banks, brokers, currency managers, and analysts worldwide.
NetDania is privately held by its Danish owners, and it operates out of London and Copenhagen with a development division in Craiova, Romania.