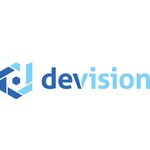 Devision
Echipa eJobs a verificat această companie. Activitatea declarată și detaliile de contact corespund informațiilor afișate aici.
Descrierea companiei
Devision is a full-service web and mobile development company dedicated to building usable and efficient client-centric solutions.

We are a multi-discipline team of technical consultants, developers and designers specialized in software development, web development and design, mobile applications development.
Following the idea behind our company's name - incorporation of two terms "development" and "vision", we aim to build solutions, which are able to solve complex business problems while having excellent user experience.

Our core values are:
Delivering results. We do our best to achieve our clients' goals and fulfill all expectations.
Open communication. We believe that only through honest and open communication we could achieve lasting success and long-term relations.
Strive for progress. We like to push our limits, improve our skills and adopt new technologies.
To be positive. We enjoy our work and try to keep a positive and friendly environment both for our colleagues and clients.
Media