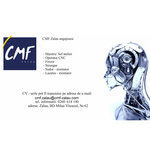 CMF ZALAU SRL
Companie verificată
Echipa ejobs a verificat această companie. Activitatea declarată și detaliile de contact corespund informațiilor afișate aici.
Descrierea companiei
About us
       One of subsidiary of MSJ Industrie.    
       A quality asset for our customers
Know-how
Mechanical builders
Partner for  maintenance services
        In Romania, CMF Zalău was created in 2007 by Mr. Penrath Jean Luc, in order to provide to our
customers mechanical products at a competitive price level while guaranteeing quality. Today we have
a team of 50 people.
         CMF Zalău currently provides complete service maintenance for MICHELIN EAST Europe, a wide range of services: mechanical / welding metal processing, prototype manufacturing; we are able to make  complex overall plans. CMF Zalău also produces complete mechanical subassemblies.
            In collaboration with the design offices, we will accompany you until the end of your ideas.
 Objectives  of  CMF Zalău
Ensure global technical & strategic solutions
Answering to specific needs of our industrial customers worldwide
Updating designing tools and production means, project pursuance and integration
Self-commitment over our accomplishments quality and performances
High performance custom solutions concerning output, exploiting level, reliability and maintenance
Insuring the traceability for our work
Our products technical evolution
            Equipments
CMF Zalău has machinery handled by qualified and experienced staff that will know to meet your needs.
Lathe Cazeneuve HB725
Lathe 800X3000
Lathe Vernier ELMEC 255
Vertical Lathe CARUSEL SC22
Scie Bande automatique PBS-250A
Cutting machine 3 M FG-1030
Scie Bande manuelle ULTRA
Cutting machine 1 M
Milling machine Vergnet
Milling machine FUS 22
Milling machine  Dufourt
Boring Machine AFD 100
Milling machine P U
Cylindrical rectifying TITAN
Welding machine
MASTERTIG  AC/DC 2500W
Cylindrical rectifying machine
Rectifying machine of large widths
Pignoneuse  FD 400
Welding machine
POWERTEC 420S
Milling machine Fus 22
Welding machine
POWERTEC 420S
Drilling machine
Welding machine
POWERTEC
Rolling Machine
Welding machine
TEHNOLOGIE 220HD
Measuring column
Grinding machine (sharpener)
Milling machine  CNC Lagun NUM 750
Lathe Cazeneuve HB525
Lathe  Okuma LB4000EX
Milling Machine HURON
Paint Booth SAICO
Colonne de mesure
Milling Machine CNC Lagun NUM 750
        Products and services
             We are proposing a global offer, summarized on the following points:
Maintenance intervention
Complete manufacturing of dedicated machinery and subassemblies
Appropriate technical solutions;
The ergonomy of rendering operative means.
       Strong points
The reactivity
Team spirit - French management
Quality control service
The traceability of the raw material and our products.
Respect of our deadlines
Follow-up of subcontracting
 Installation of subassemblies (Complete machines)
       Weak points
No lifting possibility- above 3 tons
Loss of precision on large dimensions ~ 700mm³
Small digitized capacity