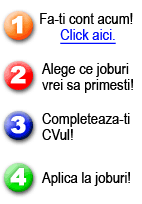 Candidatii eJobs pot alege daca CVul lor este:
CONFIDENTIAL, PUBLIC sau daca este disponibil doar clientilor eJobs.
CVul de pe acesta pagina este public (fara date de contact insa). CVul Public ii ofera candidatului mai multe oportunitati de a fi gasit si contactat de potentiali angajatori. CVurile disponibile doar clientilor eJobs au un format mai complex, contin mai multe informatii si sunt mult mai detaliate.
Candidatii eJobs isi pot schimba in orice moment disponibilitatea CVului.
Daca sunteti firma si doriti sa contactati candidatul de mai jos, trimiteti-ne aceasta cerere la Contact@ejobsgroup.ro, alaturi de linkul catre aceasta pagina.
Unul din Relationship Managerii eJobs o sa va contacteze in maxim 24 de ore si o sa va ofere datele de contact DOAR dupa ce candidatul isi exprima acordul in acest sens.
Curriculum Vitae

informatii personale

M 21.03.1985

Stagiu militar: da

obiectiv

Armed with my BSc Diploma in Mathematics and with 10+ years experience as Trusted HR Advisor for multinational companies, I absolutely love to engage in research and analysis, high quality networking with profitable business on sight. Always with an eye on the future, especially on that all vital Talent Battle, I have acquired top notch know-how in order to design, develop and streamline Employer Branding & Talent Management and Acquisition processes. B2B proficient, I have seen it working both ways – have found clients and C-execs alike, and I have learn how important it is to truly understand them. Master researcher, top-notch improviser with excellent skills in cold calling and headhunting. Clear and transparent communicator. +85% success rate in Executive Search missions +8000 CBBI sessions with c-execs and top management +50 Assessment Centers conducted +350 openings fulfilled by razor-like Boolean Strings and X-Ray Search +10000 business contacts in World Class Network +Global Success Stories: Far Asia, Turkey, Central and Eastern Europe, Germany, United Kingdom, Ukraine



Salariu: nespecificat

Tip job: Full time

Departament: Vanzari, Resurse umane / Psihologie, Educatie / Training / Arte, Statistica / Matematica

Oras de lucru: Bucuresti

Nivel Cariera: Mid-Level (2-5 ani)

Disponibil: oricand

experienta profesionala

01.01.2016 - prezent

Departament: resurse umane / psihologie

Titlu Job: worldwide headhunter & hr advisor

Responsabilitati:

Talent Acquisition and Management
Executive Search, Direct Search and Headhunting
Employer Branding
Employee Onboarding
Tactical HR Advisory (employee relations, workflow management, salary benchmarking)

01.07.2006 - 31.12.2015

Departament: resurse umane / psihologie

Titlu Job: recruitment specialist, recruitment consultant, senior consultant, managing consultant

Responsabilitati:

[Hardcore Skills]

Assessing clients' needs (professional requirements and personality profile) and elaborating the best strategy for the mission in-hand;
Establishing recruiting requirements by studying organization plans and objectives; meeting with managers to discuss needs;
Designing the selection matrix for choosing the optimum recruitment channel and recruitment source (international HeadHunting included;
Setting the social media communication strategy for different job profiles and functions in the organization;
Applying the entire array of selection instruments: pre-selection; competency-based and behavioral interview;
Defining business cases; psychological profile testing; defining and conducting assessment centers;
Improves organization attractiveness by recommending new policies and practices; monitoring Comp&Ben practices;
Emphasizing benefits and perks.
Maintaining the relation with clients and candidates during final interviews and decision making period.

[Managing Skills]

Designing, developing and maintaining the recruitment process (including its description, recruitment measurement definitions, regular measurement reporting, taking proper actions to close gaps);
Managing a team of 4 consultants since 2008;
Business development origination, identify and acquire new clients;
Lead international executive search consultant; best practices generator;
Mentoring young professionals in the art of direct search, head-hunting and professional network development;
Elaborating state of the art sales presentations for Executive Search missions, or Search & Selection projects;
Generating continuous improvement solutions related to work-flows, methodology and internal communication.

studii

Facultati:

2004 - 2009 Facultate / Colegiu: Matematica la Universitatea din Bucuresti din Bucuresti.



Pagini: 1 2 3 4 5 6 7 8 9 10 11 12 13 14 15 16 17 18 19 20