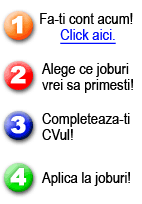 Candidatii eJobs pot alege daca CVul lor este:
CONFIDENTIAL, PUBLIC sau daca este disponibil doar clientilor eJobs.
CVul de pe acesta pagina este public (fara date de contact insa). CVul Public ii ofera candidatului mai multe oportunitati de a fi gasit si contactat de potentiali angajatori. CVurile disponibile doar clientilor eJobs au un format mai complex, contin mai multe informatii si sunt mult mai detaliate.
Candidatii eJobs isi pot schimba in orice moment disponibilitatea CVului.
Daca sunteti firma si doriti sa contactati candidatul de mai jos, trimiteti-ne aceasta cerere la Contact@ejobsgroup.ro, alaturi de linkul catre aceasta pagina.
Unul din Relationship Managerii eJobs o sa va contacteze in maxim 24 de ore si o sa va ofere datele de contact DOAR dupa ce candidatul isi exprima acordul in acest sens.
Curriculum Vitae

informatii personale

M 17.08.1980

Permis conducere: Cat.B, Data obtinerii:24.10.2006

Stagiu militar: da

obiectiv

Salariu: nespecificat

Tip job: Full time

Departament: Grafica / Webdesign / DTP, Productie, Inginerie, IT Software

Oras de lucru: Timisoara

Nivel Cariera: Senior-Level (> 5 ani)

Disponibil: oricand

experienta profesionala

01.09.2012 - prezent

Departament: inginerie

Titlu Job: test engineer (axi/aoi)

Responsabilitati:

- Provide technical support for test equipments. Implements software and hardware plaforms; represents the
interface with the client
- Coordination of technical activities related to testing and inspection processes;
- Initiate and implement actions for continuous monitoring and improvement of testing and inspection
processes, in accordance with customer requirements, technical specifications of equipment and internal
procedures;
- Initiate and implement actions to minimize test equipment downtime, ensure production performance
stability and takes actions to improve processes in terms of correct operation and higher efficiency equipment
and processes that responds for;
- Prepares plans and maintenance instructions for equipment test and inspection that is responsible and
check its correct conduct in accordance with customer requirements, internal procedures and the equipment
manufacturers;
- Maintain test programs, initiates actions to meet the test requirements and specifications from customers,
ensuring backup and reference unit;
- Provide testing and inspection activities reports to CFT and client;
- Manage effectively inventory of spare parts and take action to reduce spare parts costs;
- Track efficiency of testing and monitoring related indicators in the areas of responsibility;
- Participate in analysis, interact with other engineering groups and customer for solving technical problems;
- Interface design, test programs, when necessary and / or design and test strategies for introduction into
production processes;
- Uses test equipment production, development or diagnostic test solutions such as oscilloscopes,
multimeters, signal generators, and specialized test equipment;
- Working after schematics, diagrams, drawings, written / verbal descriptions or defines plans for testing;
- Creates and actualizes work instructions for testing process, warnings and other inspections and testing
process documentations.

01.09.2003 - 30.09.2012

Departament: inginerie

Titlu Job: test technician

Responsabilitati:

- Provides technical support for test equipment on production lines;
- Using specific test, measurement and diagnostic equipment to repair test equipment;
- Monitoring compliance testing processes and proper operation of equipment
- Troubleshooting and maintenance of test and inspection equipment;
- Maintenance of test equipment based on annual maintenance plan and instructions defined by the
responsible test engineers, and the internal procedures;
- Installing and uninstalling hardware and software, according to test equipment specifications;
- Training test operators;
- Maintaining permanent contact with functions / departments who provide support in order to improve
business;
- Making periodic inspections required in test and inspection processes in accordance with test instructions;
- Reduce the break down time of test equipment;
- Efficient use of spare parts;
- Working after schematics, diagrams, drawings, written / verbal descriptions;

01.09.2002 - 30.09.2003

Departament: productie

Titlu Job: test operator

Responsabilitati:

- Tests electronic products, components and systems for electrical continuity and function and reliability on a
variety of test platforms according to Station Instruction Card;
- Determines if the designated product passes all test cycles.

studii

Facultati:

2016 - 2018 Masterat: la din Timisoara.
2008 - 2012 Facultate: la din Timisoara.
1995 - 1999 Liceu / Școală profesională: la din Motru.



Pagini: 1 2 3 4 5 6 7 8 9 10 11 12 13 14 15 16 17 18 19 20