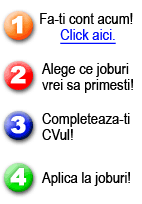 Candidatii eJobs pot alege daca CVul lor este:
CONFIDENTIAL, PUBLIC sau daca este disponibil doar clientilor eJobs.
CVul de pe acesta pagina este public (fara date de contact insa). CVul Public ii ofera candidatului mai multe oportunitati de a fi gasit si contactat de potentiali angajatori. CVurile disponibile doar clientilor eJobs au un format mai complex, contin mai multe informatii si sunt mult mai detaliate.
Candidatii eJobs isi pot schimba in orice moment disponibilitatea CVului.
Daca sunteti firma si doriti sa contactati candidatul de mai jos, trimiteti-ne aceasta cerere la Contact@ejobsgroup.ro, alaturi de linkul catre aceasta pagina.
Unul din Relationship Managerii eJobs o sa va contacteze in maxim 24 de ore si o sa va ofere datele de contact DOAR dupa ce candidatul isi exprima acordul in acest sens.
Curriculum Vitae

informatii personale

| | |
| --- | --- |
| | F 10.10.1988 |

obiectiv

My objective is to work in a healthy environment where I can use the right blend of skills and knowledge which I possess for achieving the organization objectives as well as the development of my personality & capability in this dynamic corporate world.



Salariu: nespecificat

Tip job: Full time

Departament: Farmacie, Achizitii, Controlul calitatii, IT Software, Banci

Oras de lucru: Bucuresti

Nivel Cariera: Mid-Level (2-5 ani), Senior-Level (> 5 ani)

Disponibil: oricand

experienta profesionala

01.12.2020 - prezent

Departament: achizitii

Titlu Job: sourcing & buying specialist

Responsabilitati:

• Establishing and maintaining strong relationships with internal, client and supplier stakeholders;
• Supporting market tenders and managing the evaluation across cross-functional teams to determine select suppliers;
• Supporting analysis of proposals and producing recommendations;
• Negotiating deals (of varying size and complexity) to achieve optimal commercial, specification, compliance and contractual outcomes;
• Drafting contracts based on standard terms and conditions;
• Identifying ways to improve related business as- usual processes – including the development of standard templates and processes, and identifying and implementing automation opportunities;
• Adhering to their corporate standards, including using the defined sourcing tools and processes in delivery of sourcing initiatives;
• Ensuring functional KPI's, SLA's and other performance objectives are met including savings targets;

Reason for wanting to change current job:
• Temporary employment, only back filling for people in sick/maternity leaves;
• Working on US shift;

01.10.2019 - 30.06.2020

Departament: financiar / contabilitate

Titlu Job: competitive data analyst

Responsabilitati:

• Maintaining up to date list of reseller websites per country;
• Collecting Option/Server product price for HPE and main competitors;
• Maintaining dashboard showing competitor gaps;
• Highlights to Country Category any major price discrepancy or missing HPE products from reseller websites;
• Staying up to date with market changes, pricing and product strategy and proactively enhancing business understanding through trainings;
• Maintaining up to date all knowledge on processes, tools, products and nesting capabilities (including products newly introduced);

*Unfortunately due to Covid - 19 this position was terminated

01.11.2016 - 31.10.2019

Departament: achizitii

Titlu Job: procurement specialist

Responsabilitati:

• Identify suppliers of goods and services;
• Negotiate terms with suppliers such as price, quality of goods, deadlines, expectations, etc;
• Liaise with suppliers and project managers regarding updates and details of goods;
• Create purchase orders and tally these with supply requests and orders;
• Analyze invoices to ensure accuracy of goods delivered;
• Monitor inventory to ensure the flow of goods remains positive;
•Attend meetings with the legal department to ensure any contractual obligations are favorable to the company;
• Work closely with the projects team to understand details of procurement requirements;
• Identify and promote cost savings;

01.01.2014 - 29.02.2016

Departament: achizitii

Titlu Job: supply chain specialist

Responsabilitati:

• Ensure all orders are fulfilled on a regular basis;
• Forwarding the shipping assignments to suppliers and clients;
• Tracking deliveries;
• Assist, support, and provide backup coverage for all Supply Chain team members;
• Various reports such as customer service level, planned and non-planned goods return, cancellation of order;
• Managing complaints coming from customers or other departments, collecting information;
• Coordinate and collaborate with key stakeholders such as product, quality, supplier development, planning, operations;


01.12.2012 - 31.12.2013

Departament: administrativ / logistica

Titlu Job: office coordinator

Responsabilitati:

• Responsible for key support activities including: purchasing, travel desk, and office support;
• Supply ordering and replacement, calling for services;
• Conference room/training room coordination - schedule the conference rooms or break out rooms for visitors;
• Responsible for providing support for global purchasing; gathering quotes, creating purchase orders;

01.09.2011 - 30.09.2012

Departament: administrativ / logistica

Titlu Job: front desk officer

Responsabilitati:

• Attending calls, welcoming visitors & clients;
• Receiving the company's mail and fax documents, the incoming mail, invoices;
• Contact the suppliers when necessary;
• Various other administrative duties as required;


studii

Facultati:

2012 - 2015 Facultate: Stiinte Economice la Universitatea Spiru Haret din Bucuresti.



Pagini: 1 2 3 4 5 6 7 8 9 10 11 12 13 14 15 16 17 18 19 20