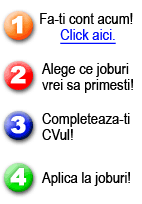 Candidatii eJobs pot alege daca CVul lor este:
CONFIDENTIAL, PUBLIC sau daca este disponibil doar clientilor eJobs.
CVul de pe acesta pagina este public (fara date de contact insa). CVul Public ii ofera candidatului mai multe oportunitati de a fi gasit si contactat de potentiali angajatori. CVurile disponibile doar clientilor eJobs au un format mai complex, contin mai multe informatii si sunt mult mai detaliate.
Candidatii eJobs isi pot schimba in orice moment disponibilitatea CVului.
Daca sunteti firma si doriti sa contactati candidatul de mai jos, trimiteti-ne aceasta cerere la Contact@ejobsgroup.ro, alaturi de linkul catre aceasta pagina.
Unul din Relationship Managerii eJobs o sa va contacteze in maxim 24 de ore si o sa va ofere datele de contact DOAR dupa ce candidatul isi exprima acordul in acest sens.
Curriculum Vitae

informatii personale

F 18.04.1988

Permis conducere: Cat.B, Data obtinerii:05.12.2008

obiectiv

My personal goal is to be part of a competitive environment with direct access to Automated Testing and the opportunity to work in a multicultural company in the IT / Telecom field. I am eager to participate in the design, implementation and troubleshooting of software products. Above all, I would like to work in a professional and dynamic team where I can prove and develop my abilities.



Salariu: nespecificat

Tip job: Full time

Departament: Telecomunicatii, IT Software

Oras de lucru: Bucuresti

Nivel Cariera: Mid-Level (2-5 ani)

Disponibil: oricand

experienta profesionala

01.04.2014 - prezent

Departament: it software

Titlu Job: software quality assurance engineer

Responsabilitati:

• Identify and document defects and errors during the acceptance tests. Perform
the defect inspection after all defects or errors got fixed.
• Maintain and improve the technical and non-technical QA tool environment
(e.g. test scripts, procedures, processes, changes).
• Design scenarios, test and write test cases for features like: DNS, Regions,
DST, Alarms, Licensing and more on a High Availability setup.
• Hands-on experience with test plans for white/black box testing, creating test
plans and test cases for the QA group.
• Extensive work with virtualization software, using clusters with 7+ CentOS
instances.
• Daily experience with Jira Bug Tracking and TestRail Test Case Management
Software

01.12.2012 - 01.04.2014

Departament: telecomunicatii

Titlu Job: quality assurance engineer

Responsabilitati:

• Part of the regression team where all automation tests are integrated in a long
process for stability or interoperability testing and new possible bug discovery.
Responsible for making presentations regarding automations tools and scripts.
• Write automation scripts in order to decrease the time spent for manual retesting.
• Cover system requirements, test new features, retest old features in the new SW
load/configuration, or in renewed HW, and also test the coverage of cross-features
(two or more features working together).
• Find and fix performance problems.
• Define the issues encountered in terms of reproducibility, severity and priority.
• Verify solutions of bugs provided by R&D.

01.07.2011 - 01.01.2012

Departament: telecomunicatii

Titlu Job: trainee engineer, ip solutions testing & design

Responsabilitati:

Receive an intensive training based on a "learn by doing" approach with the purpose
of:
• Develop solutions for Romtelecom by evaluating and testing data networking
devices that will be used for premium services.
• Integrate Romtelecom premium services with customer networks after an in-depth
assessment of the customer's network application needs, provide network modelling
and simulation consulting to further clarify needs followed by research, design, plan,
develop, test and evaluation of advanced network technologies, in order to translate
customer specific requirements into a final customized solution.

studii

Facultati:

2007 - 2011 Facultate: Computer Scince la University Politehnica of Bucharest, Faculty of Electronics, Telecommunications and Information Technology din Bucharest.



Pagini: 1 2 3 4 5 6 7 8 9 10 11 12 13 14 15 16 17 18 19 20