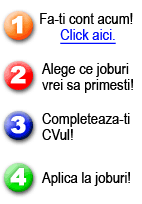 Candidatii eJobs pot alege daca CVul lor este:
CONFIDENTIAL, PUBLIC sau daca este disponibil doar clientilor eJobs.
CVul de pe acesta pagina este public (fara date de contact insa). CVul Public ii ofera candidatului mai multe oportunitati de a fi gasit si contactat de potentiali angajatori. CVurile disponibile doar clientilor eJobs au un format mai complex, contin mai multe informatii si sunt mult mai detaliate.
Candidatii eJobs isi pot schimba in orice moment disponibilitatea CVului.
Daca sunteti firma si doriti sa contactati candidatul de mai jos, trimiteti-ne aceasta cerere la Contact@ejobsgroup.ro, alaturi de linkul catre aceasta pagina.
Unul din Relationship Managerii eJobs o sa va contacteze in maxim 24 de ore si o sa va ofere datele de contact DOAR dupa ce candidatul isi exprima acordul in acest sens.
Curriculum Vitae

informatii personale

F 21.10.1980

Permis conducere: Cat.B, Data obtinerii:21.11.1998

obiectiv

- Working in an economic environment that is characterized by dynamism, entrepreneurial spirit, responsibility; - Join a company that would give me the opportunity to develop my skills and use them to their maximum efficiency.



Salariu: nespecificat

Tip job: Part time, Full time, Proiect / Sezonier

Departament: Relatii publice, Marketing, Arhitectura / Design interior, Publicitate, Grafica / Webdesign / DTP, Educatie / Training / Arte, Internet / e-Commerce, Crewing / Casino / Entertainment, Confectii / Design vestimentar

Oras de lucru: Bucuresti, Sibiu, STRAINATATE, Remote (de acasă)

Nivel Cariera: Manager / Executiv, Senior-Level (> 5 ani)

Disponibil: oricand

experienta profesionala

01.06.2019 - prezent

Departament: alimentatie / horeca

Titlu Job: social media manager

Responsabilitati:

Planning, implementing, managing and monitoring company's Social Media strategy in order to increase brand awareness and increase sales.
Administrate the creation and publishing of relevant, original, high-quality content (for all channels – Facebook, Instagram, Google – My Business - and ads).

01.10.2018 - 31.12.2018

Departament: relatii publice

Titlu Job: communication specialist

Responsabilitati:

Handling the national communication for Moromeții 2 launch – promoting the national caravan (50 cities in 2 months) – press releases for each location, media relations with local media, local media partnerships.

01.06.2015 - prezent

Departament: relatii publice

Titlu Job: marketing & pr specialist

Responsabilitati:

- Planning and implementing the communication strategy of the institution and the communication plans for each event;
- Strategic partnerships (media & sponsorships);
- PR actions: draft press releases and manage media relations;
- Online strategy – Handle social media communication: Facebook, website, Instagram, Newsletter;
- Produce marketing collaterals (brochures, slide decks, multimedia content);
- Prepare and sustain creative concepts & strategy presentations to the board and business partners;
- Monitoring the reflection of all projects in online and offline media, measuring and reporting status and results on social networks, blogs, news websites;

01.06.2011 - 31.01.2012

Departament: publicitate

Titlu Job: account manager

Responsabilitati:

Account: Jack Daniel's (Brown Forman)
- Coordinate all agency's departments involved in delivery of the communication campaigns (client service, creation, DTP, production) in an efficient way, in order to achieve Client's deadlines and objective;
- Brand communication at every phase and in all media (press, events, online);
- Events planning and management;
- Negotiate production costs with the suppliers and Client, monitor the Agency's and the Client's advertising budgets and present relevant reports;

01.11.2010 - 30.06.2011

Departament: publicitate

Titlu Job: brand manager

Responsabilitati:

Define the strategic line of the brand, according to the company's strategy;
Initiate and conduct the promotion activities of all on-going programs of the station, as well as all the launching campaigns for the top shows of the station (X Factor) and communication of special periods of the year;
Assure the communication with all the other departments of the station (sells dep., programming dep., financial dep.) and responsible for the correctitude and promptness of all information presented;
Monitor the competition and propose alternatives and ways of action in conformity with the station strategy;
Assure support and guidance to the subordinated personnel in order to achieve the objectives;
Administrate the marketing budget (negotiations with the suppliers, allocate the financial resources in the most efficient way);

01.02.2008 - 31.10.2020

Departament: publicitate

Titlu Job: account manager

Responsabilitati:

Accounts: Jim Beam, Skyy Vodka, Praktiker (DIY)
- Coordinate the communication campaigns implementation on all communication channels: TV, press, radio, OOH, internet, BTL, retail;
- Offer input and support on Client's communication campaigns strategy;

- Develop and sell the Agency's outcome (plans, strategies, ideas) to Clients;
- Prepare and sustain the creative presentations;
- Negotiate production costs with the suppliers and Client, monitor the Agency's and the Client's advertising budgets and present relevant reports;

- Work to grow and develop the skills and abilities of people within my team, coordinating them in an efficient way.

studii

Facultati:

2012 - 2012 Masterat: la din Milano.
2003 - 2005 Masterat: la din Bucuresti.
1999 - 2003 Facultate: la din Iasi.



Pagini: 1 2 3 4 5 6 7 8 9 10 11 12 13 14 15 16 17 18 19 20