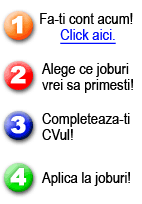 Candidatii eJobs pot alege daca CVul lor este:
CONFIDENTIAL, PUBLIC sau daca este disponibil doar clientilor eJobs.
CVul de pe acesta pagina este public (fara date de contact insa). CVul Public ii ofera candidatului mai multe oportunitati de a fi gasit si contactat de potentiali angajatori. CVurile disponibile doar clientilor eJobs au un format mai complex, contin mai multe informatii si sunt mult mai detaliate.
Candidatii eJobs isi pot schimba in orice moment disponibilitatea CVului.
Daca sunteti firma si doriti sa contactati candidatul de mai jos, trimiteti-ne aceasta cerere la Contact@ejobsgroup.ro, alaturi de linkul catre aceasta pagina.
Unul din Relationship Managerii eJobs o sa va contacteze in maxim 24 de ore si o sa va ofere datele de contact DOAR dupa ce candidatul isi exprima acordul in acest sens.
Curriculum Vitae

informatii personale

M 20.11.1988

Stagiu militar: nu

obiectiv

Objective: Expert in managing profitable business projects and providing successful business solutions for clients and companies (B2C and B2B). Producing profit for your company, while providing your clients with the best possible business experience are my main aims and professional day-to-day goals.



Salariu: 900,00 USD / luna

Tip job: Full time

Departament: Resurse umane / Psihologie, Relatii publice, Office / Back-office / Secretariat, Publicitate, Functii publice, Telecomunicatii, Relatii clienti / Call center, Controlul calitatii, Traduceri, Management

Oras de lucru: Bucuresti, Remote (de acasă)

Nivel Cariera: Mid-Level (2-5 ani), Senior-Level (> 5 ani)

Disponibil: oricand

experienta profesionala

01.05.2017 - prezent

Departament: relatii clienti / call center

Titlu Job: senior service dispatch coordinator

Responsabilitati:

Key Responsibilities:

- Managing the North California and Nevada markets using Oracle Applications and Service Cloud to ensure all open tasks and service requests are handled within the SLA, while coordinating via phone and/or email with the clients and the technicians.
- Selling sound system and satellite equipment (amplifiers, speakers, microphones, volume controls, satellite dishes etc.) along with technician installation labor hours for client business projects.
- Organizing field intervention activities (scheduling, orders, equipment rentals etc.)and answering all ETA inquiries coming from clients or members of other departments within the company.
- Resolving discrepancies related to escalation calls that may come from various field or 3rd party incidents that can impact the SLA and the client's business.
- Reviewing completed service jobs and projects in Oracle and sending them over to AR for invoicing within 1 business day from completion.
- Ordering equipment, arranging and coordinating shipments and transport, after reviewing client's contracts for warranties, approval procedures special pricing lists or preferred shipping methods.
- Communicating with our warehouses, design teams and external suppliers to ensure that the arrival of equipment and technicians meet customer expectations and contractual obligations.

Key Achievements:

- Completed over 100+ sales projects I have handled from start to finish. My average sales profit margin currently stands at about 60% over the standard prices offered to our client, which makes me one of the top sellers in my team.
- Since I started managing the North California and Nevada markets, they now have the best SLA rating in our department, arriving at an average of 1-2 business days for completing a normal service request and 5-7 business days for a sales project; from the date of the client's approval.

01.03.2016 - 31.05.2017

Departament: relatii clienti / call center

Titlu Job: client support specialist

Responsabilitati:

Key Responsibilities:

- Providing technical solutions and troubleshooting techniques for clients over the phone and e-mail.
- Collecting and analyzing information while recommending and taking courses of action in matters of Service, Billing, Payments, Orders and Account Management.
- Maintaining project objectives by setting timetables and schedules, conducting research, developing and organizing information in the areas mentioned.
- Data entry in Oracle and various control sites while following pre-defined procedures, keeping client files up to date, fulfilling transactions and creating tasks for other departments as Dispatch, Order Entry and Account Management.

Key Achievements:

- Resolved over 60+ various customer queries per day, on 8 separate queues.
- Constantly on top 5 employees of the month performance graphics.
- Saved numerous clients for the company when threatening to cancel services, by arranging alternative solutions with my supervisors.
- Participated in training new hires.

01.08.2014 - 31.03.2016

Departament: relatii clienti / call center

Titlu Job: opinion polls and data operator

Responsabilitati:

Key Responsibilities:

- Gathering information from polls and analyzing it against the campaign's weekly objectives, with planning and prognosis for future actions.
- Team work: configuring and managing campaign logistics for the field work team and for grassroots strategy implementation.
- Maintaining a close relationship with the party's political supporters and voters, and helping out with information about election day, election law and providing support where needed.

Key Achievements:

- I was named the most efficient operator in the team during the high-time of the presidential campaign (October-November).

01.09.2012 - 31.10.2013

Departament: jurnalism / editorial

Titlu Job: media monitoring specialist

Responsabilitati:

Key Responsibilities:

- Tracking key messages, issues and audience sentiment across various Romanian media channels (TV, online press, blogs etc.).
- Analyzing aforementioned factors in order to identify gaps and spot trends related to our clients needs.
- Accessing, searching and delivery of electronic content to clients through an online database of newspaper articles.

Key Achievements:

- Was named employee of the month 3 times.

studii

Facultati:

2012 - 2014 Masterat: Jurnalism, PR și Comunicare Politică la University of Bucharest - Faculty of Journalism and Communication Sciences din Bucuresti. · Specialization Field: Political Communication, PR and Journalism
· Faculty: Faculty of Journalism and Communication Sciences
· Activities: I was part of a delegation of journalists and students at the European Parliament in Brussels for a parliamentary session concerning the state of freedom of press in the EU in 2012. Also, in 2014 I took part in a project that simulated a presidential campaign from start to finish. I headed the team as creative leader and presented the results in a public meeting with all the participating teams.
Exam: Dissertation thesis entitled "The Internet as Public Space - Reform Policies of the Health System Reflected in the Romanian Online Debate Environment".
2007 - 2010 Facultate: Științe Politice la Universitatea din București - Facultatea de Știinte Politice din Bucuresti. · Specialization Field: Political Science
· Faculty: Faculty of Political Sciences
· Activities: Based on my results, I was elected to be part of an elite student debate group for 1 year at the Romanian Diplomatic Institute concerning developments in international relations. We held a meeting once every 2 weeks during which we presented a SWOT analysis (Strengths, Weaknesses, Opportunities and Threats) of a highlighted international event.
Exam: Diploma thesis entitled "Marxist Advocates in Interwar Romania - The Case of the 'Social Movement' Review".


Premii

Certificari
Dec 2015 - Dec 2015: TOEFL - Certificate of Proficiency in English (CPE)
C2 Proficiency
Conferinte
Sep 2015 - Sep 2015: Interpreting for the Embassy of the Republic of Korea in Romania
I acted as an English-Romanian interpreter for a Korean company at the "Korea-Romania SMEs Business Partnership Plaza 2015" event that was held at the Crowne Plaza Hotel in Bucharest, between the 15th and 16th of September 2015.

My role was to facilitate oral communication, either simultaneously or consecutively, between the representative of a Korean company and over 20 Romanian companies interested in its offers.

It was a very fulfilling experience as it provided me with the chance to display my English speaking capabilities and interpreting skills at such a high level event.
Proiecte
Dec 2013 - Jan 2014: Event Planner
I participated in editing the work of an author on the content and form of her first poetry volume (Alexandra Zamfir, "La rezonanța tâmplei", 2014, Editura Absolut).

I also wrote the preface and helped with organizing the official launch event of the book, during which I held a presentation of the volume and its author to the public and interviewed Alexandra in front of 30+ guests, who gathered at a small theater in the center of Bucharest.
Dec 2013 - Mar 2014: Research Collaborator
This was a project organized by Olga Kulesza, an anthropologist from Poland, with regards to Romanian culture in the context of Eastern Europe.

As a result of a my student research skills, I was elected to take part in the think tank group organized for this project. The topics ranged from history, collective behavior and popular beliefs, as well as universal Romanian cultural heritage.

My main objective as a researcher was to build a comprehensive cultural map of Romania, regarding the aforementioned factors, in order for it to be used as a tool in a process of rebranding Eastern Europe for future investments.



Pagini: 1 2 3 4 5 6 7 8 9 10 11 12 13 14 15 16 17 18 19 20