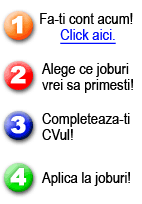 Candidatii eJobs pot alege daca CVul lor este:
CONFIDENTIAL, PUBLIC sau daca este disponibil doar clientilor eJobs.
CVul de pe acesta pagina este public (fara date de contact insa). CVul Public ii ofera candidatului mai multe oportunitati de a fi gasit si contactat de potentiali angajatori. CVurile disponibile doar clientilor eJobs au un format mai complex, contin mai multe informatii si sunt mult mai detaliate.
Candidatii eJobs isi pot schimba in orice moment disponibilitatea CVului.
Daca sunteti firma si doriti sa contactati candidatul de mai jos, trimiteti-ne aceasta cerere la

[email protected]

, alaturi de linkul catre aceasta pagina.
Unul din Relationship Managerii eJobs o sa va contacteze in maxim 24 de ore si o sa va ofere datele de contact DOAR dupa ce candidatul isi exprima acordul in acest sens.
Curriculum Vitae

informatii personale

F 01.04.1973

Permis conducere: Cat.B, Data obtinerii:30.11.1997

obiectiv

Pasionate for bringing the performance in the organization through talent and resources attracted, designing learning and development strategy, performance and rewarding techniques, increasing employee engagement, as well as transparent employee relationship, prompt service delivery and adecquate internal communication



Salariu: nespecificat

Tip job: Full time

Departament: Resurse umane / Psihologie

Oras de lucru: Bucuresti

Nivel Cariera: Mid-Level (2-5 ani), Manager / Executiv, Senior-Level (> 5 ani)

Disponibil: oricand

experienta profesionala

01.04.2017 - prezent

Departament: resurse umane / psihologie

Titlu Job: senior hr consultant

Responsabilitati:

independent HR consultant currently delivering HR projects for medical clinic chain and training projects for different industries

01.04.2017 - 30.04.2017

Departament: resurse umane / psihologie

Titlu Job: senior hr director

Responsabilitati:

 Responsible to drive the HR Strategy within the bank;
 Management of change: smoothly staff refurbishment, transformation of organizational culture in order to meet new brand expectations – 60% of the bank FTEs without court cases;
 Recruited specialist/ managers in 95% cases with internal resources;
 Development, deployment and monitoring of annual HR budget;
 Development of KPIs system for middle management positions, according to OPEX/ CAPEX budget lines;
 Business related Incentive scheme for line managers - correlated with performance of KPIs;
 Designing and implementing cross functions learning and development plan;
 Managed of selection process of external providers of services for training sessions, specific recruitment projects, payroll services, internal communications actions;
 Career path development from new entry positions to the management positions;
 Managed annual performance appraisal process and assure correlation between motivational compensation & reward with consistent performance results;
 Managed the process of Collective Labor Agreement negotiation;
 Reshaped of HR processes, procedures and policies - change of internal culture and bring a different view regarding HR role in organization: from administrative role to business partner and strategic position;
 Outsourcing of payroll services, set up of clear responsibilities between the members of HR team - saving 35% of HR division expenses; turnover rate below with 2% than KPI, saving 8% on total HR cost;
 Update of HR policies and procedures according to the current business requirements, NBR regulations and labor code modifications;
 Management consultancy of shareholders on HR decisions

01.03.2008 - 30.04.2014

Departament: resurse umane / psihologie

Titlu Job: head of training & development

Responsabilitati:

 Development and deployment of matricial training plan based on the local business strategy and aligned at Group programs – more than 20 different programs/ year;
 Development of local training team from 2 to 7 team members and 30 business trainers;
 KPIs Development for training team and constant monitoring;
 "Harvard Business School Publishing" – deployment of the blended program for top and middle management positions within the bank; 200 managers passed through 1 year program during consecutive 4 years;
 Development and implementation of "Bancpost Leadership Development Program" for the Top 20 Talented line mangers of the bank - including 360 feedback, coaching, training, shadowing etc – 1 year program;
 Refurbishment of "Annual Performance Appraisal" process from an annual task to a management tool;
 Managed design of the Career Development project across career families within the bank on Hey Group model and updated at bank specificities;
 Project leader within "Talent Management" project – 2 groups of top 20 talented coordinators prepared for the next step in their career through a complex program including 360 feedback, coaching, training, shadowing etc – 6 months program;
 "Counter Fraud Project" – implementation of Group workshop programs for all managers, e-learning program for all staff – Bancpost and its Subsidiaries – for 4000 FTEs;
 Action as centre of expertise in Learning, Performance Management, Career Path and Development aligned to Group Guidelines and local requirements;
 Continues update of training, development and performance management policies and procedures;

01.11.2004 - 31.03.2008

Departament: resurse umane / psihologie

Titlu Job: ops training manager and sales manager on bucharest area

Responsabilitati:

 Project member "Lean process"– optimization of the customer experience process and alignment at GE standards; as result: development of 1 common procedure in 1 Customer service department; 2 distinct collection departments for Early and Late Collection;
 Take over of "GE Compliance culture" training and deliver to all GE Money Romania employees by local trainer team;
 Focus Group leader - "GE Culture best practices" – implementation of GE Money Conference - smooth transition of the 3 teams to GE Values;
 "GE Training Strategy" – with functional and ierarchical reporting line (Operations and HR): training plan per each operations positions (15 positions) and training program for 150 managers under GE Culture and values;
 Development of cross function training team: from 3 Ralfi trainers to 6 GE trainers
 Training budget development and monitoring its execution;
 Update and deployment of "GE training program for managerial position" regarding coaching, feed-back, communication and career development.
 Design, development and deployment the training curricula for Operations positions;
 Development and management the activity, processes, procedures and flows of 3 departments: "Pending", "Call center" and " Training team " with 21 employees and 3 coordinators;
 Built from scratch a Call Center department, starting with recruitment of the team, developing team leaders and successor;
 Consolidated Call Center department through specific procedures and flows, and implementation of IT systems;
 Developement of team members through permanent feedback and coaching, building a training program tailored to each position and seniority level.

01.07.2001 - 31.07.2004

Departament: vanzari

Titlu Job: head of customer credit consulting and training coordinator

Responsabilitati:

 Analyze, develop and implement of "CEC Academy" within the specific project with SBFIC from Germany;
 Develop and deliver training content for the topics regarding active selling techniques of the CEC products, efficient communication with customers; techniques of solving customer`s complaints.
 Manage the activity of credit department;
 Training and coaching for credit analysts;
 Coordinate the activity of network supervisors;
 Training and control in branches with front office employees;

01.09.1996 - 31.07.2001

Departament: audit / consultanta

Titlu Job: head of network support department

Responsabilitati:

 Coordinate the activity of network supervisors;
 Training and control in branches with front office employees;

studii

Facultati:

2002 - 2004 Masterat: la din Bucharest.
1991 - 1996 Facultate: la din Constanta.



Pagini: 1 2 3 4 5 6 7 8 9 10 11 12 13 14 15 16 17 18 19 20