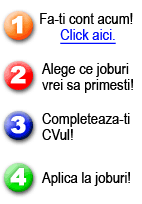 Candidatii eJobs pot alege daca CVul lor este:
CONFIDENTIAL, PUBLIC sau daca este disponibil doar clientilor eJobs.
CVul de pe acesta pagina este public (fara date de contact insa). CVul Public ii ofera candidatului mai multe oportunitati de a fi gasit si contactat de potentiali angajatori. CVurile disponibile doar clientilor eJobs au un format mai complex, contin mai multe informatii si sunt mult mai detaliate.
Candidatii eJobs isi pot schimba in orice moment disponibilitatea CVului.
Daca sunteti firma si doriti sa contactati candidatul de mai jos, trimiteti-ne aceasta cerere la Contact@ejobsgroup.ro, alaturi de linkul catre aceasta pagina.
Unul din Relationship Managerii eJobs o sa va contacteze in maxim 24 de ore si o sa va ofere datele de contact DOAR dupa ce candidatul isi exprima acordul in acest sens.
Curriculum Vitae

informatii personale

| | |
| --- | --- |
| | F 13.10.1983 |

obiectiv

Self-motivated ,passionate accounts payable with 10+years' experience involved in Non SAP (legacy systems) & SAP projects delivering professionalism,determination and strong problem resolution capabilities to complete tasks in a timely manner. Accurate and detail oriented with extensive bookkeeping and clerical knowledge.



Salariu: nespecificat

Tip job: Full time

Departament: Financiar / Contabilitate

Oras de lucru: Bucuresti

Nivel Cariera: Senior-Level (> 5 ani)

Disponibil: oricand

experienta profesionala

01.02.2020 - prezent

Departament: financiar / contabilitate

Titlu Job: senior accounts payable specialist

Responsabilitati:

Processing 2 way matching invoices utilizing the designated finance accounting system and procedures for three entities.

Daily Bank Statements processing.

Verifying, checking and booking expenses claims; personal reimbursements and cash reimbursements.

Analyze, assess & processing the monthly Fleet Logistic overview received files and invoices.

Running & processing automatically supplier payments.

Raising & processing manual payments.

Matching and clearing AP sub-ledger account.

Identifying invoices that are overdue or have not been received in business accounting system.

Reconcile discrepancies between vendor statement and accounting system.

Accounts Receivable.
- bookkeeping entries related payment reallocation, discount allocation, discount not allocated, wright off entries, other internal customer clearings.

VAT files preparation for Belgium and Netherlands entities sent to involved party on a monthly basis

OOB Intercompany balances files preparation ,booking and reversal in new fiscal period.

Netting Belgium and Netherlands entities.
- files preparation, upload into requested business system,download final netting, performing bookkeeping entries allocation for AP & AR side,manually clearings performed.

Daily Sales reporting file preparation sent to involved business parties.

Payroll files preparation for Belgium and Netherlands entities; uploading files in legacy system accounting,booking corresponding payroll documents.

01.05.2019 - 29.02.2020

Departament: financiar / contabilitate

Titlu Job: senior accounts payable helpdesk

Responsabilitati:

Providing assistance and support for incoming e-mails queries and issues related accounts payable department.

Serving as the first point of contact for Company Group Belgium entities.

Respond to queries via e-mail or over the phone.

Daily and monthly reports preparation; daily assigned cases, productivity, aged debtors and creditors reports.

Reconcile discrepancies between vendor statement and accounting system.

Follow up activities till End-to End resolution is provided to internal departments and suppliers.

Providing Support for global P2P projects; prepare and update Standard Operating Procedure.

Analyze, assess and resolution provided for accounts payable department related bookkeeping entries needed; vat tax code, reversal / re-posting documents, clearing corrections.

01.03.2018 - 31.05.2019

Departament: financiar / contabilitate

Titlu Job: senior accounts payable

Responsabilitati:

Processing 2 and 3 way PO matching invoices utilizing the designated Finance accounting system and procedures.

Processing the Fleet Logistic invoices according with Belgium legislation in place.

Proccessing Intercompany invoices.

Vendor statement reconciliation & Intercompany reconciliation.

Accruals file preparation and posting.

Prepaid expenses file preparation and posting.

Month end inventory: reconciliation and booking.

Reporting: KPI deck preparation.

01.10.2007 - 31.03.2018

Departament: financiar / contabilitate

Titlu Job: senior accounts payable analyst

Responsabilitati:

Opening scanned invoices from ERP Tool; processing PO & Non-Po invoices.
-bookings performed according with procedure and tax legislation in place for: Nordic countries, CEE Europe countries: HR&SI, CZ&SK, PL and Western Europe: Belgium.

Travel and entertainment expenses.
-analyze, assess employee expense reports for accuracy check and compliance with the Travel& Entertainment policies; manual processing of all received expenses for Croatia, Slovenia Slovakia entities according with procedure and tax legislation in place.

Vendor Master Data.
-creation and update of new requested suppliers for Europe countries.

Automatically Payment Proposal.
- creation, update, editing , payment run and print out execution.

Intrastate: Poland monthly reports file generated from SAP
- correction performed as per generated errors, loading the TXT file on requested Intrastate Site.

Monthly Debit Balance & Direct Debit reports.
- investigation, follows up of existing balance.

Monthly GR/IR reconciliation.
- generating reports from business tool for investigation of all open PO's.

Procurement.
-converting received shopping carts into PO's, manually GR confirmation & reverse, budget increase & decrease of existing shopping cart created.

Freight outbound department.
- Line-haul,Self-billing & Flat File invoice processing: TXT file conversion, match against packing list and processing created TXT file into business tools.

Internal Product Trainer.
-Delivering Accounts payable Overview and SAP session training for all company new joiners.

Process trainer
-biweekly refreshers on existing accounts payable challenges
-assistance provided for new hires on their boarding process
-SAP access request, guidance for enrolling at mandatory internal training's.
-providing specific process training's for new joiners
-providing support and assistance for accounts payable department for invoice processing, payments.

01.04.2006 - 31.10.2007

Departament: financiar / contabilitate

Titlu Job: accounts receivable clerk

Responsabilitati:

•Invoicing the goods to company customers.

•Checking the goods invoices in terms of their correctness and completeness.

•Placing orders from customers and monitoring their execution.

•Selling folding doors and shower boxes.

•Take actions in order to encourage timely payments;contacting customers finance department and discuss their overdue payments.

•Goods return processing documents.

studii

Facultati:

2002 - 2005 Facultate: Inginer Tehnolog industria alimentara la Universitatea de Ştiinţe Agronomice şi Medicină Veterinară din Bucuresti.
1999 - 2002 Liceu / Școală profesională: Contabil Planificator Statistician in Agricultura la Gr Sc Agricol Ilfov Pamfil Seicaru din Bucuresti,Ilfov.



Pagini: 1 2 3 4 5 6 7 8 9 10 11 12 13 14 15 16 17 18 19 20