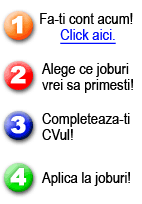 Candidatii eJobs pot alege daca CVul lor este:
CONFIDENTIAL, PUBLIC sau daca este disponibil doar clientilor eJobs.
CVul de pe acesta pagina este public (fara date de contact insa). CVul Public ii ofera candidatului mai multe oportunitati de a fi gasit si contactat de potentiali angajatori. CVurile disponibile doar clientilor eJobs au un format mai complex, contin mai multe informatii si sunt mult mai detaliate.
Candidatii eJobs isi pot schimba in orice moment disponibilitatea CVului.
Daca sunteti firma si doriti sa contactati candidatul de mai jos, trimiteti-ne aceasta cerere la Contact@ejobsgroup.ro, alaturi de linkul catre aceasta pagina.
Unul din Relationship Managerii eJobs o sa va contacteze in maxim 24 de ore si o sa va ofere datele de contact DOAR dupa ce candidatul isi exprima acordul in acest sens.
Curriculum Vitae

informatii personale

| | |
| --- | --- |
| | F 16.12.1985 |

obiectiv

Salariu: nespecificat

Tip job: Full time

Oras de lucru: Iasi

Nivel Cariera: Mid-Level (2-5 ani)

Disponibil: oricand

experienta profesionala

01.09.2015 - prezent

Departament: altele

Titlu Job: sales operations administrator

Responsabilitati:

Provide Overall Sales Support to the Sales Organization - data integrity maintenance of all the information related to contracts and Xerox Services customers.
Assistance to the Sales Personnel with Administrative and Operational Tasks- Establish and enforce the standard set of guidelines and procedures followed by the Sales Organization in terms of interacting with Salesforce.com, data accuracy in the system and improving Sales Operations workflows; follow standardized procedures for moving records to lost/drop stage, creating new Salesforce.com users, user deactivation and new account entries in the system.
Salesforce.com Training - Provide training sessions to the Sales Organization with a focus on helping the sales teams on how to use Salesforce.com and ensures that they understand and will follow and apply the Xerox Services procedures and guidelines in their activity.
Contract Administration and Deal Closing Process - Collaborate with the Sales Teams to ensure complete documentation is available for opportunity closing. Manage Salesforce.com data validation by matching against closing documents (executed agreement and financial model). Guide the close validation process by working with the delegated approvers through confirming final deal details.

01.07.2014 - 31.08.2015

Departament: altele

Titlu Job: energy analyst

Responsabilitati:

Setup the gas and power prices in the system according to the contract formulas; update all the taxes,charges and distribution tariffs for each of the clients in my portfolio from the publications searched and downloaded online; bill validation; verification of the budget reports; solve tasks related to my activity; modify in the system any change that may appear: new taxes, new contracts, new suppliers; deliver Rate Review and Capacity Review reports.

01.11.2013 - 30.06.2014

Departament: altele

Titlu Job: data administrator

Responsabilitati:

Collecting invoices and consumption data from suppliers/ distributors from different countries by email or phone, manipulating this information and uploading it in to the system, manipulating monthly or yearly reconciliation invoices, exporting reports based on the dates introduced and verifying any discrepancies, solving tasks coming from my colleagues, supporting the bill validator , introducing forecast dates, establish and develop a good relationship with the suppliers, respecting deadlines.

01.09.2012 - 31.10.2013

Departament: financiar / contabilitate

Titlu Job: payments officer

Responsabilitati:

Exporting the bank statements with the previous day payments, processing the extracted information, loading payments on the related files, solving tasks to the colleagues from collection department(discounts and closing files, refunds, re-allocations, payments identification based on receipts from the debtors),working with databases containing personal dates, daily, weekly and monthly reports and reconciliations.

01.01.2012 - 30.09.2012

Departament: relatii clienti / call center

Titlu Job: debt collector

Responsabilitati:

Calling or receiving calls from the debtors, identifying debtors files based on the information they gave, consulting and persuading debtors to pay their debts, negotiating payment rates, registering in the system, on every file the conversations and rates established, achieving monthly targets.

01.09.2010 - 31.01.2012

Departament: vanzari

Titlu Job: shop coordinator and marketing assistant

Responsabilitati:

Administrating the shop in Bucharest, interviewing people in order to form a team, collaborating with the marketing responsible, proposing appropriate promotions for the shop(being in contact with clients every day I knew what their expectations were), implementing them, participating at specialized fairs, primary accounting(making cash register reports, receiving/ input notes when receiving merchandise, inventories, accounting balances sheet, cash receipts and daily Z reports, issuing invoices for clients ), working at the shop's website ( updating with new products, searching and adding product descriptions, adding photos, updating the promotions ), manage the customers database ( updating it with new clients, sanding emails to the clients with promotions, new products, inviting them at tea and coffee tasting, always keep in touch with them) sales support and client relationship development.

01.07.2009 - 30.09.2010

Departament: vanzari

Titlu Job: sales consultant

Responsabilitati:

Selling company products (advising and persuading clients about our products), primary accounting (issuing invoices, cash receipts and daily Z reports, register reports ), participating at specialized fairs, participating at inventories.

01.09.2008 - 31.01.2009

Departament: vanzari

Titlu Job: sales consultant

Responsabilitati:

Selling company products, consulting clients, participating at inventories, working with the cash register, issuing cash receipts, sales registration, daily sales reports.

studii

Facultati:

2005 - 2008 Facultate / Colegiu: Marketing la University "Al. I. Cuza" din Iasi.



Pagini: 1 2 3 4 5 6 7 8 9 10 11 12 13 14 15 16 17 18 19 20