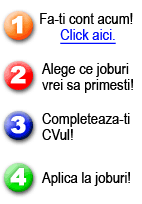 Candidatii eJobs pot alege daca CVul lor este:
CONFIDENTIAL, PUBLIC sau daca este disponibil doar clientilor eJobs.
CVul de pe acesta pagina este public (fara date de contact insa). CVul Public ii ofera candidatului mai multe oportunitati de a fi gasit si contactat de potentiali angajatori. CVurile disponibile doar clientilor eJobs au un format mai complex, contin mai multe informatii si sunt mult mai detaliate.
Candidatii eJobs isi pot schimba in orice moment disponibilitatea CVului.
Daca sunteti firma si doriti sa contactati candidatul de mai jos, trimiteti-ne aceasta cerere la Contact@ejobsgroup.ro, alaturi de linkul catre aceasta pagina.
Unul din Relationship Managerii eJobs o sa va contacteze in maxim 24 de ore si o sa va ofere datele de contact DOAR dupa ce candidatul isi exprima acordul in acest sens.
Curriculum Vitae

informatii personale

M 30.10.1994

Permis conducere: Cat.A,B, Data obtinerii:16.04.2013

Stagiu militar: da

obiectiv

Salariu: nespecificat

Tip job: Part time, Full time, Proiect / Sezonier

Departament: Office / Back-office / Secretariat, Marketing, Internet / e-Commerce, IT Software, IT Hardware, Financiar / Contabilitate, Banci, MLM / Vanzari directe

Oras de lucru: Timisoara

Nivel Cariera: Mid-Level (2-5 ani)

Disponibil: oricand

experienta profesionala

01.03.2018 - prezent

Departament: internet / e-commerce

Titlu Job: publishers ad ops team lead

Responsabilitati:

- Provide documentation and training in the use of internal tools and operational processes.
- Allocating tasks and supervising daily activities regarding operations and account management, to ensure the KPIs are met.
- Creating, developing and growing the day-to-day relationships with the clients, especially the larger Ad Networks.
- Managing all aspects of vi stories player's implementation through the publisher's journey map: from the account creation to implementation of JS or VPAID tag.
- Monitoring, identifying and suggesting all solutions to increase the publisher's account performance.
- Testing and editing the vi player script accordingly to publishers needs.
- Analysing data and drawing reports for the international Sales teams, reconciling data from SSPs and Ad Server, drawing of revenue reports for top management and publishers.
- Evaluate potential new technologies, partners, platforms, and opportunities for revenue growth.
- Work closely with the sales team to deliver on media campaigns and develop new revenue generating products/services.
- Review and develop business processes.


01.07.2016 - 31.10.2016

Departament: relatii clienti / call center

Titlu Job: bpo hire-to-exit administrator

Responsabilitati:

BPO User Access Mgt
Access Request Form
· Receive from BPO partner -> Check -> validate/reject BPO Access Request Form;
· BPO Firewall applications Mgt;
· Registering new users in BPO firewall as per Access request Form and Nokia Stream approval;
· Changing applications in BPO firewall as per Access request Form and Nokia Stream approval;
· Removing users in BPO firewall (off-boarding) as per Access request Form
IT CONNECT ticket management for BPO partner Domain Access creation
Corporate Directory declaration;
· Include/remove email address and phone number in corporate directory preproduction;
· End-user support activities;
· Provide status and support to BPO partner users for application issues;
· Application issue investigation;
· Reporting;
· Quarterly Workload and KPI reporting;
· Quarterly data reconciliation with BPO Program Mgr for 100% accuracy.
· Updating the documentations and developing new templates in order to simplify the procedure
· Attending the conference calls in order to support and keeping up to date about the projects and their status
· Point of contact between Accenture, Wipro Technologies and Alcatel-Lucent

01.05.2016 - 31.03.2018

Departament: marketing

Titlu Job: digital ad operations manager

Responsabilitati:

vi represents the advertising unit that was formerly run under Viewster AG activities.

Video intelligence (vi) is a video advertising platform that brings highly optimized ad campaign results to leading mobile advertisers. A recognized leader in the fast-growing mobile video advertising industry, vi was ranked #10 overall on the Inc. 5000 Europe list for 2016.


01.11.2015 - 31.03.2016

Departament: marketing

Titlu Job: digital ad operations manager

Responsabilitati:

As part of the Ad Operations Mobile team here at Viewster I have the following key responsabilities:

- Operate Viewster´s Video Ad Server. One to traffic, test creative, schedule, target, report on and optimize ad campaigns
- Troubleshoot any creative issues that impact tracking, reporting, or implementation.
- Communicate daily with Ad Operation Team in a clear and thorough manner to ensure maximum ad campaign delivery.
- Manage ad campaign optimization according to performance instructions.
- Provide campaign reports and analysis to the digital sales team
- Provide accurate inventory forecasting and availability
- Play an important forward thinking role in helping identify solutions and new ways of maximizing the sales revenue potential of Viewster products

01.07.2015 - 31.08.2015

Departament: banci

Titlu Job: intern

Responsabilitati:

Stagiu de practica individual in timpul vacantei de vara.

01.03.2015 - 30.04.2015

Departament: banci

Titlu Job: volksbank

Responsabilitati:

Stagiu de practica necesara pentru facultate.

studii

Facultati:

2013 - 2016 Facultate: la din Timisoara.
2014 - 2015 Facultate: la din A Coruna.



Pagini: 1 2 3 4 5 6 7 8 9 10 11 12 13 14 15 16 17 18 19 20