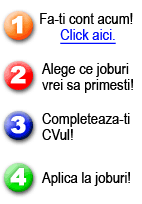 Candidatii eJobs pot alege daca CVul lor este:
CONFIDENTIAL, PUBLIC sau daca este disponibil doar clientilor eJobs.
CVul de pe acesta pagina este public (fara date de contact insa). CVul Public ii ofera candidatului mai multe oportunitati de a fi gasit si contactat de potentiali angajatori. CVurile disponibile doar clientilor eJobs au un format mai complex, contin mai multe informatii si sunt mult mai detaliate.
Candidatii eJobs isi pot schimba in orice moment disponibilitatea CVului.
Daca sunteti firma si doriti sa contactati candidatul de mai jos, trimiteti-ne aceasta cerere la Contact@ejobsgroup.ro, alaturi de linkul catre aceasta pagina.
Unul din Relationship Managerii eJobs o sa va contacteze in maxim 24 de ore si o sa va ofere datele de contact DOAR dupa ce candidatul isi exprima acordul in acest sens.
Curriculum Vitae

informatii personale

F 02.05.1996

Permis conducere: Cat.B, Data obtinerii:23.01.2018

obiectiv

Junior Automotive Engineer, with 2 years of relevant experience within Quality and Production departments of a top automotive supplier. Motivated and focused on achieveing performance metrics, I am a hardworking team player and also ready and open for taking new challenges. Attentive to details, able to manage the tasks just in time, organised and enthusiastic, I am a dedicated and responsive individual when coming to perform related activities, understanding the concept of responsibility. Being involved in a team is a thing I highly appreciate, but working independently is also a skill I own. Also, I must say that I am open to learning new concepts, software, standards and procedures related to my workplace in order to grow from professional and personal point of view. Very sociable and with a developed sense of humour.



Salariu: nespecificat

Tip job: Full time

Departament: Productie, Inginerie, Controlul calitatii, Auto / Echipamente, Management, Specialisti / Tehnicieni

Oras de lucru: Bucuresti, Brasov, Cluj-Napoca, Craiova, Oradea, Ploiesti, Sibiu, Timisoara, STRAINATATE

Nivel Cariera: Entry-Level (< 2 ani), Mid-Level (2-5 ani)

Disponibil: oricand

experienta profesionala

01.08.2020 - prezent

Departament: inginerie

Titlu Job: product industrialization engineer

01.02.2019 - 29.02.2020

Departament: productie

Titlu Job: quality trainee

Responsabilitati:

-Achievements and Responsibilities-
Quality Management System:
-Procedures and Job Instruction Sheets in order to meet company's, customer's and IATF 16949 quality requirements;
-KPI's-monitor, report, improve;
-Control of Documented Information following IATF 16949 standard criteria-managing and approval of new/revised documentation;
-Measurement System Calibration Process-update the Calibration Plan when new measurement system is introduced, track the calibration due dates for the existing measurement devices and make sure that no device with expired verification/calibration is used in the process, identify each measurement system according to procedure requirements;
-MSA Planing-for every measurement device used for process monitoring
before being introduced in the Calibration Plan and performing MSA Studies(acc. to VDA and AIAG) with the support of the Quality Manager;
-MSA-Conduct MSA Studies using Analysis of Variation Method(ANOVA);
-SME for Internal Audit Process-Layered Process Audit-prepare the Audit Plan, update the Internal Auditors List, monitor if the scheduled audits are being done on time, the Action Plan is filled with the found nonconformities, responsibles and due dates and if the Closure Rate is on target
-Continous improvement of the quality management system;
-Risk analysis activities whenever a change point is initiated regarding product or process;
-Control Plans development, revision and updates when changes occur(as well, keeping a straight line of agreement between P-FMEA, Process Flow Chart, STW and First-Part Inspection);
-P-FMEA, Process Flow Chart-participate in development and release;
-Production Part Approval Process(PPAP)-support Quality Manager in the process for new or revised products: prepare documentation(including supplier parts used in obtaining the final product), measurements reports, product testing reports, Measurement System Analysis Studies, Checking
Aids, PSW);
-Audits-support Quality Manager during Internal, External IATF 16949 System Audit, Customer Audits
-Corrective Actions System-Participate in developing and implementation of corrective actions according to PDCA Action Plans;
-QDR's: Prepare specific analysis and presentations in regards to Customer Claims and Claim Management, track customer claims costs;
-Customer Score Cards-monitor and involve in achieving the highest scores;
-Customer Claims and Claim Management, track customer claims costs;

Quality Basics:
-Internal Quality Performance-monitor and update specific corporate reports: scrap rates, scrap costs, pareto charts on defects types;
-First Part Inspection procedure development and update, monitor if the procedure is aligned with latest internal requirements, Control Plan and Special Characteristics Agreement Form ;
-Change Point Management: every change initiated in the process is tracked, documented and linked to First Part Inspection;
-Incoming Quality Inspection: choosing the proper measurements to monitor the special characteristics of the incoming materials, keep the process documented by developing measurement reports linked to control charts for variation monitoring, reaction in case of detected NCM at incoming inspection;
-Control of Nonconforming Material/Product: ensure 0 nonconforming parts can be returned accidentally to the production process and be delivered to customer-every NCM is identified, documented, segregated and disposition is evaluated;
-Rework: ensure special rework areas are defined and maintan a controlled rework process as per NCM/NCP Procedures; keeping the list of allowed&trained people for rework activities updated, manage the list of positive rework operations and the risk assessment;
-Error Proofing Documentation Sheets development and maintain the visual management of the production Error Proofing devices(Poka Yoke's and Detection Systems) as per quality procedures procedures.

01.08.2018 - 31.01.2020

Departament: productie

Titlu Job: trainee

Responsabilitati:

Production DepartmentTrainee Kautex Textron:
Understanding the production process of Plastic Fuel Tanks and Carbon Canisters.
Update the production documentation so as to assure the efficiency of the production process and the quality of products.
Champion for Production KPI's reporting and monitoring.
Redefine shopfloor 5S concept.
Standardized Work and Job Instruction Sheets.
Ensure that the Manufacturing Basics Standard is followed.
Overview for Lean Manufacturing Six Sigma.
Participate in problem solving activities.
Participate in cycle time reduction projects.
Participate in SMED cycle time reduction.
Implement together with HQ team a project for better monitoring production lines output and better overview of the bottlenecks and action plan.

01.05.2018 - 31.08.2018

Departament: inginerie

Titlu Job: engineering intern

Responsabilitati:

Quality Engineering Internship.

01.06.2016 - 31.05.2017

Departament: vanzari

Titlu Job: asistent vanzari

01.01.2016 - 31.05.2019

Departament: educatie / training / arte

Titlu Job: student senator

01.07.2015 - 31.01.2018

Departament: altele

Titlu Job: vicepresedinte

01.01.2012 - 30.06.2015

Departament: altele

Titlu Job: voluntar

Responsabilitati:

In cadrul acestui program, am dobandit bune abilitati de comunicare, capacitatea de a lucra intr-o echipa bine organizata, cu scopuri umanitare.

studii

Facultati:

2019 - prezent Masterat: Manufacturing and Design in Automotive Engineering la Facultatea de Mecanica, Universitatea din Craiova din Craiova.
2015 - 2019 Facultate: Autovehicule Rutiere la Universitatea din Craiova, Facultatea de Mecanica din Craiova.
2011 - 2015 Liceu / Școală profesională: Stiintele naturii la Colegiul National "Elena Cuza" din Craiova.


Premii

Traininguri
Sep 2019 - Sep 2019: Customer Focus&Bussiness Accumen

Premii si Distinctii
May 2018: KLC(Kart Low Cost) Competition 2018- Locul I & Locul al II-lea(team)

May 2016: KLC(Kart Low Cost) 2016- Locul al III-lea

Voluntariat
Oct 2015: Organizatia Studentilor din Facultatea de Mecanica(OSFM)
Craiova
Jan 2014: World Vision Romania, Filiala Dolj

Proiecte
Jul 2015: Clubul de Karting Bucuresti
Vicepresedinte zona Sud-Vest-Comisia Programe Nationale de Karting pentru Copii
Vicepresedinte Clubul de Karting Bucuresti
Mar 2006: Karting
Pilot de Karting in Campionatul National de Karting Scolar.
Debut: anul 2006, sub egida echipei craiovene de la Palatul Copiilor, la etapa nationala de la Resita( locul I-juniori, locul III- clasa).
Palmares(2006-2014):
-campioana nationala clasa Kadett(80 cmc) : 2008, 2009, 2010 ; vicecampioana nationala clasa Kadet(80cmc)- 2013; locul III clasamentul general clasa KF(125 cmc)-2014.
-20 victorii;
-17 clasari pe podium.
Din 2015, vicepresedinte Clubul de Karting Bucuresti-trainer Campionatul National de eKarting Gatorade.



Pagini: 1 2 3 4 5 6 7 8 9 10 11 12 13 14 15 16 17 18 19 20