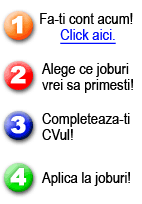 Candidatii eJobs pot alege daca CVul lor este:
CONFIDENTIAL, PUBLIC sau daca este disponibil doar clientilor eJobs.
CVul de pe acesta pagina este public (fara date de contact insa). CVul Public ii ofera candidatului mai multe oportunitati de a fi gasit si contactat de potentiali angajatori. CVurile disponibile doar clientilor eJobs au un format mai complex, contin mai multe informatii si sunt mult mai detaliate.
Candidatii eJobs isi pot schimba in orice moment disponibilitatea CVului.
Daca sunteti firma si doriti sa contactati candidatul de mai jos, trimiteti-ne aceasta cerere la Contact@ejobsgroup.ro, alaturi de linkul catre aceasta pagina.
Unul din Relationship Managerii eJobs o sa va contacteze in maxim 24 de ore si o sa va ofere datele de contact DOAR dupa ce candidatul isi exprima acordul in acest sens.
Curriculum Vitae

informatii personale

M 23.02.1995

Stagiu militar: da

obiectiv

Salariu: nespecificat

Tip job: Part time

Oras de lucru: Cluj-Napoca

Nivel Cariera: Mid-Level (2-5 ani)

Disponibil: oricand

experienta profesionala

01.12.2017 - 30.04.2019

Departament: financiar / contabilitate

Titlu Job: procurement analyst with french

Responsabilitati:

➢ Support the Procurement organisation for administrative tasks during the complete supply chain,
➢ Manage the requests and order process in our system in line with the Global Procurement Processes, which include purchase order placement, supplier payment and documentation,
➢ Monitor supplier performance and support in the preparation of supplier(s) negotiation, ➢ Create daily and monthly reports,
➢ Conduct requests for information, requests for proposal and requests for quotation in our Procurement system tool,
➢ Ensure compilance with Procurement directives and legal policies.


01.12.2016 - 31.12.2017

Departament: financiar / contabilitate

Titlu Job: credit controller credit&collection contract france

Responsabilitati:

• Credit Controller Credit&Collection Contract France
➢ Manages the assigned outstanding accounts,
➢ Notifies customers with overdue debt and attempts to secure
payment using telephone, fax, email, letters,
➢ Records information about financial status of customer and status
of collection efforts,
➢ Receives calls from customers who have inquiries related to
their ledger account balances or payments,
➢ Establishes and monitors credit limits,
➢ Processes orders on hold by assessing associated risk and liaising
with customers,
➢ Records information about financial status of customer and the
status of assessment process.

01.01.2015 - 30.11.2016

Departament: sport / wellness

Titlu Job: receptionist and fitness personal trainer

Responsabilitati:

X-Treme Training Center (Bruxelles,Belgium)

➢ Informing the clients about the program of the fitness room, the
programs included in the offer of the fitness room and of the special
services,
➢ Informing foreign clients, conducting conversations in both French
and English,
➢ Managing Subscriptions and Exposing Special Offers to Clients,
➢ Managing the customer register and managing the payment of the
services provided by the fitness center to the clients,
➢ Providing fitness training, aerobics respecting the set work schedule
and the standards imposed by the fitness room,
➢ Applying, demonstrating and correcting exercises,
➢ Provide clients with fitness consultations and assessments,
➢ Creating training programs for the client and orienting them towards
a healthy lifestyle,
➢ Presenting fitness saliva and providing information about it,
➢ Completing the health assessment evaluation sheet for each client in
order to achieve the best program for him / her and to build the
fitness room database,
➢ Compliance with internal regulations and tasks assigned by
hierarchical superiors.

01.05.2014 - 31.10.2014

Departament: asigurari

Titlu Job: agent asigurari

Responsabilitati:

ERGO Group (Bruxelles, Belgium)
• Insurance agent
➢ Estimation, valuation and takeover of risks specific to the types of
insurance the company is authorized to conclude,
➢ Contract, conclusion and renewal of the insurance contracts for the
authorized insurance within the limits of the competences
established by the internal norms,
➢ At the maturity date of the first, the next one, in order to continue the
insurance relations,
➢ Providing the insurer with informative data in order to elaborate the
insurance offers in accordance with the requirements of its
policyholders.

01.01.2014 - 30.04.2014

Departament: sport / wellness

Titlu Job: secretar si receptionist

Responsabilitati:

Health City Woluwé (Bruxelles,Belgium)
• Receptionist and Secretary
➢ Ensure the distribution of management information to all
departments of the company, and vice versa,
➢ Ensuring the transmission of information received from outside the
company, as well as those sent to the outside of the company to the
persons to whom it is addressed,
➢ The writing of different materials and the writing of daily
correspondences,
➢ Promotion of the company's image through the activity it carries
out.

studii

Facultati:

2009 - 2014 Școală profesională: Secretariat la Institut Ernest Richard din Bruxelles.
2007 - 2009 Școală generală: la Ecole Dailly din Bruxelles.



Pagini: 1 2 3 4 5 6 7 8 9 10 11 12 13 14 15 16 17 18 19 20