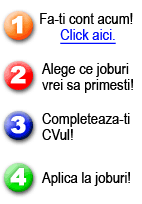 Candidatii eJobs pot alege daca CVul lor este:
CONFIDENTIAL, PUBLIC sau daca este disponibil doar clientilor eJobs.
CVul de pe acesta pagina este public (fara date de contact insa). CVul Public ii ofera candidatului mai multe oportunitati de a fi gasit si contactat de potentiali angajatori. CVurile disponibile doar clientilor eJobs au un format mai complex, contin mai multe informatii si sunt mult mai detaliate.
Candidatii eJobs isi pot schimba in orice moment disponibilitatea CVului.
Daca sunteti firma si doriti sa contactati candidatul de mai jos, trimiteti-ne aceasta cerere la Contact@ejobsgroup.ro, alaturi de linkul catre aceasta pagina.
Unul din Relationship Managerii eJobs o sa va contacteze in maxim 24 de ore si o sa va ofere datele de contact DOAR dupa ce candidatul isi exprima acordul in acest sens.
Curriculum Vitae

informatii personale

M 19.03.1986

Permis conducere: Cat.B, Data obtinerii:23.09.2008

Stagiu militar: nu

obiectiv

Experienced on departmental transformation and grow, redesigning ownership and charts activity. Provider of coaching and mentoring sessions to the teams for a fast integration. Good interpersonal communication skills, ability to identify the right person for the right task, emphatic, hard worker and curious, always targeting to deliver performance. Guest Lecturer at Bucharest Academy of Economic Studies and Politehnica University of Bucharest.



Salariu: nespecificat

Tip job: Full time

Departament: Educatie / Training / Arte, Productie, Inginerie, Import - export, Controlul calitatii, Petrol / Gaze, Confectii / Design vestimentar, Alimentatie / HoReCa, Auto / Echipamente, Naval / Aeronautic

Oras de lucru: Bucuresti, Brasov, Cluj-Napoca, Constanta, Oradea, Ploiesti, Ramnicu-Valcea, Sibiu, Timisoara, Vatra Dornei

Nivel Cariera: Manager / Executiv

Disponibil: oricand

experienta profesionala

01.10.2020 - prezent

Departament: productie

Titlu Job: plant manager

01.12.2019 - prezent

Departament: productie

Titlu Job: operations manager

Responsabilitati:

Book of spec (BOS) preparation base on client needs.

Machine sourcing process, negotiation and delivery follow-up.

Layout and building preparation for future production facilities.

Hiring production personnel process and assuring the maintenance contracts for the machines.

CNC production line installation project (3 vertical CNC & 1 complete pipe cutting line)

Screw production line installation project (10 screw making machine, zinc coating & phosphating installations)

01.10.2018 - 31.12.2019

Departament: productie

Titlu Job: operational readiness & production manager

Responsabilitati:

Day to day follow-up for a 32 million euro investment in a new production facility, from civil construction works to equipment and SCADA installation, tests, training and assuring that plant people are ready to operate the new production line.

Closer collaboration with general engineering and project team - resolve process issues, assess FAT and SAT files to approve equipment design and functionality.

Optimized layouts and assess erection and process risks.
Leading the assessment of work instructions, standard method, OPL's & LOTO organization and strategy.

In charge of BOM & routing for financial calculation and budget owner

Leading industry 4.0 implementation, set the line KPI's and utility consumption for live follow-up

Production reorganization by applying people change management & skill gap reduction

Supporting RD team to develop and design processes and equipment improvement which was awarded with Emerald prize, best innovation project (energy reduction with 25% by using biomass)

Acting as deputy plant manager.

01.07.2017 - 31.10.2018

Departament: productie

Titlu Job: production and maintenance manager

Responsabilitati:

Production and Maintenance departments reorganization for reliable future investment and increase production diversification.

Managing more than 60 person from production and maintenance

Providing leadership, coordination and coaching to the teams.

Ensuring that the plant complies with all regulations as regards noise, dust, working hours and emissions.

In charge of defining and follow-up of CAPEX and OPEX.

Improve production planning by reducing change product loses.

Change maintenance strategy by introducing SAP-PM management system.

Consumption plan control by establishing target values and process recipes.

01.07.2011 - 31.10.2017

Departament: service / reparatii

Titlu Job: mechanical maintenance manager

Responsabilitati:

Coordinating the plant mechanical team, engineers and technicians.

In charge of reducing the breakdowns and downtime of plant by applying continuous
improvement methodology (world class manufacturing).

Project manager for new investments (preparing CAPEX, layouts, technical documentation, integration flow maps, logistics, tests etc.)

Internal trainer for Continuous improvement tools.

01.09.2009 - 30.06.2011

Departament: service / reparatii

Titlu Job: mechanical engineer

Responsabilitati:

Coordinating the mechanical team that assured the corrective and preventive maintenance of float line (750 tone/day glass furnace).

Working in an interdepartmental team on process modeling and mapping to create the flow of the plant.

01.07.2009 - 30.09.2009

Departament: productie

Titlu Job: internship engineering

Responsabilitati:

Internship in the Maintenance Department, Production & Quality Department and in the MKT2 office (Manufacturing Know-How Transfer and Training).

studii

Facultati:

2014 - 2016 MBA: la din Paris.
2009 - 2011 Masterat: la din Bucharest.
2005 - 2009 Facultate: la din Bucharest.



Pagini: 1 2 3 4 5 6 7 8 9 10 11 12 13 14 15 16 17 18 19 20