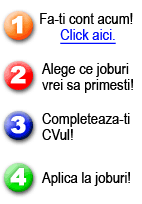 Candidatii eJobs pot alege daca CVul lor este:
CONFIDENTIAL, PUBLIC sau daca este disponibil doar clientilor eJobs.
CVul de pe acesta pagina este public (fara date de contact insa). CVul Public ii ofera candidatului mai multe oportunitati de a fi gasit si contactat de potentiali angajatori. CVurile disponibile doar clientilor eJobs au un format mai complex, contin mai multe informatii si sunt mult mai detaliate.
Candidatii eJobs isi pot schimba in orice moment disponibilitatea CVului.
Daca sunteti firma si doriti sa contactati candidatul de mai jos, trimiteti-ne aceasta cerere la Contact@ejobsgroup.ro, alaturi de linkul catre aceasta pagina.
Unul din Relationship Managerii eJobs o sa va contacteze in maxim 24 de ore si o sa va ofere datele de contact DOAR dupa ce candidatul isi exprima acordul in acest sens.
Curriculum Vitae

informatii personale

M 03.05.1973

Permis conducere: Cat.B, Data obtinerii:21.12.1994

Stagiu militar: da

obiectiv

Salariu: nespecificat

Tip job: Full time

Departament: Vanzari, Internet / e-Commerce, Telecomunicatii, IT Software

Oras de lucru: Bucuresti

Nivel Cariera: Mid-Level (2-5 ani)

Disponibil: oricand

experienta profesionala

01.02.2014 - 30.04.2018

Departament: telecomunicatii

Titlu Job: officer, application support

Responsabilitati:

Operation & Maintenance of Mobile Money platform. Performing both proactive and reactive activities in a scheduled manner or on demand.
Sysadmin role > creating or modifying existing configurations (creation of new products, reason type sites, fees, roles, etc.) in MobileMoney platform , modifying configuration in mobile app (json).
Coordinates testing configurations needed to ensure quality levels agreed. Escalation by L2\vendor defects, testing them when they are fixed (PROD, UAT).
Ensuring that the services provided to our customers are continuously available and performing up to Service Level Agreement (SLA) performance levels.
Analyze, classify and assign incidents posted in application Unicenter Service Desk\Bmc remedy it service management with the purpose of solving them .
Solving customer demands internal / external by:check internal situation in applications
Offering job-aid sites, training materials , escalating situations L2 support\vendor and returning to the enduser escalation result, testing new features, testing existing functionality after installing faulty.

01.06.2013 - 28.02.2014

Departament: telecomunicatii

Titlu Job: analyst, business application support

01.08.2011 - 30.06.2013

Departament: telecomunicatii

Titlu Job: testing analyst

Responsabilitati:

Main Projects:
Retail Oracle ePOS
Vodafone Mobile Money ( Huawei Cloud Payment Solution )

Testing of developed applications in Data Warehouse according to technical and business
specifications (Back-end testing).
Create detailed Functional (System, Integration and Regression) test plans, test cases and test scripts ensuring all requirements are included in scopPreparation of test cases according to technical documentation.
Assurance of the fact that the developed projects are in compliance with technical documentation.
Running of test cases on UAT environment.
Opening of defects (in HP Application Lifecycle Management) according to identified issues.
Data synchronization on UAT environment before the running of test cases to have conclusive test information.
Verifying and running of developed scripts in database on UAT environment.
Preparation of test result documents for each assigned project.
Types of used tests: UAT testing, Whitebox testing, System test, Regression testing, Front-end testing.
Oracle Retail - Technical Fiscal Certification, Fiscal Certification Technical tests at the Romanian
Authority – ITC, Fiscal Number for the New Retail Solution.
Demonstrate a professional and challenging attitude when dealing with RM / Support/ Business
clients/vendor. Provide consistency in communication.

01.04.2008 - 31.08.2011

Departament: vanzari

Titlu Job: business sales advisor

01.05.2005 - 30.04.2008

Departament: vanzari

Titlu Job: representative, sales and customer care

01.04.2003 - 31.05.2005

Departament: administrativ / logistica

Titlu Job: warehouse administrator

01.02.2000 - 30.04.2003

Departament: achizitii

Titlu Job: economist

studii

Facultati:

1991 - 1996 Facultate: Management la ASE din Bucuresti.
1987 - 1991 Liceu / Școală profesională: Matematica\Fizica la Colegiul National Mihai Viteazul din Bucuresti.



Pagini: 1 2 3 4 5 6 7 8 9 10 11 12 13 14 15 16 17 18 19 20