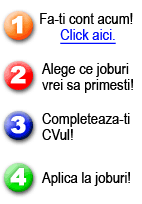 Candidatii eJobs pot alege daca CVul lor este:
CONFIDENTIAL, PUBLIC sau daca este disponibil doar clientilor eJobs.
CVul de pe acesta pagina este public (fara date de contact insa). CVul Public ii ofera candidatului mai multe oportunitati de a fi gasit si contactat de potentiali angajatori. CVurile disponibile doar clientilor eJobs au un format mai complex, contin mai multe informatii si sunt mult mai detaliate.
Candidatii eJobs isi pot schimba in orice moment disponibilitatea CVului.
Daca sunteti firma si doriti sa contactati candidatul de mai jos, trimiteti-ne aceasta cerere la Contact@ejobsgroup.ro, alaturi de linkul catre aceasta pagina.
Unul din Relationship Managerii eJobs o sa va contacteze in maxim 24 de ore si o sa va ofere datele de contact DOAR dupa ce candidatul isi exprima acordul in acest sens.
Curriculum Vitae

informatii personale

M 22.09.1998

Stagiu militar: da

obiectiv

A professional, results-oriented person with a track record of remarkably increasing other artists chances of getting signed to major labels and grow their fanbase. Working as a freelancer and keeping in touch with many other artists around the globe helped me to develop a good sense of what's working and what's not when it comes to music. Also, studying a higher education programme in Music Production & Sound Engineering at Point Blank Music School in London has given me the opportunity to gain enough knowledge and skills in order to follow a career in the music industry. I am a friendly out-going individual who can adapt quickly to new environments, learn new skills and processes to reach outstanding results, currently seeking a new exciting and challenging job in the Music Industry area.



Salariu: 4.000,00 USD / luna

Tip job: Part time, Full time

Departament: Marketing, Publicitate, Grafica / Webdesign / DTP, Internet / e-Commerce, Relatii clienti / Call center, IT Software, Jurnalism / Editorial

Oras de lucru: Bucuresti

Nivel Cariera: Mid-Level (2-5 ani), Senior-Level (> 5 ani)

Disponibil: oricand

experienta profesionala

01.10.2020 - prezent

Departament: altele

Titlu Job: music producer & songwriter

Responsabilitati:

I've started working as a freelancer on Fiverr because of my passion and knowledge of music production. I am mostly doing ghost productions, mixdowns and personalized sample packs for other artists around the world while leading them to build a proper artist image, sound signature and style.

01.03.2018 - 30.09.2019

Departament: relatii clienti / call center

Titlu Job: information clerk

Responsabilitati:

• Efficient communication with customers through phone calls, emails or letters
• Listening and understanding customer needs
• Finding quick and proficient solutions to solve the problems that clients encounter when using certain products
• Using economic and juridical instruments to make transactions, favourable exchange rates and loans administration
• Offering guidance for the clients to learn how to use all digital platforms offered by the bank in order to supply their needs
• Communicate with other departments in order to resolve and find solutions to problems that customers are encountering
• Promoting and selling certain products based on market research
• Working efficiently, deadline committed in order to find quick solutions to meet customer needs
• Learning and understanding of both economic and juridical system

01.10.2017 - 31.03.2018

Departament: jurnalism / editorial

Titlu Job: broadcast news editor

Responsabilitati:

• Editing, analysing and sorting newsletters with the purpose of finding specific key-words and topics such as banking, politics, climate change, health, sports
• Organizing, editing and sending press articles to all Mediafax SA customers
• Work with within creative environment to respond to various competing priorities
• Manage to edit daily news with the help of video editing tools
• Read news material to determine index items and arrange them alphabetically or topically

01.01.2015 - 30.09.2017

Departament: ong / voluntariat

Titlu Job: volunteer,coord

studii

Facultati:

2019 - prezent Facultate: Music Production & Sound Engineering la Point Blank Music School din London. BA (HONS) Music Production & Sound Engineering Degree (3 years)
2013 - 2017 Liceu / Școală profesională: intensive Math la "Mihail Sadoveanu" din Bucharest.



Pagini: 1 2 3 4 5 6 7 8 9 10 11 12 13 14 15 16 17 18 19 20