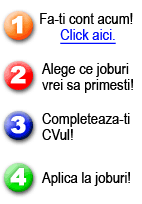 Candidatii eJobs pot alege daca CVul lor este:
CONFIDENTIAL, PUBLIC sau daca este disponibil doar clientilor eJobs.
CVul de pe acesta pagina este public (fara date de contact insa). CVul Public ii ofera candidatului mai multe oportunitati de a fi gasit si contactat de potentiali angajatori. CVurile disponibile doar clientilor eJobs au un format mai complex, contin mai multe informatii si sunt mult mai detaliate.
Candidatii eJobs isi pot schimba in orice moment disponibilitatea CVului.
Daca sunteti firma si doriti sa contactati candidatul de mai jos, trimiteti-ne aceasta cerere la Contact@ejobsgroup.ro, alaturi de linkul catre aceasta pagina.
Unul din Relationship Managerii eJobs o sa va contacteze in maxim 24 de ore si o sa va ofere datele de contact DOAR dupa ce candidatul isi exprima acordul in acest sens.
Curriculum Vitae

informatii personale

M 09.09.1977

Stagiu militar: da

obiectiv

Tip job: Full time

Departament: Inginerie

Oras de lucru: Bucuresti

Nivel Cariera: Mid-Level (2-5 ani)

Disponibil: oricand

experienta profesionala

01.04.2005 - prezent

Departament: inginerie

Titlu Job: mechanical engineer

Responsabilitati:

o Head UP display design for big car manufacturers (BMW, AUDI, DAIMLER, etc)

o Design, CAD modeling (diecast parts, plastic parts design, assemblys), simulation, drawing creation of the specified products - which are the Electronic Control Units (ECU) for BMW, Porsche, VW, Ford, Skoda engines - using ProEngineer Wildfire 2.0.
o Perform simulations in order to meet product specifications, to check and optimize the reliability of the product (only dedicated simulation engineer).
o Find solutions for an optimal design (design-to-cost) of the mechanical parts
o Handling and processing of all project related data according to the company procedures and using the appropriate tools ( Intralink, SAP PDM ).
o Schedules own tasks by following given planning.
o Tolerance calculations.
o Communication and collaboration with german mechanical engineers during project development.
o Take part and play an active role in brain storming meetings, project reviews and project meetings in order to exchange information and improve design.


01.02.2002 - 25.03.2005

Departament: inginerie

Titlu Job: mechanical engineer

Responsabilitati:

○ Design test equipment used in the cable harness test process
o Work with design director and team of engineers to develop Mechanical Safety Air-Bag Cable System testing device for efficiency optimization and reliability testing
o Develop new mechanical devices to replace existing one to reduce production cost.
o Tolerance calculations.
o Develop Working Product, Design and Prototype Production;
Control & manage testing, redesigning, manufacturing.
o Documentation preparation; and full realization of Task using technical approach, schedules, and budget to achieve Final Product.
o Generate technical documentation, calculations, engineering design layout drawings, 3D and Solid Modeling, & development propositions.
o Use Solid Edge special features to calculate mechanical properties and other complex functions to obtain accurate results
o Prepare presentations, Review Manufacturing Process and Quality Control. Inspect standards and Technical Improvements
o Prepare technical drawings and 3-D model for failure analysis before production.
o Made decisions on changes to improve tools and /or processes in order to eliminate waste and improve the efficiency
o Qualify new tools for production which includes adjustments to multiple tool inserts and process qualification
o Solid proof of effective teamwork management technique through success in many projects (Bmw 3er Cabrio, Limousine, Touring, Coupe, Compact E46; Bmw 5er Limousine, Touring,E60/61; Bmw X5 E53; Bmw X3 E83; Audi A4 B6; Audi A6 C5; VW Passat B5; VW Phaethon D1; Maybach W/V240; Audi A4 B6; Audi A6 C5)


studii

Facultati:

2010-2012 Master in Quality Engineering in Mechatronics and Robotics at Polytechnic University of Timisoara

1996-2001 Bachelor of Science in Engineering, Faculty of Engineering and Management of Production Systems
Polytechnic University of Timisoara

1992-1996 High-school (grades 9th–12th ) informatics


Activitati extracurriculare

1 Highly motivated and goal-orientated, with 9 years engineering experience and an excellent record of achievements
2 Excellent communicator able to communicate in a multicultural, worldwide environment
3 Effective interpersonal skills; exhibit leadership and motivational abilities.
4 Excellent organizational and administrative skills.
5 Able to coordinate priorities and provide support as required.
6 Instructed and trained new employees
7 Monitored production and controlled quality
8 Teamwork orientated
9 Desire to keep learning and further my skills and education


Premii

- 11th place at the CAD 3D modeling contest using AutoCad V9, final phase –1998, organized by Polytechnic University of Timisoara.


Pagini: 1 2 3 4 5 6 7 8 9 10 11 12 13 14 15 16 17 18 19 20