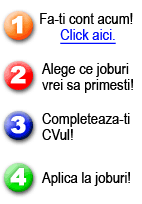 Candidatii eJobs pot alege daca CVul lor este:
CONFIDENTIAL, PUBLIC sau daca este disponibil doar clientilor eJobs.
CVul de pe acesta pagina este public (fara date de contact insa). CVul Public ii ofera candidatului mai multe oportunitati de a fi gasit si contactat de potentiali angajatori. CVurile disponibile doar clientilor eJobs au un format mai complex, contin mai multe informatii si sunt mult mai detaliate.
Candidatii eJobs isi pot schimba in orice moment disponibilitatea CVului.
Daca sunteti firma si doriti sa contactati candidatul de mai jos, trimiteti-ne aceasta cerere la Contact@ejobsgroup.ro, alaturi de linkul catre aceasta pagina.
Unul din Relationship Managerii eJobs o sa va contacteze in maxim 24 de ore si o sa va ofere datele de contact DOAR dupa ce candidatul isi exprima acordul in acest sens.
Curriculum Vitae

informatii personale

| | |
| --- | --- |
| | F 27.04.1987 |

obiectiv

I'm a self taught Marketing & Product Manager with an everlasting love for CRO and UX. I love working on products that make difference in people's lives, while being part of a great team. Challenges drive me. Problems motivate me. Always looking for the next big quest.



Salariu: nespecificat

Tip job: Full time

Departament: Marketing, Publicitate, Internet / e-Commerce, IT Software, IT Hardware, Management

Oras de lucru: Bucuresti, Brasov, Cluj-Napoca, Iasi, Oradea, Satu-Mare, Timisoara, Tirgu-Mures

Nivel Cariera: Senior-Level (> 5 ani)

Disponibil: oricand

experienta profesionala

01.01.2016 - prezent

Departament: marketing

Titlu Job: marketing manager

Responsabilitati:

• Managed and trained data operators to become Marketing Juniors. so they were able to perform tasks for Cylex and our clients, such as: linkbuilding research, email marketing campaigns, ppc campaigns, social media management, content creation etc.
• As a Marketing Team Leader I made sure that the team members worked well together and pushed towards performance by dividing the tasks based and on their individual skillset and task urgency.
• Performed UX & CRO / SEO audits for Cylex and Cylex clients such as cridem.ro , drevi.eu, kingslandineu.com, returnoffer.net etc. Also performed competition analysis, strategy & planning for Cylex.
• Web form optimization concepts for Cylex Business Directories.
• Redesigned various pages for better conversions.
• Data analysis using Google Analytics and user behaviour analysis using Hotjar.
• Created behavioral email marketing strategies for MyCylex.
• Created concepts, content and design using Photoshop for modern and visually appealing newsletters, banners, brochures and social media posts.
• Worked on link building for various internal products and created link building strategies for clients such as cridem.ro
• Created and optimized Google Adwords campaigns for MyCylex: Search, Display, Remarketing + Landing Pages for campaigns
• Created Facebook campaigns for MyCylex, Pagix and our clients: cridem.ro, totulpentrucaini.com, Kingslandineu.com
• Managed Newspaper & Radio advertisements.

01.01.2014 - 31.01.2016

Departament: it software

Titlu Job: product owner

Responsabilitati:

CYLEX EU. FUNDED PRODUCTS:
• Created the Product Requirements Documents for a Shop Builder, Email Marketing tool and an Online Chat Support tool.
• Prioritized product backlog and wrote user stories. Worked in close collaboration with remote teams, while using Scrum.
• Wireframing support, mockup designs, UI and product website copy & UX optimization, QA on finished product.

01.07.2012 - prezent

Departament: it software

Titlu Job: product manager

Responsabilitati:

• Successfully managed product development and launched our SiteBuilder platforms in 5 countries while meeting deadlines.
• Prioritized the backlog and development based on value, cost and impact. Wrote feature documentation and planned releases.
• Created and maintained the product roadmap.
• Made sure that the product strategy is always aligned with the product vision and that our teams never lost sight of what the product vision is.
• Trained and divided tasks to our non-developer team. I have successfully trained data operators, based on their skills and affinities, to design websites, to provide premium customer support, or to perform marketing tasks and copywriting. I was also responsible for assuring the quality of their work.
• Improved our SiteBuilder non-developer team's workflow by using Agile Methodologies - Kanban. I have also worked in close cooperation with developers and designers to deliver product improvements using Scrum.
• Created the MyCylex website concept, wireframes and also designed mockups for some of the pages in Photoshop. Managed the content planning and marketing copy for mycylex.co.uk, mycylex.com and pagix.ro
• Performed the UI copywriting, wireframing and designing mockups with Balsamiq and Photoshop. Constantly improved / optimized UI/UX and conversion rates by doing A/B tests and gathering feedback.
• Improved our customer activation and retention rates with automated emails and improved customer satisfaction by keeping the team focused on our user needs. The user profile and user needs have always been established after thorough research.
• Built attractive and modern templates while making sure they are user and SEO friendly.
• Quality Assurance on all the themes implemented on MyCylex and on product features.
• Identified competitors and opportunities by doing market research and competition analysis. Successfully maintained and developed strategic partnerships with successful international companies.

01.12.2011 - 31.07.2012

Departament: marketing

Titlu Job: marketing assistant

01.07.2010 - 31.12.2011

Departament: it software

Titlu Job: data operator

studii

Facultati:

2006 - 2009 Facultate: Computer Science la Faculty of Sciences at the University in Oradea din Oradea. Bachelor's degree in Computer Science and Information Science
2002 - 2006 Liceu / Școală profesională: Science Studies - Biology & Chemistry Specialization la Doamna Stanca National Secondary-School din Satu Mare.



Pagini: 1 2 3 4 5 6 7 8 9 10 11 12 13 14 15 16 17 18 19 20