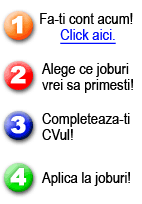 Candidatii eJobs pot alege daca CVul lor este:
CONFIDENTIAL, PUBLIC sau daca este disponibil doar clientilor eJobs.
CVul de pe acesta pagina este public (fara date de contact insa). CVul Public ii ofera candidatului mai multe oportunitati de a fi gasit si contactat de potentiali angajatori. CVurile disponibile doar clientilor eJobs au un format mai complex, contin mai multe informatii si sunt mult mai detaliate.
Candidatii eJobs isi pot schimba in orice moment disponibilitatea CVului.
Daca sunteti firma si doriti sa contactati candidatul de mai jos, trimiteti-ne aceasta cerere la Contact@ejobsgroup.ro, alaturi de linkul catre aceasta pagina.
Unul din Relationship Managerii eJobs o sa va contacteze in maxim 24 de ore si o sa va ofere datele de contact DOAR dupa ce candidatul isi exprima acordul in acest sens.
Curriculum Vitae

informatii personale

F 09.08.1982

Permis conducere: Cat.

obiectiv

Job in Marketing - Mid / Senior / Management sau Project Management



Salariu: nespecificat

Tip job: Part time, Full time

Departament: Vanzari, Relatii publice, Marketing, Relatii clienti / Call center

Oras de lucru: Bucuresti, Bacau, Iasi, Piatra Neamt, Ilfov

Nivel Cariera: Mid-Level (2-5 ani), Manager / Executiv, Senior-Level (> 5 ani)

Disponibil: oricand

experienta profesionala

01.08.2019 - prezent

Departament: marketing

Titlu Job: international project manager

Responsabilitati:

Lead kick-off calls for all assigned studies to ensure that all the involved parties understand timelines, responsibilities and study specifications.

Support research project teams by leveraging relationships with overseas suppliers to facilitate communications, trouble-shooting and issue resolution.

Coordinate operational aspects of projects including translations, programming, testing, fieldwork, coding, data delivery.


01.02.2018 - 31.03.2019

Departament: marketing

Titlu Job: marketing specialist

Responsabilitati:

Brand awareness: focus on the Romanian market (tools such as website, car branding, uniforms, brochures, flyers, calendars, customized commercial offers and other specific tools).
Market research: develop customer satisfaction surveys, market studies in order to identify growth opportunities.
Sales: manage the sales process and team (including recruiting), coordinate the induction process for Sales roles.
Online campaigns (Google Ads): implement online marketing and employer branding campaigns; meadure conversion rate, costs, budgets etc.


01.02.2017 - 30.11.2017

Departament: marketing

Titlu Job: communication coordinator

Responsabilitati:

Develop annual communication plan
Manage promotion budget and prepare monthly reports
Manage the reimbursements process
Implement promotion campaigns
Organize customer visits at supplier facilities
Organize the participation of my colleagues to various events
Media monitoring (adverts and articles)


01.11.2010 - 30.09.2015

Departament: marketing

Titlu Job: marketing coordinator

Responsabilitati:

MARKETING COORDINATOR - Working city: Bucharest
Working as member of the European Marketing Team and responsible to develop and implement the Marketing strategy in Romania and Bulgaria, in accordance with the Regional Marketing policy and corporate brand guidelines. Prepare, implement and monitor the country annual Marketing Plan/Budget
Key achievements
 Increased the company's brand awareness on the Romanian market – top 3
 First Marketing Coordinator in South-East Europe to implement customer satisfaction survey (400 customers involved) and market research (200 customers involved) to identify customers' met or unmet needs – I set the best practices in the region
 Met and overcome customer reach numbers each year
 Planned and organized more than 15 events / year, with an average of 90-100 participants / event, customers or prospects; increased average farm size (>500 ha)
 The only Marketing Coordinator in the region who participated (as a key member) in the project team for customer segmentation, that covered 7 countries
 Developed full sales toolkit for the Sales / Commercial Team


01.08.2007 - 31.10.2010

Departament: marketing

Titlu Job: marketing manager

Responsabilitati:

Managed the Marketing Team (4 team members) and responsible to prepare, implement and monitor the annual Marketing Plan / Budget.
Key achievements
 Increased the company's brand awareness on the Romanian market
 Brought significant contribution to the sales growth, brought new customers and projects as an outcome of the lead generation campaigns
 I implemented / used for the first time in our company Google AdWords to generate leads, with special focus on software solutions (3rd party / custom)
 10 events organized each year (business & technical / workshops), for customers and prospects
 More than 30 projects generated as an outcome of a marketing campaign; constant pipeline put at the disposal of the Sales Team (around 15 sales people)
 Developed a great Marketing Team (4 team members)

studii

Facultati:

2005 - 2007 Masterat: International Marketing la Academy of Economic Studies din Bucuresti.
2001 - 2005 Facultate: Marketing la Academy of Economic Studies din Bucuresti.



Pagini: 1 2 3 4 5 6 7 8 9 10 11 12 13 14 15 16 17 18 19 20