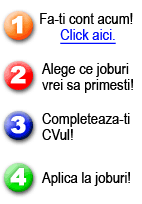 Candidatii eJobs pot alege daca CVul lor este:
CONFIDENTIAL, PUBLIC sau daca este disponibil doar clientilor eJobs.
CVul de pe acesta pagina este public (fara date de contact insa). CVul Public ii ofera candidatului mai multe oportunitati de a fi gasit si contactat de potentiali angajatori. CVurile disponibile doar clientilor eJobs au un format mai complex, contin mai multe informatii si sunt mult mai detaliate.
Candidatii eJobs isi pot schimba in orice moment disponibilitatea CVului.
Daca sunteti firma si doriti sa contactati candidatul de mai jos, trimiteti-ne aceasta cerere la Contact@ejobsgroup.ro, alaturi de linkul catre aceasta pagina.
Unul din Relationship Managerii eJobs o sa va contacteze in maxim 24 de ore si o sa va ofere datele de contact DOAR dupa ce candidatul isi exprima acordul in acest sens.
Curriculum Vitae

informatii personale

M 19.06.1993

Permis conducere: Cat.B, Data obtinerii:12.07.2011

Stagiu militar: da

obiectiv

My name is Alex and I am currently an Incident Management Specialist at Stefanini, working for two major clients. I like to think about myself that I am an optimistic person, trying to find good in anyone/anything. I went down this road initially pushed by a passion for technology which later on evolved and resulted in a combination of technology and management of processes and people. I enjoy what I am doing right now, but as everything in life, at some point, it will need an upgrade. I am eager to learn new things and, of course, apply what I already know in a professional manner.



Salariu: nespecificat

Tip job: Full time

Departament: IT Software, Management

Oras de lucru: Bucuresti

Nivel Cariera: Entry-Level (< 2 ani), Mid-Level (2-5 ani)

Disponibil: oricand

experienta profesionala

01.09.2018 - prezent

Departament: management

Titlu Job: incident management specialist

Responsabilitati:

As an Incident Management Specialist I am part of the Operations department and my main activity is to supervise and coordinate the entire life cycle of all the incidents regardless of the support group to which they are assigned. I also analyse (validate or not) all the quality concerns that are submitted, providing feedback when needed before passing it to the Quality Specialist for the corrective actions to be taken.

I am also responsible for the communication with the key stakeholders in our clients' organisations, vendors and internal management by participating in weekly Change Advisory Board meetings, Network tower meetings, Server tower meetings, etc.

An important part of my role that derives from the Major Incident Management activity is to identify potential problem tickets and shift left opportunities which can lead to additional services being offered by our company.

As an Incident Management Specialist I am also the backlog owner, constantly making sure that we avoid aged and bounced tickets. This is done with regular follow-ups with all the support groups.
In case of a major outage (with impact on the end-users) I focus on gathering as much information as possible, involving the right support groups to insure a fast and efficient functional escalation.

I am also taking care of all the communications that are being sent on behalf of the IT department to the end-users (in case of outages, service updates, maintenance notifications or just regular IT information that needs to reach the end users).

Some of the main skills that I've gathered as a Incident Management Specialist are:
- Organisational awareness
- Process improvement
- Attention to details
- A logical way of analyzing problems
- Planning my activities ahead
- Soft skills (the way I communicate with the clients' management and vendors is one of the most important qualities that one can have)
- Team oriented spirit
- Flexibility
- Stress tolerance
- Initiative (very useful when trying to engage different support groups)
- Integrity, ethics, respect.

As for the technical skills, besides what I have gathered as a support engineer, I learned new things from the Networking, Wintel and Apps teams following the normal workflow of requesting updates and following up on open cases, participating in CAB, network and server tower meetings.

01.08.2017 - 30.09.2018

Departament: it software

Titlu Job: support engineer

Responsabilitati:

As a support engineer I offered IT support to one of our clients for software/hardware/network issues in English. I also handled the on-boarding process from an IT perspective (account creation, access rights, license assignment, etc. for both internal employees and contractors).
Some of the tools I've used as an admin:
- Microsoft Active Directory
- Microsoft Exchange Server
- Powershell
- RSA admin console
- Adobe admin portal
- Remote connection tools (RDP, IBM BigFix, TeamViewer)
- LanSweeper (IT Asset Management Software)
- AirWatch admin console
- Microsoft InTune
- various internal applications (mostly used for financial purposes)

studii

Facultati:

2016 - 2017 Masterat: Stiinte Penale la Facultatea de Drept din cadrul Universitatii Bucuresti din Bucharest.
2012 - 2016 Facultate: Drept la Facultatea de Drept din cadrul Universitatii Bucuresti din Bucharest.
2008 - 2012 Liceu / Școală profesională: Uman la Colegiul National "Vlaicu Voda" din Curtea de Arges.


Premii

Voluntariat
Oct 2016: Asociația "ARYAS" - ONG
Voluntariat in cadrul programelor de dezvoltare sociala si schimb de experienta in cadrul asociatiei "ARYAS".
Certificari
Oct 2012 - Jul 2014: Certificat de competență lingvistică - Facultatea de Limbi și Literaturi Străine din cadrul Universității București.




Pagini: 1 2 3 4 5 6 7 8 9 10 11 12 13 14 15 16 17 18 19 20