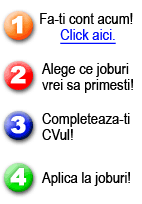 Candidatii eJobs pot alege daca CVul lor este:
CONFIDENTIAL, PUBLIC sau daca este disponibil doar clientilor eJobs.
CVul de pe acesta pagina este public (fara date de contact insa). CVul Public ii ofera candidatului mai multe oportunitati de a fi gasit si contactat de potentiali angajatori. CVurile disponibile doar clientilor eJobs au un format mai complex, contin mai multe informatii si sunt mult mai detaliate.
Candidatii eJobs isi pot schimba in orice moment disponibilitatea CVului.
Daca sunteti firma si doriti sa contactati candidatul de mai jos, trimiteti-ne aceasta cerere la Contact@ejobsgroup.ro, alaturi de linkul catre aceasta pagina.
Unul din Relationship Managerii eJobs o sa va contacteze in maxim 24 de ore si o sa va ofere datele de contact DOAR dupa ce candidatul isi exprima acordul in acest sens.
Curriculum Vitae

informatii personale

| | |
| --- | --- |
| | F 18.10.1991 |

obiectiv

Salariu: nespecificat

Tip job: Full time

Oras de lucru: Timisoara

Nivel Cariera: Mid-Level (2-5 ani)

Disponibil: oricand

experienta profesionala

01.06.2020 - prezent

Departament: resurse umane / psihologie

Titlu Job: human resources specialist

Responsabilitati:

- preparation of documents necessary for employment (contracts, personal files, medical records, unemployment documents if applicable, etc.);
- preparation of documents necessary for the termination of the employment contract (requests, dispositions, liquidation sheets, etc.);
- registration of employment contracts or termination documents in REVISAL
- recording the updated data in the workbooks, modifying the renegotiated aspects;
- management and archiving of personnel files, etc.
- managing the flow of documents required by law;
- managing the relationship / communication with employees on specific issues.
- keeping track of holidays, medical leaves, starters and leavers, paternity, maternity, worked hours etc.;
- monthly ordering meal vouchers;
- organization of business trips;
- solving various admin issues / requests raised by colleagues;
-preparing different types of administrative documents for employees;

01.04.2019 - 31.05.2020

Departament: it software

Titlu Job: recruitment specialist

Responsabilitati:

- establishing recruiting requirements by studying organization plans and objectives;
- meeting with managers to discuss needs;
- develop and update job descriptions and job specifications;
- use social and professional networking sites to identify and source candidates;
- screen candidates resumes and job applications;
- perform interviews, financial interviews and what decision it was taken with the selected candidates;
- keep up-to-date the company interviews/ recruiting data base;
- discuss with the technical team/ hiring managers about the candidates;
- organize Assessment Centers;
- prepare HR documents, like new employee study and personal papers.

01.11.2018 - 30.04.2019

Departament: administrativ / logistica

Titlu Job: office manager - project-based

Responsabilitati:

Preparing the documents for cash registers.
Maintaining the database with all the information and closing the projects in our
system.
Assistance for organizing meetings and all the activities in the company.


01.11.2016 - 30.11.2018

Departament: resurse umane / psihologie

Titlu Job: automotive recruitment consultant

Responsabilitati:

• Active recruitment of potential candidates in the automotive
engineering area (development, cad- designing, testing,
resident engineering, team and project leading, HMI)
• First contact person throughout the whole application process
• Candidate selection and administration
• Organization and realization of first phone call conversations
• Organization and realization of introduction and job interviews
• Social-Media-recruitment and implementation of internal
social media strategy
• Responsible for internal database and external job
announcement publications
• Employee support


01.09.2016 - 31.10.2016

Departament: resurse umane / psihologie

Titlu Job: human resources analyst

Responsabilitati:

Designing and implementing the overall recruiting strategy for
the company;
Screening job applicants and interviewing candidates;
Keeping detailed records of all applicants, contacts and
positions;
Maintaining a close relation with other companies;
Promoting the image of the company.

01.01.2016 - 31.07.2016

Departament: resurse umane / psihologie

Titlu Job: hr assistant internship

Responsabilitati:

Introducing resumes in the database;
Placing job advertisements;
Seeking candidates in the database or specfic sites;
Selecting candidates for open positions (CV screening);
Contacting applicants and establishing interviews;
Conducting interviews (by phone or face to face);
Comparing qualifications to job requirements;
Developing a pool of qualified candidates;
Organizing databases with applicants and collaborators

01.06.2015 - 31.10.2015

Departament: marketing

Titlu Job: sales agent

Responsabilitati:

Presenting , promoting and selling products on specific sites or
facebook.

studii

Facultati:

2014 - 2016 Masterat: Sociology and Psychology la West University of Timisoara din Timisoara. Faculty of Sociology and Psychology, Specialization in Human
Resources Management
2011 - 2014 Facultate: Sociology and Psychology la West University of Timisoara din Timisoara. Faculty of Sociology and Psychology, Specialization
Psychology


Premii

Voluntariat
Jun 2013 - Jul 2013: Art Therapy and Psychology Center Vivart
Assisting at different hours of therapy by games, dance, music
and sports.



Pagini: 1 2 3 4 5 6 7 8 9 10 11 12 13 14 15 16 17 18 19 20