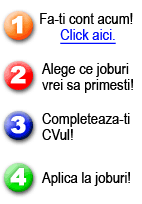 Candidatii eJobs pot alege daca CVul lor este:
CONFIDENTIAL, PUBLIC sau daca este disponibil doar clientilor eJobs.
CVul de pe acesta pagina este public (fara date de contact insa). CVul Public ii ofera candidatului mai multe oportunitati de a fi gasit si contactat de potentiali angajatori. CVurile disponibile doar clientilor eJobs au un format mai complex, contin mai multe informatii si sunt mult mai detaliate.
Candidatii eJobs isi pot schimba in orice moment disponibilitatea CVului.
Daca sunteti firma si doriti sa contactati candidatul de mai jos, trimiteti-ne aceasta cerere la Contact@ejobsgroup.ro, alaturi de linkul catre aceasta pagina.
Unul din Relationship Managerii eJobs o sa va contacteze in maxim 24 de ore si o sa va ofere datele de contact DOAR dupa ce candidatul isi exprima acordul in acest sens.
Curriculum Vitae

informatii personale

| | |
| --- | --- |
| | F 17.08.1967 |

obiectiv

Senior HR Executive with experience in leading teams in multinational organizations and SMEs supports companies in delivering change and transition projects to the next level of performance. I am seeking a new project where I can use my skills and develop a new market.



Salariu: 2.500,00 USD / luna

Tip job: Full time

Departament: Resurse umane / Psihologie

Oras de lucru: Bucuresti, Remote (de acasă)

Nivel Cariera: Manager / Executiv

Disponibil: oricand

experienta profesionala

01.05.2014 - prezent

Departament: resurse umane / psihologie

Titlu Job: head of hr

Responsabilitati:

- Design and Implement HR procedures to ensure a performant organization: recruitment, integration, performance management, compensation and benefits
- Introduced HR indicators: number of recruitment days, cost, quality of recruitment
- Introduced creative ways to improve recruitment results: social media, job fairs, job caravans
- Improved the learning curve for new employees due to onboarding plans
- Improved the middle management's results by offering custom made coaching program
- Designed the job grading system
- Create the benefit system

01.05.2011 - 31.03.2014

Departament: resurse umane / psihologie

Titlu Job: hr director

Responsabilitati:

- Leading the Hr department to become a strong business partner
- Ixia Romania became number 4 in R&D Employer Brand survey, based on employee satisfaction
- Designed and implemented the Integrated Talent Management strategy which ensures career management actions for all employees
- Designed and started to implement the Employer Branding strategy
- Designed and implement the Learning and Development plan
- Redesigned the Recruitment process in 2011 to allow the doubling in size of the organization (140 employees recruited in 5 months) making full usage of Social Media
- Designed and implemented the integration program for new employees
- Ensured the follow up process after Employee Satisfaction survey (focus groups, action plans, kpi, communication)
- Selected valuable partners for recruitment and training activities
- Implemented a new HRIS
- Implemented HR KPI scorecard

01.03.2008 - 31.03.2011

Departament: resurse umane / psihologie

Titlu Job: hr manager

Responsabilitati:

- Henkel Romania in Top 5 Best Employer in 2009 and 2010, based on employees' satisfaction survey
- Implementation of new company culture (Vision & Values, Performance Management, Reward systems)
- "Grow" project – build middle management pipeline
- "Sales excellence" – part of the project team for process improvement in sales
- Reorganisation projects in warehouse and adhesives business unit
- Design and implement Onboarding – process for the integration of new employees, promotions and return from long term absence
- Negotiate with service suppliers and obtain 30K euro in savings
- "Making an impact on tomorow" – Henkel support for employees' voluntary work project coordinator for Henkel CEE
- Henkel Innovation Challenge – Take a Henkel brand in 2050 international contest for students, nr 2 in Henkel CEE in number of applications
- Design and implement HR processes and procedures for recruitment, performance management, talent management, learning, comp & ben, employee relations
- Implementation of HR balance scorecard (HR KPI's for the board)
- No work conflict with employees' representatives

01.09.2006 - 29.02.2008

Departament: resurse umane / psihologie

Titlu Job: hr manager republica moldova

Responsabilitati:

- Overall responsibility of the HR function in Moldova (Recruitment, Development, Compensation & Benefits, Administration)
- Defining strategic business plan and budget
- Managing a team of 3 people
- Reorganising the structure of the company to support the new businesss model
- Alligning processes to the new business model
- Defining recruitment strategy
- Designing and implementing Compensation and Benefits strategy
- Use technology (SAP) to improve control over hr activities and provide better service to the organisation
- Ensuring Employee Engagement
- Alligning HR policies and procedures to the group
- Defining management routines and Key Business Indicators to be monitored

01.05.2004 - 31.08.2006

Departament: resurse umane / psihologie

Titlu Job: senior hr manager

Responsabilitati:

- Responsible for organisational hr in Eastern Region of Romania (1200 people sales and factory)
- Managed a team of 8 people
- Developed & implemented recruitment strategy to fulfill business needs
- Implemented Comp & Ben changes
- Annual budgeting process
- Regular communication with employees
- Ensured regional contact with the union
- Monitor KBI's and implement action plan

01.02.2002 - 31.03.2004

Departament: resurse umane / psihologie

Titlu Job: hr manager

Responsabilitati:

- Part of the Senior Management Team reporting to the GM
- Set up the HR department managing a team of 10 people
- Defined and implemented policies and procedures
- Defined and implemented recruitment strategy
- Established the training plan
- Defined and implemented Comp & Ben strategy
- Implemented SAP

01.07.1999 - 31.12.2001

Departament: resurse umane / psihologie

Titlu Job: executive search consultant

Responsabilitati:

- Source and recruit senior executives across Central Eastern Europe

studii

Facultati:

2008 - 2010 Masterat: Business la Bled School of Management din Bled, Slovenia. Strategic Business Tools, Bled School of Management, Slovenja - special program designed for Henkel's high potential employees
1996 - 1997 Facultate: Bussiness Adminstration la University of Lincoln din Humberside. Bachelor of Arts in Business Administration
1994 - 1996 Facultate: Gestion des Entreprises et Administrations la Institut Universitaire de Saint-Etienne din Saint-Etienne.


Premii

Certificari
Sep 2014 - Sep 2014: Certified user
The coaching game - Points of View
May 2014 - Jun 2014: Consultant
Hogan assessment tools
May 2014 - Sep 2016: ICF Coach
Certification
Practionner Coaching Diploma, Noble Manhattan
Sep 2011 - Sep 2011: Certified trainer
Symphony Leadership Tool
Aug 2009 - Aug 2009: Certified user
- Belbin team roles tool
Traininguri
Jun 2013 - Oct 2013: Next generation development program – Ixia's program for HIPO
In house training for high potential employees across the globe
May 2005 - Aug 2008: Coca-Cola Hellenic
- Project Management
- Change management:
- Leadership - IMC with
- Emotional Intelligence

I hereby give consent for the processing of personal data provided by me in the form of the CV sent to Versum with limited liability, headquarters at Bielsko-Biała (43-300), ul. Cieszyńska 90, NIP: 9372676744, REGON:362795750, KRS: 0000581756 (further: "Administrator") in order to participate in the recruitment process and future recruitments with the same or similar profile (but not for more than three years).
Consent is voluntary but necessary to participate in the recruitment process. I acknowledge that I can withdraw this consent at any time by sending an email to: careers@versum.com. Withdrawal of my consent does not affect the lawfulness of the processing which was carried out on the basis of my consent prior to its withdrawal.



Pagini: 1 2 3 4 5 6 7 8 9 10 11 12 13 14 15 16 17 18 19 20