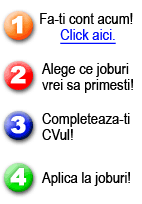 Candidatii eJobs pot alege daca CVul lor este:
CONFIDENTIAL, PUBLIC sau daca este disponibil doar clientilor eJobs.
CVul de pe acesta pagina este public (fara date de contact insa). CVul Public ii ofera candidatului mai multe oportunitati de a fi gasit si contactat de potentiali angajatori. CVurile disponibile doar clientilor eJobs au un format mai complex, contin mai multe informatii si sunt mult mai detaliate.
Candidatii eJobs isi pot schimba in orice moment disponibilitatea CVului.
Daca sunteti firma si doriti sa contactati candidatul de mai jos, trimiteti-ne aceasta cerere la

[email protected]

, alaturi de linkul catre aceasta pagina.
Unul din Relationship Managerii eJobs o sa va contacteze in maxim 24 de ore si o sa va ofere datele de contact DOAR dupa ce candidatul isi exprima acordul in acest sens.
Curriculum Vitae

informatii personale

F 01.06.1991

Permis conducere: Cat.B, Data obtinerii:22.08.2018

obiectiv

quick learner high focused & analytical thinking very good communication skills



Salariu: nespecificat

Tip job: Full time

Departament: Vanzari, Resurse umane / Psihologie, Relatii publice, Administrativ / Logistica, Functii publice, Relatii clienti / Call center, Inginerie, IT Software, Financiar / Contabilitate, Banci

Oras de lucru: Timisoara, Remote (de acasă)

Nivel Cariera: Mid-Level (2-5 ani)

Disponibil: oricand

experienta profesionala

01.03.2019 - prezent

Departament: telecomunicatii

Titlu Job: gs pricing manager

Responsabilitati:

Implement Nokia Pricing Principles in Nokia Pricing Tool for offers to Nokia customers worldwide for Nokia
Mobile Networks portfolio.
o Ensure profitability targets are met as per Nokia Policies.
o Interact with Nokia Sales / Solution Teams for offer generation.
o Create offer business case in the respective Nokia tools and the resulting profitability estimation, to provide
full transparency (briefings) to the respective decision makers.
o Create Price Benchmarking.
o Propose alternative Pricing or Discounting mechanism or optimisations, if applicable.
o Provide pricing data for analytics.
o Document pricing assumptions and communicate to relevant teams.
o Participate the approval in his/her area of responsibility
Acquired skills and knowledge:
Excel, Hydra, vpc, cwr, Power BI, loa, NPT
• Tools and processes used in Customer pricing - VPC, WTD, LoA ,NPT
LoA triggers
• DMF
• Terms & Conditions
• Advanced Excel
• Presentation skills
• communication skills
• Managing workload/ prioritization / identify efficiencies
• Impact of Financial parameters like Cash flow, Net present value, Forex hedging, Cost of financing etc

01.03.2017 - 31.03.2019

Departament: resurse umane / psihologie

Titlu Job: administrative assistant for center of competence

Responsabilitati:

Provide support in coordination of internal and external communication;
-HR for CENTER OF COMPETENCE NOKIA TIMISOARA;
o Keep in contact with local suppliers for monthly stock-up;
o Insure permanent communication with the Accounting department and Accounting
supplier;
o ad-hoc reports for other support departments (Management, HR, Finance, IT);
o Maintain the contact with functional managers and other departments in Timisoara on
administrative matters;
o Manage business itineraries, travel arrangements, conferences, meetings and social
functions;
o Support and coordinate the successful delivery of multiple, simultaneous organizational projects;
o Contribute to documentation flow related to company policies, procedures and timeline
rules;
o Follows-up on deadlines and assists with reports;
o Plan, coordinate and manage events such as in-house conferences, corporate parties,
professional meetings
Jira Specialist
Misorder tool admin
Acquired skills and knowledge:
Microsoft Office, SharePoint, Excel, MISORD

01.11.2015 - 31.03.2017

Departament: telecomunicatii

Titlu Job: front desk office

Responsabilitati:

Communicate well and demonstrate an efficient and friendly service to customers and clients at all times.
Ensure that communications are paramount between staff,customers and client.
Ensure reception desks are manned at all times and operated at agreed times
Ensure you have a full working knowledge of the building, personnel within it and the local geographical area
Answer telephone within specified number of rings, politely & professionally at all times and connect callers
quickly to the correct party
Deal efficiently with requests for outgoing calls or internal requests for information.
Manage & update each morning, the screen based consoles with changes in personnel & other relevant
information.
Take daily back up of telephone/postal box database (a.m.)
Maintain Brought Forward File for expected visitors/events etc
Receive faxes and inform relevant recipients of their arrival
Arrange & log the booking of taxis & confirm charge point
To ensure that all postal operations are carried out efficiently and promptly to the standards laid down by the
company and to comply with statutory regulations
To comply with all security regulations for incoming post/mail adhering to site security procedures. To report
any suspicious mail to Security & follow Site Security procedure
To sign for all Parcel Force deliveries and notify addressee of arrival & to ensure addressee sign for Parcel
Force items on collection from post room
Acquired skills and knowledge:
Microsoft Office

01.03.2015 - 31.07.2015

Departament: alimentatie / horeca

Titlu Job: catring event organizer in hungarian - catering

Responsabilitati:

Assist all customers to plan and service their simplest or most elaborate catering needs.
Suggest menu ideas to meet customer needs and plan appropriate portions.
Coordinate event logistics prior to the date. Oversee activity on location, as required by customer.
Coordinate with outside vendors to implement additional services, as required by customer.
Communicate duties clearly to servers and bartenders. Monitor changes in guest count and adjust all
elements as appropriate.
Provide high levels of communication and customer service with internal and external customers.
Provide clear communication with outside customers.
Outside sales to potential and prior customers which may include cold calling, setting up potential customer
consultations, making site visits to propose catering opportunities, and other sales related duties.
Ensure compliance with all guidelines provided by the company with regards to menu specifications, pricing,
discounting and any other issues that have been reviewed.

01.10.2013 - 30.06.2014

Departament: educatie / training / arte

Titlu Job: profesor geografie

Responsabilitati:

Maintain student attendance records, grades, and other required records.
Prepare course materials , homework assignments, and handouts.
Initiate, facilitate, and moderate classroom discussions.
Supervise undergraduate and/or graduate teaching, internship, and research work.
Plan, evaluate, and revise curricula, course content, and course materials and methods of instruction

studii

Facultati:

2018 - 2018 MBA: Human resources analyst certification la TIMISOARA din TIMISOARA.
2010 - 2013 Facultate: Geografia Turismului la Uvt din TIMISOARA.
2010 - 2013 Facultate: la din TIMISOARA.
2006 - 2010 Liceu / Școală profesională: la din TIMISOARA.



Pagini: 1 2 3 4 5 6 7 8 9 10 11 12 13 14 15 16 17 18 19 20