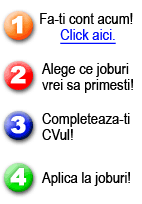 Candidatii eJobs pot alege daca CVul lor este:
CONFIDENTIAL, PUBLIC sau daca este disponibil doar clientilor eJobs.
CVul de pe acesta pagina este public (fara date de contact insa). CVul Public ii ofera candidatului mai multe oportunitati de a fi gasit si contactat de potentiali angajatori. CVurile disponibile doar clientilor eJobs au un format mai complex, contin mai multe informatii si sunt mult mai detaliate.
Candidatii eJobs isi pot schimba in orice moment disponibilitatea CVului.
Daca sunteti firma si doriti sa contactati candidatul de mai jos, trimiteti-ne aceasta cerere la Contact@ejobsgroup.ro, alaturi de linkul catre aceasta pagina.
Unul din Relationship Managerii eJobs o sa va contacteze in maxim 24 de ore si o sa va ofere datele de contact DOAR dupa ce candidatul isi exprima acordul in acest sens.
Curriculum Vitae

informatii personale

obiectiv

M Y L I F E P H I L O S O P H Y Always challenge yourself. Hard working Combining my studies and a full time job allowed to challenge myself constantly, to improve my sense of organisation and time management and appreciate the time spent with my family and friends. International mindset Speaking more than 5 languages and always ready to learn new ones. Perseverence Always seeing a way of moving forward and achieving the initial goal by adjusting myself in any context, professionally and psychologically



Salariu: nespecificat

Nivel Cariera: Senior-Level (> 5 ani)

Disponibil: oricand

experienta profesionala

01.12.2018 - prezent

Departament: turism / hotel staff

Titlu Job: front office supervisor

Responsabilitati:

Currently supervising a team of 6 Front Office Agents in Dubai, at Le Meridien Mina Seyahi property. Direct contact with the guest, in charge of guest complaints, cashiering, control of quality and delivery of best customer experience. Rooms allocations, upsells etc. Engaging the customer in order to anticipate guest's needs and be always a step ahead. Encouraging agents to take care and deliver the best customer experience.

01.05.2017 - 31.12.2018

Departament: turism / hotel staff

Titlu Job: front office leader

Responsabilitati:

In charge of customer satisfaction, cashiering and billing, catering and F&B events, responsible of shifts and in charge of the Front Desk in the absence of a MOD (manager on duty) or GM.
Always assuring high performance during busy periods, maintaining a follow-up with the client, pre arrival organisation, handling cash and F&B services. Guest Relations Managers skills constantly improved by diversity of tasks. Multitasking and assuring a check-in and check-out experience according to the brand (Aloft) and always proposing new ideas for generating extra revenue.
In charge of guests complaints, assisting and supporting all operational departments.
Night audit in charge of security rounds, guest complaints and decision making role.

01.10.2016 - 31.05.2017

Departament: turism / hotel staff

Titlu Job: front office supervisor

Responsabilitati:

Hôtel des Colonies is a cluster of 3 hotels, family based business in the center of Brussels.
Ongoing contact with the client, invoicing, e-mailing, transportation (pick-up services), rooms assignment, banqueting and F&B services and in charge of the Front Desk of 3 hotels merged in one single reception.
In charge of the training of the interns from Vatel Hotel School in Brussels, handling cash and Front Desk activities, such as check in and check out experience, room assignment, generating revenue and always trying to establish a longterm relationship with the business clients.

01.07.2016 - 31.10.2016

Departament: turism / hotel staff

Titlu Job: barista

Responsabilitati:

Worked independently in 2 areas of the property (Bar and Buffet) with personal cashier and cash handling.
F&B and catering services, handling cashier and taking orders, working with high volume of group reservations and personalised offers and recipes.

Sunday's Brunch assistant for the Bar and Buffet, always multitasking in between the two, operating during busy summer season and start of the European Commission and European Parliament season. This job allowed to develop my skills in F&B and catering and bring my personal touch to a vibrant bar situated in the heart of the European neighbourhood in Brussels

01.06.2013 - 31.07.2016

Departament: turism / hotel staff

Titlu Job: front desk lead

Responsabilitati:

A vivid and colourful boutique hotel situated in the European neighbourhood
First job in the hospitality industry that has allowed me to develop my skills.
In charge of Front Desk, this position that offered me the responsibility of a Head of Reception : room assignment, revenue matters, acquisitions, banqueting and F&B while being budget oriented since this is an independent hotel.
Marketing skills improved by promoting the brand and searching for collaborations with local theatres, schools, brands and production houses.
Group reservations handler while organising trip programme and schedule, activity planning for school groups.
Front Desk Lead, position with power of decision handling shifts alone, during week time and weekends, in the absence of the General Manager.

studii

Facultati:

2016 - prezent Masterat: MARKETING AND CORPORATE COMMUNICATION la UNIVERSITE LIBRE DE BRUXELLES din BRUXELLES.
2012 - 2016 Facultate: RELATII PUBLICE COMUNICARE la UNIVERSITE LIBRE DE BRUXELLES din BRUSSELS.
2011 - 2012 Facultate: RELATII PUBLICE SI COMUNICARE la ALEXANDRU IOAN CUZA din IASI.



Pagini: 1 2 3 4 5 6 7 8 9 10 11 12 13 14 15 16 17 18 19 20