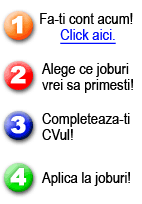 Candidatii eJobs pot alege daca CVul lor este:
CONFIDENTIAL, PUBLIC sau daca este disponibil doar clientilor eJobs.
CVul de pe acesta pagina este public (fara date de contact insa). CVul Public ii ofera candidatului mai multe oportunitati de a fi gasit si contactat de potentiali angajatori. CVurile disponibile doar clientilor eJobs au un format mai complex, contin mai multe informatii si sunt mult mai detaliate.
Candidatii eJobs isi pot schimba in orice moment disponibilitatea CVului.
Daca sunteti firma si doriti sa contactati candidatul de mai jos, trimiteti-ne aceasta cerere la Contact@ejobsgroup.ro, alaturi de linkul catre aceasta pagina.
Unul din Relationship Managerii eJobs o sa va contacteze in maxim 24 de ore si o sa va ofere datele de contact DOAR dupa ce candidatul isi exprima acordul in acest sens.
Curriculum Vitae

informatii personale

F 22.11.1993

Permis conducere: Cat.B, Data obtinerii:03.07.2012

obiectiv

Salariu: nespecificat

Tip job: Full time

Departament: Administrativ / Logistica, Transport / Distributie, Import - export, Naval / Aeronautic, Management

Oras de lucru: Bucuresti

Nivel Cariera: Mid-Level (2-5 ani)

Disponibil: oricand

experienta profesionala

01.07.2018 - prezent

Departament: administrativ / logistica

Titlu Job: dispatch coordinator with english and french

Responsabilitati:

- Accepts the ownership of assigned task.
- Organizes field intervention activities with customer, Oracle or partner
engineer.
- Communicates with logistics to ensure that the arrival of parts and engineer
to site meets customer expectations and contractual obligations. Arranges and
coordinates shipments and transport.
- Identifies if a part is in stock to replace a faulty part identified by an
engineer Technical Support Center (TSC) or Field. Dispatcher uses logistics
tool Soleil or web-tools pertaining to the dispatch of third party products, to
identify stock location and organize delivery of replacement part to customer
site from Oracle service centre warehouse.
- Monitors queue of Service Request tasks to ensure all open tasks are being
managed in a contractual timely manner and acts as an escalation point for outof-
line tasks, resolving discrepancies related to escalation activities from
missing parts, late parts arrival, dead on arrival (DOA's) and customer
dissatisfiers.
- Responsible for monitoring and minimizing costs in delivery of spare parts.
Reports findings to Field and Partner management.
- Is responsible for initiating invoices for partner management activities in indirect
countries. Notifies partner manager of reoccurring customer/partner
discrepancies.
- Engages in Field Change Order (FCO) process for delivery of FCO parts to
customers. As well as parts activity management, Dispatcher may drive FCO
Service Request tasks when appropriate.
- Responsible to collect, maintain and notify Entrance Permit related to onsite
visit (when required) according to customer's requirements and
procedures and local law

01.01.2017 - 31.07.2018

Departament: administrativ / logistica

Titlu Job: export operation specialist

Responsabilitati:

-Responsible for organizing and execution of intermodal full container load
transports;
-Offering support and providing solutions for customers;
-Communicates with the parties involved: customers, shipping lines, carriers,
custom brokers
-Monitoring and ensure timely deliveries
-preparing and confirming all the maritime transport documents
-issue the invoices at the end of month
-Ensure smooth and timely freight process flow
-Interact with our customers in arranging their international shipments,
meeting customer service standards.
-Ensure accurate and timely data entry and documentation related to Ocean
export shipments
-Overseas communications, timely responses to emails and requests (internal
and external)
-Contribute to maintain good relationships with suppliers (Ocean carriers,
trucking companies and others involved).
-Meet compliance at all times to regulations internal and external in
accordance with government regulations.
-Understand department process flow, and looking for best practices to
improve operational efficiency and productivity
-Meet KPI standards in accordance with the Company's procedures

01.02.2016 - 31.01.2017

Departament: financiar / contabilitate

Titlu Job: accounts payable with french

Responsabilitati:

• Invoice processing, payments and/or reconciliations;
• Ensure all purchase invoices as processed within agreed SLAs and adhering to departmental procedures;
• Centralize data for payroll processes;
• Ensure and maintain excellent standards of accuracy in the process;
• Reconcile and process all cheque requests, expenses and petty cash forms;
• Undertake internal and cross-functional communication, following set processes and channels, in order to analyse and resolve problem payments in a timely and accurate manner;
• Escalate problem payments when necessary and in a timely manner;
• Build and maintain good working relationships with suppliers;
• Coordinate and supervise small teams;
• Create and maintain Vendor master records;
• Maintain up-to-date, accurate supplier information;

01.10.2014 - 30.11.2015

Departament: protectia mediului

Titlu Job: project coordinator

Responsabilitati:

Coordinating a project named : Ecological Responsibility in Schools ( RES)
• Planning the activities, the strategy, the gant chart, the budget, the meetings
• Creating and maintaining a good relationship with the sponsor of the project
and reporting him all the activities, expenses and results
• Forming and training the team
• Organizing a trip for the children and a planting of trees



Pagini: 1 2 3 4 5 6 7 8 9 10 11 12 13 14 15 16 17 18 19 20
E timpul pentru un browser mai bun
De la 1 octombrie 2019, te informăm că site-ul eJobs.ro nu va mai putea fi accesat prin browser-ul Internet Explorer din cauza funcționalităților reduse ale acestuia. Accesează-ne cu încredere folosind unul dintre browserele mai moderne: Google Chrome, Mozilla Firefox, Safari sau Edge.
Am înțeles
close