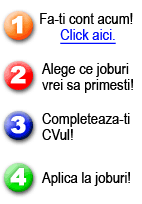 Candidatii eJobs pot alege daca CVul lor este:
CONFIDENTIAL, PUBLIC sau daca este disponibil doar clientilor eJobs.
CVul de pe acesta pagina este public (fara date de contact insa). CVul Public ii ofera candidatului mai multe oportunitati de a fi gasit si contactat de potentiali angajatori. CVurile disponibile doar clientilor eJobs au un format mai complex, contin mai multe informatii si sunt mult mai detaliate.
Candidatii eJobs isi pot schimba in orice moment disponibilitatea CVului.
Daca sunteti firma si doriti sa contactati candidatul de mai jos, trimiteti-ne aceasta cerere la Contact@ejobsgroup.ro, alaturi de linkul catre aceasta pagina.
Unul din Relationship Managerii eJobs o sa va contacteze in maxim 24 de ore si o sa va ofere datele de contact DOAR dupa ce candidatul isi exprima acordul in acest sens.
Curriculum Vitae

informatii personale

| | |
| --- | --- |
| | F 04.12.1989 |

obiectiv

"Change is the only constant in life." (Heraclitus) This principle applies now more than ever. Yet it is a principle that is universally available and one that has been present throughout over 10 years of my career. This principle has taught me to always stay connected to the market needs, to stay flexible and adapt to meet them, and to always add more value than expected of me. My ability to persevere, innovate and create large scale impact have developed: - As an entrepreneur, while starting and leading 3 start-ups. I ran the last one for 5 years and turned it into a leader in the L&D industry in The UK - As a project manager, while leading the development of an educational reform for the first in the world Apprenticeship in entrepreneurship. For this I succeeded in persuading the UK Government to agree to it (after two negative responses), and won the buy-in of senior stakeholders in over 100 companies. - As an L&D specialist developing educational programs in UK, Brazil, Romania. I am motivated by the scale and impact of my work and I want to make a massive difference in the lives of people around the globe. Perhaps we can achieve this together?



Salariu: 1.500,00 USD / luna

Tip job: Part time, Full time, Proiect / Sezonier

Departament: Vanzari, Resurse umane / Psihologie, Educatie / Training / Arte, Cercetare - dezvoltare, Management

Oras de lucru: Bucuresti, Remote (de acasă)

Nivel Cariera: Senior-Level (> 5 ani)

Disponibil: oricand

experienta profesionala

01.02.2020 - 31.03.2020

Departament: management

Titlu Job: director executiv

Responsabilitati:

Createrra is a small company delivering training and coaching programmes to support people achieve their highest potential - over 400 clients. I joined as the second full time staff and in 1 year I contributed to building up the company to a point where it runs over 20 programmes yearly, with 4 full time staff and over 12 volunteers.

As the executive director, I was responsible with:
- Setting strategic priorities for growth;
- Managing and organising large training programs (events). This included sales, marketing, negotiations with providers, customer service;
- Leading, coaching and motivating the team;
- Creating new revenue streams, new products and services;
- Collaborating with different areas of the business;
- Networking and building partnerships;
- Building and optimising the infrastructure of the company:creating processes, procedures and pipelines for CRM, online sales, website;
- Creating and delivering a training program for start-ups;
- Building and strengthening a community of loyal and recurrent clients;
- Delivering training sessions on personal development.

I was directly involved in supporting all the online and in-person programmes we ran.

01.12.2017 - 31.05.2018

Departament: educatie / training / arte

Titlu Job: learning & development specialist

Responsabilitati:

Microsoft is the leading company in the world in software development.

RESPONSIBILITIES:
In Microsoft I focused on:
- Working with the international team in order to develop interactive online courses for their global support team, based on their needs
- Create innovative templates for online courses
- Learn Adobe Storyline 3 from scratch

RESULTS:
- Developed online courses that the team was excited about
- Developed and deliver a face-to-face workshop on problem solving and creativity
(my own initiative, outside the job description)
- Mastered Adobe Storyline 3 in 3 months

I left Microsoft to develop and deliver an innovative course on Technology Evangelism: bridging Artificial Intelligence with business strategies

01.01.2015 - 31.01.2017

Departament: educatie / training / arte

Titlu Job: project manager & consultant

Responsabilitati:

UNLTD - The Foundation for Social Entrepreneurs is the largest NGO in UK supporting social entrepreneurs (www.unltd.org)

RESPONSIBILITIES
1.The development of an innovative educational reform for UK Government
My responsibilities included lobbying the UK Government, building relationships with key shareholders, leading consultations and developing a fund-raising strategy

2.The development of a hybrid course (a mix of online and face-to-face learning sessions) for entrepreneurs in Colleges and their teachers. I was responsible to:
- Identify and evaluate the stakeholders' needs and the relevant materials & methods;
- Collaborate with Subject Matter Experts to integrate the course into existent systems.

RESULTS
1. While managing the policy reform:
- Coordinated the development of the proposal, the discussions with the Govt.
- Persuaded the Government representatives and the senior managers in other 100 organisations to support the project. The organisations ranged from banks ( Deutsche Bank, Santander), to city councils, corporations (PWC) and universities;
- Moderated consultations with Apprenticeship Minister and 15 senior executives in order to agree on a unified national standard and the appropriate way to evaluate it.

2. While coordinating the hybrid course:
- Created training materials (online and offline) for students using modern platforms and methods (70:20:10, flipped classroom) by collaborating with IT team;
- Negotiated with Accreditation Agencies to create tailored certifications;
- Sold the pilot phase of the project to two Colleges.

01.03.2013 - 30.09.2017

Departament: management

Titlu Job: ceo

Responsabilitati:

Centre for Applied Learning is an award-winning and national educational enterprise in UK aiming to empower leaders aged 18-35. (www.practicaledu.com)

RESPONSIBILITIES:
1. Leading the overall company:
- Manage all areas of the business including: development and delivery of educational programmes, business development, sales and marketing.
- Develop, organise and facilitate 7 national competitions (learning sessions) in entrepreneurship in UK, focused on problem-solving mindset and business skills for aspiring entrepreneurs aged 18 -35 in top UK universities.

2. Develop and deliver a project-based course in entrepreneurship in an accelerator-style, international academy; This was a mix of teaching, practice and 1:1 coaching business. The main challenge was to adapt to working with a wide range of participants (ie. corporates, recent graduates, entrepreneurs), from different countries (Brazil, USA, Russia) and offer coaching for ides in different industries (software, fitness, import-export)

3. Provide consultancy and business advice to entrepreneurs on how to create business plans

RESULTS
1. For the company in general:
- Received a National award for impact and innovation in education from and several regional ones
- Facilitated practical online and face-to-face learning experience for 1,000 people
- Created partnerships with: Accenture, Trinity Mirror PLC, Birmingham City Council
- Secured as clients: 26 top universities in UK
- Secured access to £200,000 in investments for our participants through partnerships
- Was selected as a mentor for Queens Young Leaders - a global programme supported by Queen Elisabeth and Cambridge University
- Was selected as a Fellow for Mohammed Yunus Foundation, a global fellowship programme

2. For the entrepreneurship course (international academy / accelerator)
- Gained excellent feedback from the participants from the course
- Renewed contracted for 3 more courses, of 5 weeks each (international academy)

3. For business consultancy services:
- Based on the business plans I consulted on, entrepreneurs received £120,000 loans to start businesses

01.09.2011 - 31.03.2013

Departament: educatie / training / arte

Titlu Job: regional manager

Responsabilitati:

NACUE is a national charity consulting universities and colleges on developing entrepreneurial ecosystems in their campuses. www.nacue.com

RESPONSIBILITIES:
- Create an entrepreneurial culture in 15 universities, locally and regionally;
- Collaborate with vice chancellors, lecturers and students
- Create a regional community of support for entrepreneurs

RESULTS:
- Sold consultancy services to universities: 200% of the target in 60% of allocated time;
- Organised and moderated regional workshops for deans to share best case practices;
- Mentored and supported students to develop 15 entrepreneurship clubs;
- Developed and facilitated regional trainings that were recognised as best case practice
- Developed a regional network of stakeholders (teachers, incubators, entrepreneurs).

01.06.2011 - 31.08.2011

Departament: educatie / training / arte

Titlu Job: social organiser

Responsabilitati:

The University of Birmingham is one of the top universities in UK and the world.
www.birmingham.ac.uk

RESPONSIBILITIES:
My role was to organise social events & day trips for 300 students, undergraduates and postgraduates from various countries, and prepare educational materials that enabled them to adapt to living in the UK.

RESULTS:
- I organised and led 4 trips with 300 students each (logistic, activities, site visits)
- I organised social events and guided tours in the city to help them understand and be comfortable with the UK culture
- I organised the final party for 300 students

01.04.2011 - 30.11.2012

Departament: educatie / training / arte

Titlu Job: co-founder

Responsabilitati:

Enterprise Academy is a social enterprise aiming to enable social entrepreneurs to develop and launch innovative social ventures

RESPONSIBILITIES:
At the age of 19 I set up my second venture in UK. As the team was small all the tasks were divided between the two co-founders including strategic planning, fund raising, business development and marketing.We hold workshops in universities on leadership and problem solving skills. Our vision was to create the first Accelerator in Birmingham for social ventures.

RESULTS:
- Developed and delivered workshops in universities
- Secured funding from European Union for two innovative educational programmes worth £16,000.
- Had meetings with investors to raise fund for accelerator

We failed to secure the £300,000 needed for it. This process was an opportunity for many lessons for me that I applied in my life later on.

01.10.2009 - 31.07.2010

Departament: educatie / training / arte

Titlu Job: vice president aiesec birmingham, uk

Responsabilitati:

AIESEC is the largest non-for-profit youth organisation in the world.( www.aiesec.org )
RESPONSIBILITIES:
As a vice-president I led a team of 10 students in selling work experience programmes and won national award for business development.

studii

Facultati:

2008 - 2011 Facultate: Relatii Internationale la The University of Birmingham din Birmingham, UK.
2004 - 2008 Liceu / Școală profesională: la din Gura Humorului.


Premii

Premii si Distinctii
Sep 2016: 2nd place for National Award for supporting social entrepreneurs in UK

Sep 2014: National Award for innovation and impact in enterprise education

Conferinte
May 2016 - Jul 2018: Anthony Robbins - Business Mastery
An intensive executive programme equivalent on personal development. I went there as a participant in 2016 then as part of the organising team in 2018.
Apr 2016 - Jul 2018: Anthony Robbins - Unleash The Power Within
An intensive executive programme equivalent to an MBA on how to grow businesses internationally. This is an annual event and I went as a participant in 2016 then part of the organising team for 2 consecutive years: 2017, 2018.
Jun 2011 - Jun 2011: Hesselbeing Global Leadership Academy, USA
I was selected as one of the 50 young leaders world-wide and went to a conference in USA to learn about leadership.
Jul 2010 - Jul 2010: G(irls)20 Summit Canada
I represented the views and interests of women in The EU as a selected delegate to G(irls) 20 Summit, making policy recommendations. This was a leadership conference in Canada.
Jun 2010 - Jun 2010: Global Youth Leadership Summit, Check Republic
This was an international conference for young leaders interested in diplomacy and working in international organisations such as The European Parlament and The UN.
Jun 2010 - Jun 2010: Generation 89, Poland
Generation 89 - I was selected as a young leader to make policy recommendations for a better, more united Europe.
Traininguri
Jul 2010 - Jul 2010: Leadership Summer School Romania
I received a scholarship for Leadership Summer School organised by Leaders Foundation in Romania, which was a week-long course in leadership.
Jun 2009 - Jun 2009: International Youth Summit
I delivered a training in leadership to young people from all over the globa as part of International Youth Summit in Turkey.
Voluntariat
Jun 2010 - Jun 2011: Vice-President Salsa Society
I was the vice-president of a group of students passionate about dancing in my university: The University of Birmigham. This involved being responsible with marketing, event planning and cash flow.
Jun 2009 - Jul 2010: Vice-President AIESEC Birmingham, UK
AIESEC is the largest non-for-profit youth organisation in the world.( www.aiesec.org )
Responsibilities
As a vice-president I led a team of 10 students in selling work experience programmes and won national award for business development.
May 2009 - Jul 2010: Vice-President Romanian Society, Birmingham, UK
I was the vicepresident of the Romanian society in my university: University of Birmingham, with the role of organising events to bring all Romanian students together.



Pagini: 1 2 3 4 5 6 7 8 9 10 11 12 13 14 15 16 17 18 19 20