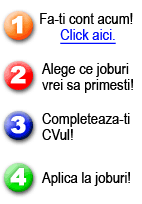 Candidatii eJobs pot alege daca CVul lor este:
CONFIDENTIAL, PUBLIC sau daca este disponibil doar clientilor eJobs.
CVul de pe acesta pagina este public (fara date de contact insa). CVul Public ii ofera candidatului mai multe oportunitati de a fi gasit si contactat de potentiali angajatori. CVurile disponibile doar clientilor eJobs au un format mai complex, contin mai multe informatii si sunt mult mai detaliate.
Candidatii eJobs isi pot schimba in orice moment disponibilitatea CVului.
Daca sunteti firma si doriti sa contactati candidatul de mai jos, trimiteti-ne aceasta cerere la Contact@ejobsgroup.ro, alaturi de linkul catre aceasta pagina.
Unul din Relationship Managerii eJobs o sa va contacteze in maxim 24 de ore si o sa va ofere datele de contact DOAR dupa ce candidatul isi exprima acordul in acest sens.
Curriculum Vitae

informatii personale

M 31.12.1979

Stagiu militar: da

obiectiv

Innovative and well-organized leader with solid experience in coordinating teams and all levels of transversal and transformational projects. Able to gain a wide perspective and in-depth understanding of the business, while being ready to drill-down to operational details. Analytical mindset and problem-solving skills balanced with strong interpersonal competencies, having 15+years background in Customer Experience, Supply Chain and Operations.



Salariu: nespecificat

Tip job: Full time

Departament: Farmacie, Administrativ / Logistica, Internet / e-Commerce, Telecomunicatii, Transport / Distributie, Achizitii, Import - export, IT Software, Audit / Consultanta, Management

Oras de lucru: Bucuresti

Nivel Cariera: Manager / Executiv

Disponibil: oricand

experienta profesionala

01.09.2017 - prezent

Departament: auto / echipamente

Titlu Job: demand planning and s&op manager

Responsabilitati:

Responsible for the demand forecasting process within EMEA (direct reports in Romania, Belgium and Italy);
Control & continuously improve the planning stream in a complex network setup (40 000+ active products, multiple warehouses within Europe);
Design and implement an efficient Sales & Operations Planning flow within the company.

01.11.2016 - 30.09.2017

Departament: it hardware

Titlu Job: project manager

Responsabilitati:

Leading technical analysis, design and implementation of a new line of business, stream lead of a transformational project with impact in Supply Chain and Ordering;
Managing scope, schedule, budget, multi-functional project teams (solution architects, business and system analysts) and subcontractors.

01.12.2014 - 31.10.2016

Departament: management

Titlu Job: operations manager

Responsabilitati:

Coordinating 4 departments: IT, Warehouse & Distribution, Information Security and Regulatory Affairs (4 direct reports, 65 team members);
Building and implementing the IT strategy, deploying new operational tools and enhancing the existing ones with support of internal developers or external contractors;
Leading the IT Help Desk team;
Managing the legal & compliance team in charge of all documents as per local authorities' requirements;
Responsible for all Warehouse and Distribution activities.

Achievements:
▪ Reshaped, reinforced and implemented an improved IT development process with clear roles, responsibilities, timelines and deliverables for each stakeholder;
▪ Successfully reorganized the reporting team and reporting tools, concentrating the strategy around QlikView and implemented over 100 new reports or enhancements/ year;
▪ Negotiated and managed the implementation of additional support tools (e.g. Charisma HR modules);
▪ Launched the company digital transformation;
▪ Implemented a strategic project for the company – the biometric time attendance tool – developed from scratch with an external partner, impact in the efficiency increase, cost control and schedule transparency;
▪ Moved the Warehouse activities in a new location while revising terms & conditions in existing contracts and negotiated new ones to remain compliant with the specific pharma regulations;
▪ Outsourced the distribution activities and implemented a monthly performance evaluation process for the selected providers.

01.09.2009 - 30.11.2014

Departament: audit / consultanta

Titlu Job: supply chain senior consultant / project manager

Responsabilitati:

Being part of the Center of Excellence team, an Orange Group entity in charge of improving the countries' Supply Chain operational efficiency and transforming the Supply Chain in an end2end strategic function.
Managing the international deployment of Group key supply chain projects covering forecast, distribution, collaborative planning and inventory management.

Achievements:
▪ Designed and implemented from scratch a demand forecast & supply planning tool, transformational project involving Sales, Marketing, Sourcing, IT, Finance and Supply Chain;
▪ Led the forecasting tool deployment at European level (roll-out in France, Romania, Slovakia, Switzerland), ensuring also enhancements based on the local needs (had the role to diagnose the "as-is" and "to-be" processes, gather and assess new business requirements, manage the development project plan and coordinate/monitor the IT vendors to meet the agreed milestones);
▪ Implemented and monitored collaboration processes (CP, CPFR) with Orange's main suppliers (Samsung, Nokia, Huawei, LG, Sony Ericsson) and initiated Supplier Group Performance Reviews;
▪ Part of the project team in charge of managing the CPFR processes transition from Excel tools to a new Orange Group collaboration platform;
▪ Provided Supply Chain maturity assessments in European countries to evaluate their level of maturity (Process, organization & IT) and proposed concrete targets and actions per country;
▪ Part of the team implementing S&OP in Romania;
▪ Deployed forecasting tools, templates, processes and best practices for African countries, simplified versions of the European market tools (e.g. forecasting tool build in Excel for Mobinil Egypt based on the local requirements);
▪ Developed BI capabilities and led the Group reports development (QlikView);
▪ Consolidated the counties into a Supply Chain community, facilitating the exchange of best practice and operational needs between the countries (monthly calls, bi-annual meetings, e-platforms, etc.);
▪ Increased the Supply Chain knowledge within the Group by providing trainings to the Supply Chain community (created training materials and presented together with external partners – Kenge Business School).
Assignments within Orange France, Spain, Poland, Slovakia, Moldavia, Switzerland, Cameroon, Botswana, Egypt.

01.07.2008 - 30.09.2009

Departament: marketing

Titlu Job: market research analyst

Responsabilitati:

Planning, implementing and monitoring loyalty programs;
Coordinate outbound churn reduction campaigns (elaborate the process flows, call scripts and surveys methodology) and monitor the external call centers performance.

Achievements:
▪ Successfully managed the operational flows with 3 external Call Centers and managed monthly retention campaigns addressing Internet and voice services;
▪ Setup the basis for the future loyalty systems programs (banking co-branded products, loyalty points).

01.06.2006 - 31.07.2008

Departament: achizitii

Titlu Job: demand and supply planner

Responsabilitati:

Coordinating the purchasing and planning activity for terminals, SIM cards and accessories on the allocated suppliers; Implementing and follow-up agreed deals, evaluate and monitor savings through deals negotiation;
Monitoring and tracking actions on slow moving items by negotiating with the suppliers;
Supervising the stock movements in CWH and in sales channels;
Performing market competitive analysis;
Collaborative forecast and planning.

Achievements:
▪ Designed and implemented new collaboration processes with main suppliers;
▪ Defined and deployed forecast and stock monitoring metrics.

studii

Facultati:

2003 - 2004 Masterat: Faculty of Transport, Section Transport Techniques la University of Politechnics din Bucuresti. Master in Logistics
1998 - 2003 Facultate / Colegiu: Faculty of Transport, Section Transport Techniques la University of Politechnics din Bucuresti.
1994 - 1998 Liceu: Computer science la "Alexandu Marghiloman" Highschool din Buzau.



Pagini: 1 2 3 4 5 6 7 8 9 10 11 12 13 14 15 16 17 18 19 20