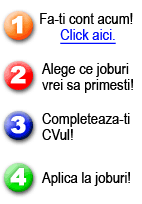 Candidatii eJobs pot alege daca CVul lor este:
CONFIDENTIAL, PUBLIC sau daca este disponibil doar clientilor eJobs.
CVul de pe acesta pagina este public (fara date de contact insa). CVul Public ii ofera candidatului mai multe oportunitati de a fi gasit si contactat de potentiali angajatori. CVurile disponibile doar clientilor eJobs au un format mai complex, contin mai multe informatii si sunt mult mai detaliate.
Candidatii eJobs isi pot schimba in orice moment disponibilitatea CVului.
Daca sunteti firma si doriti sa contactati candidatul de mai jos, trimiteti-ne aceasta cerere la Contact@ejobsgroup.ro, alaturi de linkul catre aceasta pagina.
Unul din Relationship Managerii eJobs o sa va contacteze in maxim 24 de ore si o sa va ofere datele de contact DOAR dupa ce candidatul isi exprima acordul in acest sens.
Curriculum Vitae

informatii personale

F 21.04.1976

Permis conducere: Cat.B, Data obtinerii:31.08.2006

obiectiv

Disponibil: oricand

experienta profesionala

01.05.2016 - prezent

Departament: financiar / contabilitate

Titlu Job: credit management specialist

Responsabilitati:

Responsibilities:
• Credit management process evaluation: determine the reasons leading to additional work; identify risks in accounts receivables collection, implemented actions for increased efficiency of collection.
• Month closing reports on accounts receivables area and calculating provisions for doubtful debts.
• Monitoring customers enrolled in insurance policy, execute the insurance and collect payment claims. Contributing to the insurance policy renewal process, explain the policy conditions in sales meetings.
• Company specific analyses and reports to top management.
• Participating and contributing to the periodical financial audits roll out.
• Coordinated the regional service center team for activities and reporting in accounts receivable area.

Achievements:
• Process optimization, mapping and design for integration with IT or financial business automation.

01.09.2006 - 30.04.2016

Departament: vanzari

Titlu Job: business controller

Responsabilitati:

Responsibilities:
• Responsible for management and control of receivables and credit limits granted to customers in accordance with deliveries and payment term. Cease of deliveries to customers in default.
• Responsible for Integrated Management System documentation relevant to the job, use applicable IMS documentation for 0 non-conformities identified during audits;
• Identifies activities to be improved considering further development directions and efficiency, credit control procedures update.

Achievements:
• Managed multiple accounts, in total over 2000 customers.
• Elaboration, development and implementation of specific AR reports to optimize and monitor processes.

01.07.2004 - 31.08.2006

Departament: administrativ / logistica

Titlu Job: demand planner

Responsabilitati:

Demand Planner

Responsibilities:
• Planning of products from suppliers to customers through orders and deliveries, using specific planning systems and maintaining balance between sales and stock.
• Analyzing data and reports delivered to management inside local company and Group.
• Responsible on yearly budgets and forecasts together with the sales team and sales manager.

Achievements:
• Managed demand for all Electrolux products and customers following tight deadlines and high volume.

01.11.2002 - 30.06.2004

Departament: achizitii

Titlu Job: sales administrator

Responsabilitati:

Responsibilities:
• Collaboration with national distributors regarding Electrolux products, open orders and deliveries, following and collecting debts (overdue invoices, bill payable and check file).
• Cooperation with the accounting department regarding accounts receivables and payments.
• Working together with sales and controlling departments and coordinate the invoicing procedure, issue invoices and all documents related to sales.

01.04.2001 - 31.10.2002

Departament: altele

Titlu Job: sales administrator

Responsabilitati:

Responsibilities:
• Analysis regarding sales targets, payments, debts, sales volumes, stocks (shipped, bonded, warehouse.
• Preparing reports for management meetings, evaluating and forecast the sales on different criteria: product group, customer Performed balance reconciliations per supplier contracts.
• Service activity reports for company management, design internal procedures, analyze customers' satisfaction (statistics on out of order goods -warrantee/after warrantee/ by models/ type), support with preparing statistics and forecasts on spare parts.

01.05.2000 - 31.03.2001

Departament: altele

Titlu Job: assistant - customer service department

Responsabilitati:

Provide to the company management service activity reports, design internal procedures, analyzing the customers' satisfaction (statistics on out of order goods -warrantee/after warrantee/ by models/ type) and help making forecasts and orders on spare parts.

01.10.1998 - 30.04.2000

Departament: achizitii

Titlu Job: contracts responsible

Responsabilitati:

Dealing with contracts concerning after sales service for important brands of electronics and home appliances, achieving technical knowledge about electronics and home appliances (features, functions, components, law), to solve in due time all customers' complaints and to ensure brand satisfaction and follow up the payments and different financial claims, presenting the company's offer to potential partners.

studii

Facultati:

1995 - 2000 Facultate: Economie la Academia de Studii Economice din Bucuresti.



Pagini: 1 2 3 4 5 6 7 8 9 10 11 12 13 14 15 16 17 18 19 20