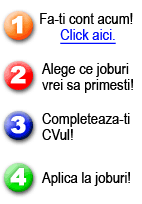 Candidatii eJobs pot alege daca CVul lor este:
CONFIDENTIAL, PUBLIC sau daca este disponibil doar clientilor eJobs.
CVul de pe acesta pagina este public (fara date de contact insa). CVul Public ii ofera candidatului mai multe oportunitati de a fi gasit si contactat de potentiali angajatori. CVurile disponibile doar clientilor eJobs au un format mai complex, contin mai multe informatii si sunt mult mai detaliate.
Candidatii eJobs isi pot schimba in orice moment disponibilitatea CVului.
Daca sunteti firma si doriti sa contactati candidatul de mai jos, trimiteti-ne aceasta cerere la Contact@ejobsgroup.ro, alaturi de linkul catre aceasta pagina.
Unul din Relationship Managerii eJobs o sa va contacteze in maxim 24 de ore si o sa va ofere datele de contact DOAR dupa ce candidatul isi exprima acordul in acest sens.
Curriculum Vitae

informatii personale

M 28.04.1990

Permis conducere: Cat.B, Data obtinerii:18.06.2008

Stagiu militar: da

obiectiv

I consider myself as a dedicated person with a strong background in people management, development and communication. Well adapted to high paced, pressured environments and proven track records of achievement in terms of delivering projects and keeping budgets.



Salariu: nespecificat

Tip job: Full time

Departament: Vanzari, Office / Back-office / Secretariat, Marketing, Farmacie, Publicitate, Administrativ / Logistica, Achizitii, Import - export, Alimentatie / HoReCa, Management

Oras de lucru: Bucuresti, STRAINATATE

Nivel Cariera: Entry-Level (< 2 ani), Mid-Level (2-5 ani), Senior-Level (> 5 ani)

Disponibil: oricand

experienta profesionala

01.06.2020 - prezent

Departament: telecomunicatii

Titlu Job: assistant manager

Responsabilitati:

- manage import/export operations (through partner companies);
- manage hiring and recruiting (working with partners);
- make inventory and cash flow reports (working with accountants);
- drive bureaucratic procedures in the US and Romania (working with lawyers, accountants);
- assist with market research, support sales staff as needed;
- manage grant and contract procedures (working with sales, lawyers, etc);
- order supplies for the company as needed;
- make travel arrangements for international visitors;
- manage meeting schedules and travel for the director;
- provide personal assistance to the director and to key employees as needed

01.06.2016 - 31.12.2019

Departament: altele

Titlu Job: project coordinator

Responsabilitati:

TEAM LEADING and COMMUNICATION
• Working in tandem with Production Manager to organize and manage content grids, oversee budgets, assist with research;
• Coordinating the logistics of the production including renting equipment, hiring crew and talent, as well as handling paperwork such as release forms and nondisclosures;
• Working with everyone, from Producers to Grips, to make sure everything gets done, all loose ends are tied up, and the production can roll along without leaving any major pieces behind;
• Delegating tasks to a team of production assistants (PAs) to keep the production running smoothly and to make sure that the team is working effectively;
• Being clear with the instructions and emails and making sure that everybody understands – follow up with the people, not just assuming that that they have received the right information;
OPERATIONS
• Prepare and distribute shooting schedules, crew and cast lists, scripts and script revisions;
• Preparing, updating and distributing crew lists, daily progress reports and script changes;
• Ensuring accommodation and transport of the team in the limit of the budget;
• Strong understanding of how schedule works and having a firm grasp on why decisions are made and how they help the production;
• Administrative and Office management support - set up the office, order supplies and make sure that everything needed for the production is available;
• Tracking PR activities;
• Marketing product placements;
• Doing prospections for future filming locations;
HUMAN RESOURCES
• Responsible for contracts and ensuring that the payments are made properly;
• Support production supervisors in finance and employment issues;
• Providing constant feedback to ensure results;
• Ensuring image and grooming standards are professional, reflective of the project image and adhered to at all time;

01.09.2015 - 31.05.2016

Departament: altele

Titlu Job: production assistant

Responsabilitati:

• Setting up, maintaining the Production Office, ordering furniture, equipment and supplies;
• Helping to co-ordinate travel, accommodation, work permits, visas, medical examinations and any immunizations for principal crew and cast;
• Help organize the pick-up and delivery of equipment and crew by the Unit Drivers;
• Assisting the Production Coordinator to prepare and distribute shooting schedules, crew and cast lists, call sheets, production reports, movement orders, scripts and script revisions;

01.09.2014 - 31.08.2015

Departament: altele

Titlu Job: set production assistant

Responsabilitati:

• Prospecting film locations in order to identify the best solutions to organize the film set;
• Establish the list with all the equipment needed for the entire film project: communications, tents, electricity, etc, based on the producer/director requirements and ensured that everything is available on time and according to the budget;
• Served as communication facilitator between the various elements involved in the production on the set;
• Prevented any unauthorized on the set or any interference with the shooting process;

01.01.2014 - 31.08.2014

Departament: altele

Titlu Job: transport coordinator

Responsabilitati:

• Planning and research of available cars on the market and booking them for the project;
• Establish the time table of all arrivals and departures of the project team and divide the tasks amongst the drivers;
• Supervising the drivers in order to follow the schedule;
• Wrap up activities including settlement of equipment and fuel expenses according to the budget;

studii

Facultati:

2009 - 2012 Facultate: Planificare Teritoriala la Universitatea Bucuresti din Bucuresti.



Pagini: 1 2 3 4 5 6 7 8 9 10 11 12 13 14 15 16 17 18 19 20