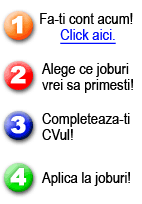 Candidatii eJobs pot alege daca CVul lor este:
CONFIDENTIAL, PUBLIC sau daca este disponibil doar clientilor eJobs.
CVul de pe acesta pagina este public (fara date de contact insa). CVul Public ii ofera candidatului mai multe oportunitati de a fi gasit si contactat de potentiali angajatori. CVurile disponibile doar clientilor eJobs au un format mai complex, contin mai multe informatii si sunt mult mai detaliate.
Candidatii eJobs isi pot schimba in orice moment disponibilitatea CVului.
Daca sunteti firma si doriti sa contactati candidatul de mai jos, trimiteti-ne aceasta cerere la Contact@ejobsgroup.ro, alaturi de linkul catre aceasta pagina.
Unul din Relationship Managerii eJobs o sa va contacteze in maxim 24 de ore si o sa va ofere datele de contact DOAR dupa ce candidatul isi exprima acordul in acest sens.
Curriculum Vitae

informatii personale

| | |
| --- | --- |
| | F 15.09.1990 |

obiectiv

Lithuanian language



Salariu: nespecificat

Tip job: Part time

Departament: Resurse umane / Psihologie, Relatii publice, Altele, Administrativ / Logistica, Turism / Hotel staff, Telecomunicatii, Relatii clienti / Call center, Crewing / Casino / Entertainment, Audit / Consultanta, Management

Oras de lucru: Bucuresti, Remote (de acasă)

Nivel Cariera: Mid-Level (2-5 ani)

Disponibil: oricand

experienta profesionala

01.09.2017 - prezent

Departament: administrativ / logistica

Titlu Job: assistant manager (pa)

Responsabilitati:

Responsible for primary accounting processes: invoice issuing and organization, acquisition and inventory, the track of the documents and archive. Taking responsibility for accounts and budgets;
Arranging travel, visas and accommodation, and occasionally traveling with the manager to take notes or dictation at meetings or to provide general assistance during presentations;
Handling phone calls, inquiries, and requests. Dealing with incoming/outgoing email and post, often corresponding on behalf of the manager. Producing documents, briefing papers, reports, and presentations;
Organizing and maintaining diaries and making appointments, attending meetings. Meeting and greeting visitors, ensuring the manager is well prepared for meetings. Liaising with clients, suppliers and other staff;
Carrying out specific projects and research, working more closely with management if taking on some of the manager's responsibilities. Deputizing for the manager, making decisions and delegating work to others in the manager's absence, being involved in decision-making processes.

01.10.2016 - 30.09.2017

Departament: management

Titlu Job: store manager

Responsabilitati:

Store Manager
Company NameFLORIA
Dates EmployedOct 2016 – Sep 2017 Employment Duration1 yr
LocationBucharest, Romania
Managin two stores with different profile and leading their teams with a total of 9 employees.
​Planning, organizing and controlling all store activities and operations. Making effective and objective decisions regarding operational choices in work procedures, inventory allocations, ordering, scheduling and other situations where multiple factors must be considered and weighed to maximize operating results.
Reporting to the General Manager, responsible for all aspects of the store's operation including its financial results.
Handling all communication with other departments​.
Enforcing all store rules and company policies and ensuring all employees adhere to company procedures.
Handling all documentation and primary accounting.
Preparing store projections and store operating budgets.
Ensuring goods transitions within the stores.
Responsible for employee schedules and controlling labor and other overhead costs.​

01.12.2014 - 30.04.2016

Departament: resurse umane / psihologie

Titlu Job: recruitment specialist

Responsabilitati:

Establishing working conditions with the Business Partners.
Communicating with Hiring Managers and Business Partners;
Creating job requisitions and selecting predefined selection tools, methods and channels
Handling posting to standard channels and agencies in line with locally predefined guidelines
Handling all incoming job applications (email, paper and through the system)
Screening and evaluating Candidates (data quality, qualification, special conditions, online tests);
Organizing and conducting interviews;
Creating candidate reports and ensuring recruitment statistics
Active search of the Candidates;
Communicating project status to candidates and maintains and updates candidate database
Answering questions from all stakeholders related to recruitment process
Preparing various reports.

01.09.2012 - 30.04.2014

Departament: telecomunicatii

Titlu Job: project manager

Responsabilitati:

Responsible for overseeing employees in Customer Service of the Embassy of an important, western state outside of Europe, which cannot be enclosed further because of confidentiality agreement. Making sure day to day operations run smoothly, and ensuring that the calls are routed and handled effectively. Providing adequate training for new employees, coaching, counseling and motivating
team.To answer incoming calls from customers to take orders, answer inquiries and questions, handle complaints, troubleshoot problems and provide information.
I played a major role in the recruitment part: placing ads on the various social networks (eg Facebook, Twitter, G+, etc.), Internet recruitment sites (www.ejobs.ro), revising applicant CVs and selecting suitable candidates for the interview, language test calls, invitation to the face to face interviews and evaluating their suitability for the project.

01.06.2011 - 30.09.2011

Departament: turism / hotel staff

Titlu Job: concierge

Responsabilitati:

Providing outstanding customer service in the hotel to impress customers, recognizing cultural differences and individual needs. Presenting myself in a positive, approachable and professional manner at all times regardless of the situation.
Working in the team together with other Hotel staff to ensure quality results and customers satisfaction. Handling customer queries, taking and delivering messages for the guests, making travel and restaurant reservations for guests, etc.

01.04.2010 - 30.09.2010

Departament: turism / hotel staff

Titlu Job: animator

Responsabilitati:

Creating different entertainment for Children and Adults produced in different frames of animation.
Organizing and join various sports activities during the day. Beeing responsible for kids safety during the activities. Organizing and participating in evening shows like theater, games, dancing etc.

studii

Facultati:

2009 - 2012 Facultate / Colegiu: Tourism and Hotel Management la Kaunas University of Applied Sciences din Kaunas, Lithuania.



Pagini: 1 2 3 4 5 6 7 8 9 10 11 12 13 14 15 16 17 18 19 20