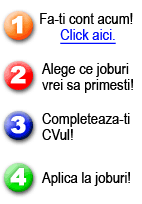 Candidatii eJobs pot alege daca CVul lor este:
CONFIDENTIAL, PUBLIC sau daca este disponibil doar clientilor eJobs.
CVul de pe acesta pagina este public (fara date de contact insa). CVul Public ii ofera candidatului mai multe oportunitati de a fi gasit si contactat de potentiali angajatori. CVurile disponibile doar clientilor eJobs au un format mai complex, contin mai multe informatii si sunt mult mai detaliate.
Candidatii eJobs isi pot schimba in orice moment disponibilitatea CVului.
Daca sunteti firma si doriti sa contactati candidatul de mai jos, trimiteti-ne aceasta cerere la Contact@ejobsgroup.ro, alaturi de linkul catre aceasta pagina.
Unul din Relationship Managerii eJobs o sa va contacteze in maxim 24 de ore si o sa va ofere datele de contact DOAR dupa ce candidatul isi exprima acordul in acest sens.
Curriculum Vitae

informatii personale

| | |
| --- | --- |
| | F 13.01.1993 |

obiectiv

I have more than 5 years of experience in the banking industry with focus on financial reporting and planning using tools such as Microsoft SQL Server, MySQL, Excel, PowerQuery and others. In this moment my objective is to acquire significant knowledge and experience in data quality processes and database administration.



Salariu: nespecificat

Tip job: Full time

Departament: IT Software, Financiar / Contabilitate, Banci

Oras de lucru: Bucuresti

Nivel Cariera: Mid-Level (2-5 ani), Senior-Level (> 5 ani)

Disponibil: oricand

experienta profesionala

01.07.2018 - prezent

Departament: banci

Titlu Job: analist contabil

Responsabilitati:

- Data manipulation using tools such as Excel, and Microsoft SQL Server MDS Excel Add-in
- Assist and guide internal and external auditors teams with data extraction and providing all necessary information and answers
- Performing reconciliations to verify the completeness of datasets provided
- Preparation of the trial balance in the monthly accounts, integrating expenses and income, posting accounting entries
- Posting adjustments and corrections.
- The monitoring of operational risk controls, and recording of possible risks in a dedicated tool
- Participate to resilience by training people in production teams and being trained on risky perimeters
- Develop the analysis of outstanding items on suspense / sundry accounts
- Provide the preparation of analyses and comments for explaining variations in between accounting periods

01.10.2016 - 31.07.2018

Departament: banci

Titlu Job: referent financiar-contabil

Responsabilitati:

- Processing various back-office operations
- Creating and verifying the necessary documentation
- Processing requests received from branches
- Solving possible incidents related to the activity
- Reconciliation of accounts
- Data management of the bank's clients
- Certification of the financial situation of the bank's clients' accounts
- Communication with representatives of the bank and / or other departments within UBIS, via email, phone or other applications
- Ensuring that online banking transactions are processed correct and within the agreed timelines.
- Performing data quality checks.
- Formulating ideas, contributing to process improvements and standardization.
- Collaborating with experts and specialists in finance.

01.12.2015 - 30.09.2016

Departament: banci

Titlu Job: consilier clienti si vanzari debutant

Responsabilitati:

Managing all types of banking operations and transactions.

studii

Facultati:

2020 - prezent Masterat: Administrarea Bazelor de Date la Universitatea Politehnica din Bucuresti. 1. Project - Benchmarking Relational Database Management Systems - Microsoft SQL Server VS MySQL
In this project we performed a comparative study between two of the most used SBGDs, MySQL and MS SQL Server. Comparison of databases involved performance testing for all CRUD operations (Create, Read, Update and Delete) and identification of the response time required for queries ranging from simple to very complex. Also, the analysis aimed to identify the response time when scaling data from 10,000 rows to 100,000 and finally 500,000 rows.

2. Project - Check account in Excel SQL Add-In
In this project I managed to automate part of a monthly process with the help of SQL Add-In from excel.
The process involves identifying transitional accounting accounts in order to be reclassified.
For a faster and more secure identification of these accounts we created an excel file with two sheets. One sheet contains all the reclassified accounts so far, and in the other sheet I update my balance sheet monthly. With the help of an INNER JOIN query between the two sheets, I manage to get an output with all the accounts necessary for the reclassification process.
2012 - 2015 Facultate: Facultatea de Economie si Administrare a Afacerilor la Universitatea Alexandru Ioan Cuza - Faculatea de Economie si Administrarea Afacerilor din Iasi.


Premii

Traininguri
Dec 2020 - Dec 2020: PowerBI

Apr 2020 - Apr 2020: IFRS 16

Sep 2019 - Oct 2020: Lean Six Sigma

Jan 2019: Limbajul SQL
I took this course because I wanted to develop my knowledge in the field of database design. In the course card I studied:
- Fundamentals of databases,
- Instructions for defining and modifying the database structure,
- Data handling instructions (SELECT, INSERT, UPDATE, DELETE)
- SQL data types,
- Predefined SQL functions,
- Elements of design and optimization of databases,
- Queries from several tables.
Technologies used: MySQL, Workbench.
Dec 2018 - Dec 2018: Bazele Contabilitatii
Given that I am at the beginning of the road, I decided to take a primary accounting course where I was able to fix my familiar notions, but also to learn new things.
Certificari
Nov 2013 - Dec 2013: Online Marketing Academy
During the trainings I had the opportunity to meet the Google Romania team and the best advertising agents in the country. I found out how to carry out an online advertising campaign, promotion on goole.ro and online business models.



Pagini: 1 2 3 4 5 6 7 8 9 10 11 12 13 14 15 16 17 18 19 20